4 Popular Toys To Buy in January If You Want To Save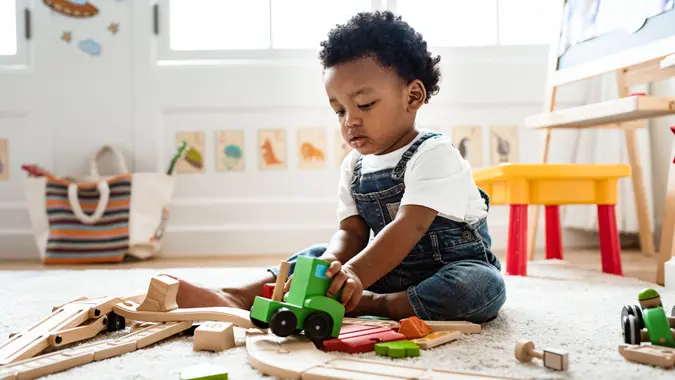 Rawpixel / Getty Images/iStockphoto
The final countdown to Christmas is on, and parents across the nation are scrambling to make sure their kids don't feel like they've been forgotten by Santa Claus — even if that means spending more than anticipated. With high consumer fears of a major shortage, people are shelling out top dollar for toys, hoping to get ahead of the problem.
See: 6 Holiday Purchases That You Should Only Make at Costco
For Your Shopping: 4 Costco Items That Have Remained Cheap for Years
A draconian toy shortage is feared because of the supply chain issues that have been wreaking havoc across retail categories. And though the seasonal stampede is one reason why toys are tougher to come by than usual, experts don't expect the chaos — or the high prices — to entirely end once the holiday rush is over. 
Toys Feel the Pain of Supply Chain Mayhem 
"Consumer prices on toys, among other items, will continue to increase into the new year as a result of tight container space, congestion at the ports and terminals, lack of equipment and workers shortages, and several other factors contributing to limited supply," said Sal Stile, president of Alba Wheels Up International. "As long as demand for consumer goods stays at this level, I believe we will be seeing premiums being placed on transpacific supply chain capacity — and other options, like air freight, will cost as much as purchasing a small home, at approximately $200,000 a container." 
Make Your Money Work for You
Ouch: 50 Purchases Buyers Almost Always Regret
Though in general, toys and other in-demand items will likely bear the brunt of shortages in the form of appallingly pricy price tags, there are some toys that are anticipated to tout lower costs in January than they do now.
GOBankingRates consulted Julie Ramhold, consumer analyst at DealNews, to get a rundown of some of the season's most popular toys and why it can pay to wait until January to buy them — if you don't mind slipping an I.O.U slip in your kids' stockings, that is. 
Cut Costs: Wrapping Paper, Greeting Cards and More Holiday Items to Only Buy at Dollar Stores

Galactic Snackin Grogu  
"The suggested retail price for this toy was around $80 and pre-orders may have been even higher," Ramhold said. "Currently, some retailers are offering it for $100 or more, but major stores like Best Buy and GameStop have already dropped the price to $60. This toy was just released on December 1, so it remains to be seen if it'll be cheaper in January, but my guess is that since it's so new, it will likely jump back to full price then."
Make Your Money Work for You
For context, Ramhold explained that toy manufacturers were encouraging parents to shop early by pre-ordering, which, in cases like this, meant spending more than if they'd waited to buy upon the toy's official release. 
Find Out: Shopping Mistakes You're Making and How To Stop

TeeTurtle Toys
"These reversible plushies can apparently owe their popularity to TikTok so for much of 2021 they've been hard, if not impossible, to find," Ramhold said. "They have two emotions and are popular options for parents because kids can use them to show whether they're feeling happy or upset just by reversing the toy. Ordinarily, they're priced around $15, but partially due to their popularity, some third-party sellers are pushing up the price." 
Ramhold has seen some TeeTurtle toys going for $25 or so depending on the marketplace. 
"However, we've seen them drop as low as $10 (and some retailers may even have this price now, especially for select designs on sites like Amazon) so if you wait until January, there's a chance you could save up to $15 on the marked up price or at least $5 off the list price," Ramhold said. 
Make Your Money Work for You
Learn More: 15 Times You Should Splurge, Settle or Skip When Shopping
Squeakee the Balloon Dino 
"This toy sounds like a nightmare for parents, to be honest, given that it has more than 70 sounds and reactions," Ramhold said. "Apparently it can roar, stomp, dance, and even play tug-of-war, but if kids roar too loudly at it or pull on the tail, it'll 'pop.' It can be reinflated by 'pumping' the tail.
"This chaotic critter normally goes for $69.99 so a savings of $7 in December isn't that impressive, wait until January and I wouldn't be surprised to see the price drop a little further – it's not unheard of to expect savings of at least $10 to $15 to come later. It's important to note that $62.99 is the lowest price for this toy so far, but it was also released in August 2021, so it's a little early to expect further drops."
Check Out: 30 Things You Should Never Buy Without a Coupon
Got2Glow Fairy Finder 
"The list price is $34.99, but considering this toy is apparently impacted by the Pink tax and currently going for $39.99 compared to the blue version (that one is only $34.99), it pays to wait until January to shop for this one," Ramhold said. "By then you should at least be able to save $5, but hopefully the price will drop even further when the pre-holidays rush is over.
More From GOBankingRates
Make Your Money Work for You