The 5 Best and 5 Worst Things To Buy at a Convenience Store

6 min Read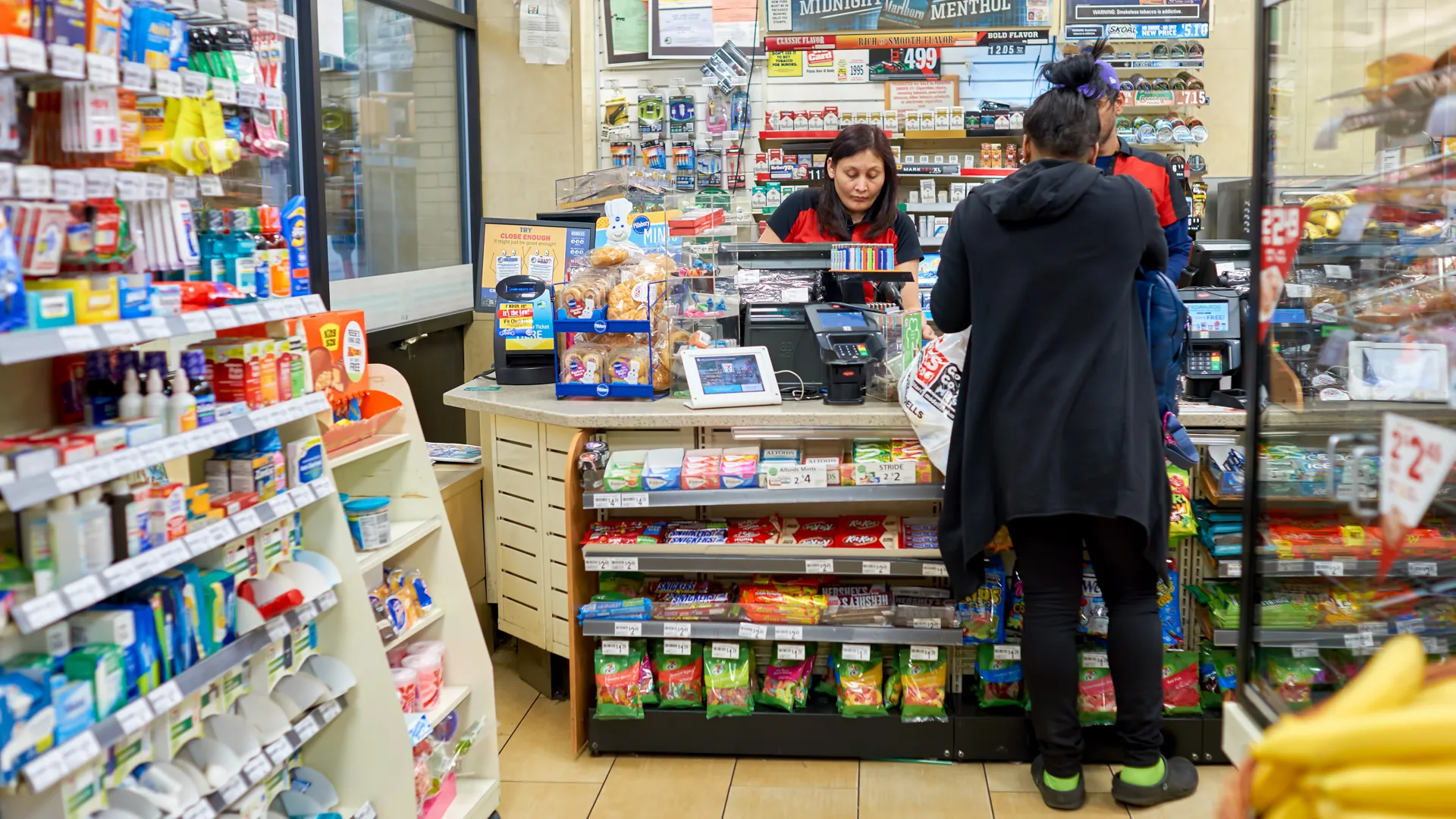 We've all been there. Maybe we're on a road trip or a quick mission to get gas or on a long commute home from work. And there it is, a fluorescent beacon on its own desolate island: a convenience store. Could it be more aptly titled? It's a store and it's oh so convenient! You can buy everything from chips to candy to sometimes even fresh(ish) food. If ever there was a place designed to make us impulse buy, it is the convenience store. 
Helpful: What To Buy — and Skip — To Save Money at Trader Joe's
Check Out: 10 Popular Products That Costco Doesn't Sell Anymore

This is why consumers on a budget need to be extra careful when shopping at convenience stores: There's just so much to choose from and chances are, if you're popping in, you're already hungry, thirsty or just bored out of your mind. So what are smart purchases to make there and what should you buy elsewhere? 
GOBankingRates consulted Julie Ramhold, senior staff writer at DealNews, to learn what you should buy at a convenience store and what you should skip.
Last updated: Sept. 1, 2021
Make Your Money Work for You
1. Buy Lottery Tickets
"If you live in a state where the lottery is legal (or maybe you're just passing through on a road trip) convenience stores are likely one of the only places you can even buy lottery tickets," said Julie Ramhold, senior staff writer at DealNews. "Even if you're not keen on seriously gambling, buying one of the cheap scratch-off tickets or picking numbers for a lotto is usually fairly cheap and provides a fun stop or memento for road trips."
Find Out: 25 Secret Money Traps at Target, Walmart and Other Big-Box Stores
2. Buy Bottled Drinks
"Whether you need water, coffee, soda, juice, or some other bottled drink, you can usually find a wide variety at a convenience store without spending too much," Ramhold said. "Additionally, convenience stores often will run deals on drinks, especially particular brands or flavors. Depending on your area, you could find yourself paying $2 for two 20oz sodas."
3. Buy Bagged 'Healthy' Snacks
"This is another item that you can sometimes find a 2 for 1 deal on depending on your area," Ramhold said. "If you're looking for sustenance that doesn't involve chocolate, bags of things like peanuts and cashews are good buys. While honey roasted peanuts aren't going to be the healthiest treat, they're still probably better than the giant candy bar you may also be considering."
Additionally, Ramhold noted that you can usually find decent-sized bags of sunflower seeds in different flavors. 
4. Buy Fountain Drinks
"Some convenience stores will have an array of fountain drinks, from standard sodas to fruity or coffee-flavored slushy drinks to hot cappuccinos and hot chocolate from a machine," Ramhold said. "These are all generally well-priced for what you're getting, even if they are sugar bombs, and offer a variety of flavors to choose from that tend to be different than what you'll find in the bottled drinks — think English toffee cappuccinos or peppermint hot chocolate.
"Additionally, some convenience stores will offer flavors as free (or cheap) add-ins so you can flavor whatever you want, whether you want hot coffee, iced java, hot chocolate, or something else," Ramhold said.
Make Your Money Work for You
5. Buy Candy Bars and Chips
"These are classic convenience store snacks and have a high turnover rate as they're some of the most popular items sold," Ramhold said. "Because of that, you should be getting pretty fresh items at decent prices. Plus convenience stores often have king size candy bars, which can be a better value than buying one and definitely two of the same bar in regular size."
Start Small: Shopping Mistakes You're Making and How To Stop
1. Skip Fruit
"Sure, you may want to skip the Snickers bar in favor of a healthier apple or banana, but the selection of fruit at convenience stores isn't going to be huge," Ramhold said. "Worse, what's there will be overpriced and probably past its prime. If you must grab a snack, stick with unsalted peanuts or something similar, and stick to buying your fruit from your local farmers market if you can. If not, the grocery store is a safer bet than the convenience store."
2. Skip Dairy Products
"Unless you're buying milk or ice cream, odds are the dairy in that dusty fridge isn't being replenished as often as the rest of the store is," Ramhold said. "And as it's probably not so popular, you can expect to pay much more for it than you would at a standard grocery store. Instead, head to your local grocers or even a big box superstore like Target — you're bound to find better prices and fresher items."
3. Skip CBD Products
"These are becoming more popular throughout the country and as such, consumers are seeing them practically everywhere," Ramhold said. "But unless it's a highly recognizable brand, the stuff you see at your standard convenience store may have questionable origins. Instead, find a reputable seller in your area or online and stick to stocking up on your gummies that way."
Make Your Money Work for You
4. Skip Toys
"The odds are high that no one is hanging on to a toy they bought from a gas station 30 years ago — it probably broke on the car ride home, to be honest," Ramhold said. "There's no reason to shop these items there today, either; they haven't gotten any better but they have grown more expensive. Instead, hit up your local Target and shop the sales there. You'll save money and the toy will last longer than your kid's attention span."
5. Skip Cooking and Baking Ingredients
"No one is stocking up on things like tomato sauce or chocolate chips while filling up their vehicles at the gas station," Ramhold said. "These are not high sellers, but they are much higher priced than what you'll see in a grocery store. Odds are good they've been there awhile, too. The likelihood of a high turnover of gas station flour is pretty slim."
More From GOBankingRates
About the Author