6 Affordable Alternatives to Apple Products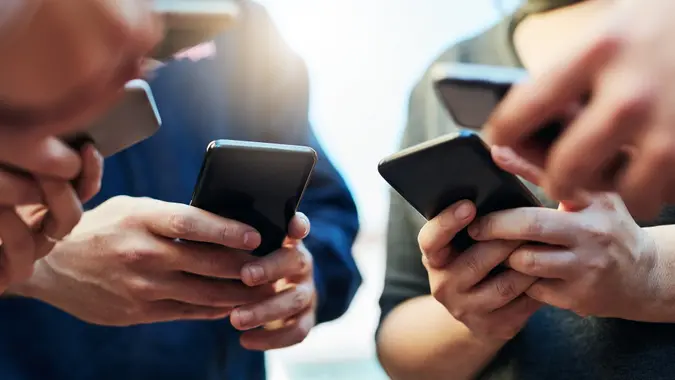 LumiNola / iStock.com
Apple became the first publicly traded company to hit the $3 trillion valuation when it did so briefly on the first day of trading in 2022 — adding to its milestone of being the first American company ever to be worth $1 trillion in August 2018. Two years after that, it surpassed the $2 trillion mark.
Consumers' love of gadgets has fueled the value of the brand Steve Jobs and Steve Wozniak started in a garage in California in 1976 when they built the first Apple I computer. Today, Apple has a network of products that link together to make the lives of their owners easier, from the iPhone to AirPods and the Apple Watch to the AirTag, which will track down what you've misplaced.
Apple products have a reputation of being pricey, though, and competitors have had success in manufacturing alternates that suit users' needs. "Personally, I left the Apple products train a while ago; I found some success in Samsung smart devices," said Alvin Dy, the co-founder of allhomerobotics.com, who reviews products for the website. "A lot of the Apple products lately haven't been the best, so I would recommend anyone that can afford it to change brands and try it out for a while."
His recommendation will likely fall on deaf ears when it comes to countless rabid Apple fans, but for those open to change, GOBankingRates offers these affordable alternatives to Apple products.
iPhone
The iPhone 13 Pro is the latest iPhone release from Apple, and it sells for $999 without a trade-in. The iPhone 13 costs $300 less but doesn't pack the same punch as the Pro model. Samsung's products have drawn the attention of iPhone users.
Make Your Money Work for You
"I recently switched from Apple to Samsung a few months ago. I was originally using an iPhone 11, but bought a Samsung S20 when I needed a separate phone for work," said Tyler Hutchinson, who runs the Energy Powder World website. "I used to love my iPhone and other Apple products, but when I had my Samsung experience, everything changed. I loved how I got to customize more, have multiwindow support, and have more freedom with my S20 in comparison to my iPhone 11. Apart from this, I've noticed that I was saving way more money using my S20 since most of the paid applications in the App Store are completely free in the Google Play Store."
The Galaxy S21 FE 5G costs $699.99 without a trade-in.
Smartwatches
Apple introduced the Apple Watch in 2014, and it hit the market the following spring. It will show you the time, of course, but you also can communicate with others and monitor your health and fitness. The Apple Watch starts at $199, but lower-priced competitors have emerged, including the Amazfit GTS 2 Mini from Amazon.
"I swapped out my Apple Watch for the Amazfit GTS 2 Mini. It is only around $100 so it is more affordable than an Apple watch but I don't feel like I am missing out on any of the features, so I would highly recommend it," said Kyle MacDonald, the director of operations for Force by Mojio, which provides GPS fleet tracking for small businesses. "It's sleek, has plenty of features and its battery life is decently long."
Make Your Money Work for You
Amazon offers a streamlined, less expensive model priced at about $70, and its Amazfit GTS 3 Pro is built to rival the more expensive Apple Series 7 watch. That Amazon model is about $180, less than half the price of the Series 7. The Fitbit Versa 3 is another higher-end model to consider, priced at about $210.
Desktop Computers
Ben Zellner, the CEO of 3000MileMyth, said he has a favorite alternative to the popular iMac: the HP Pro One 600. As a car guy, he put his reasons in auto terms.
"Without a doubt, a new iMac is a stunning machine. However, there are alternatives to this well-known all-in-one. My personal favorite is the HP TouchSmart 600, which is like a supercharged Civic compared to Apple's vintage Porsche," he said. The current HP ProOne 600 G All-in-One 21.5 Touch PC runs a Windows operating system with an 8 GB memory and 256 GB SSD storage. Its retail price is $1,179.
The base model of the 24-inch iMac also has 8 GB memory and 256 GB of storage. Its retail price is $1,299, with souped-up models selling for $1,499 and $1,699.
Laptop Computers
When Christiaan Huynen, the CEO and founder of creative design firm DesignBro, needed a new computer, he split from Apple products.
"I was a former Apple user, from iPhone to MacBook. It's great and all, but it is expensive so I made the switch when I needed an upgrade," he said. "With the same features I need for work, Microsoft Surface Laptop Go was the best fit for me. I was able to purchase it for $700, far from its Apple counterpart costing $1,999."
Make Your Money Work for You
Depending on how it's configured, the Microsoft Surface Laptop Go starts at $499.99. A MacBook Air starts at $999, while a MacBook Pro base model costs $1,299. Bigger, more powerful models are $1,999 and up.
AirTag
The Apple AirTag is a small gizmo you can attach to your keys or slide into your wallet to help you find them if they are lost. With the AirTag, you can track your misplaced stuff through the Find My app on your phone. Kristen Bolig, the founder of Security Nerd, recommends the alternative Chipolo One Spot.
"If you are someone who frequently loses your home keys, car keys or wallet, having this kind of tracking device is ideal for security and protection," she said. "The Chipolo One Spot is cheaper and just as effective as the AirTag, plus it has a louder speaker, which makes finding your items easier, and connects to your iPhone through Find My just as well. It is slightly bigger, but it's still small so that really doesn't make a difference. Other AirTag alternatives require you to pay a subscription but Chipolo doesn't, so it is a great financial choice."
The Air Tag costs $29 for one and is $99 for a four-pack. The price for the Chipolo One Spot registers at $28 each or $90 for four.
AirPod
AirPod headphones have become indispensable for people who want to hear their music with the finest sound. The top-of-the line AirPod Pro features noise cancellation capabilities and a custom fit for your ear. They cost $249, and Apple bills the sound they produce like this: "Magic like you've never heard."
Stephen Curry, the CEO of digital signature service provider CocoSign, said he's found the alternative: the Panasonic RZ-S500W. They also have noise-cancelling technology, five sizes of ear tips for the best fit and 19.5 hours of battery life. They're on sale at Amazon for $127.95.
Make Your Money Work for You
"AirPods Pro is one of the best true wireless earbuds you can get," he said. "But, their cost is just too much for some people, considering how easily they can get lost." 
Some users will never leave their Apple products, but if you're on the fence, definitely check these out.
More From GOBankingRates