Amazon Adds 100+ Same-Day Delivery Sites — How Much Will It Cost You To Get Packages Faster?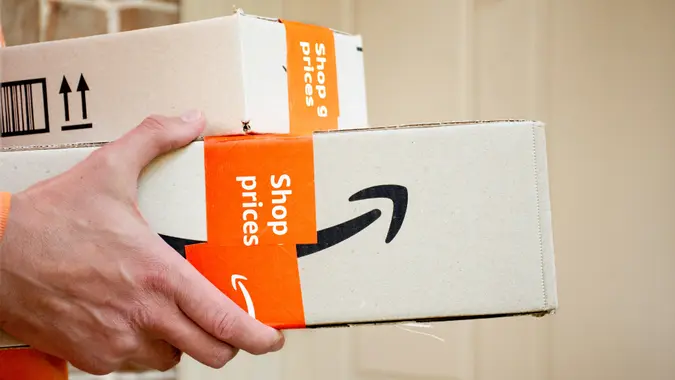 Daria Nipot / iStock.com
During the pandemic, online shopping exploded by 25% as people sought to stay home and stay safe, according to a study published in the Journal of Retailing and Consumer Services. Now, as everyday life returns to relative normal, shoppers don't have to wait for delivery. People have the option of receiving their goods immediately by purchasing in stores, or even shopping online for same-day, in-store pick-up.
Goodbye, Free Shipping: Amazon Fresh Cuts Perk for Orders Under $150
Learn: 3 Signs You're Serious About Raising Your Credit Score
Amazon, for one, is set to compete by offering same-day delivery in major metro areas. The e-commerce giant has already opened 45 same-day shipping centers since 2019, and could have 150 or more of these locations within the next few years, The Wall Street Journal reported. The data comes from MWPVL International, a company that tracks Amazon warehouse operations.
Amazon did not confirm to WSJ exactly how many same-day sites are open, but there are new locations in key cities like Los Angeles, San Francisco and Phoenix.
Make Your Money Work for You
"We're always exploring ways to bring our customers new levels of convenience and delivery options that work best for them. Same-Day Delivery is one of the latest innovations," an Amazon spokesperson told WSJ.
WSJ reported that Amazon is seeking to compete with Walmart, which uses its thousands of local stores to help with fast order fulfillment.
Amazon doesn't have the same luxury of a wide network or brick-and-mortar locations, but same-day shipping centers can serve the same purpose. However, it comes at a cost. When contractors make deliveries from Amazon's same-day sites, it can cost around $3.30 per package, compared to $1.75 from traditional fulfillment sites, WSJ reported.
However, same-day shipping is an important draw to keep customers hooked on the $139 per year Prime subscription service. For orders under the minimum qualified purchase amount, Prime members will pay an additional $2.99 for same-day delivery. Consumers, it seems, don't mind paying for the premium option.
Costco Deal: Get a $30 Gift Card When You Buy a Gold Membership
Compare: 7 Dollar Stores You Can Shop Online
Kristin Whitehair, a Prime customer in Kansas City, MO, told WSJ, "If I have a same-day need, I will now look at Amazon's app, where in the past I may have to go to Target or another store."
Make Your Money Work for You
More From GOBankingRates
Make Your Money Work for You