98% of Us Shop Online (And 74% Have Buyer's Remorse) – Could Google's New Tool Fix That?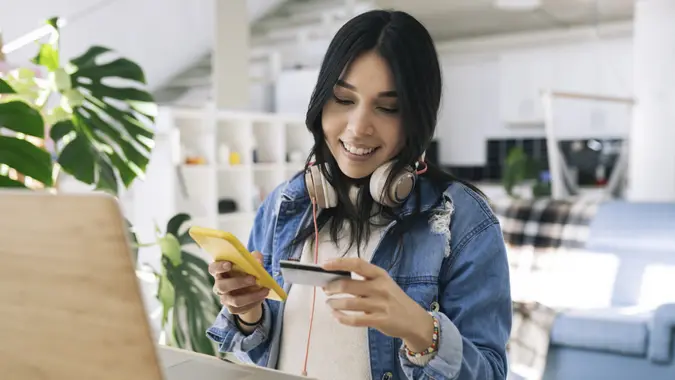 Jose carlos Cerdeno / Getty Images/iStockphoto
According to Google, 98% of people worldwide shop online, whether it's just researching products, browsing or ultimately buying. Knowing this, the search engine giant recently launched some new tools to make the online shopping experience even better.
See: 5 Most Overpriced Costco Items, According To Superfans
Find: 3 Ways Smart People Save Money When Filing Their Taxes
Announced Feb. 15 as part of a "Shop with Confidence" initiative, these new tools are meant to prevent the very common problem of "buyer's remorse" – which 74% of us experience, according to a 2022 study from Slickdeals. Two of the new opportunities are further honed in on the price tag of the goods to avoid unnecessary sticker shock.
The first new offering is related to price insights. Google now has a Shopping Graph that can help ascertain when and where to buy. As you may have noticed when clicking on the shopping tab after searching on Google for a particular item, the site pulls together various options from a variety of online consumer portals.
But with the Shopping Graph, Google aims to offer further transparency. The tool scans more than 35 billion product listings, storing data on how prices have fluctuated over time. The graph then shows, in real time, if the current sticker price is typical for the market… or high (or low) compared to other sellers. Additionally, this tool provides additional helpful tidbits such as product availability, reviews, colors, sizes and materials — even YouTube product videos.
Make Your Money Work for You
"If this sounds familiar, it's because the Shopping Graph is a similar model to our Knowledge Graph, Google's database of facts about people, places and things," a Google statement read.
Take Our Poll: What Are Your Financial Priorities in 2023?
More: How To Get a Refund From the Google Play Store
Another shopper-friendly tool being introduced: enhanced Coupon Clipping features. Google stated that this functionality aims to better identify and apply promo codes from across the web. Google claimed it hopes to make these promotions more visible by adding a "special offers" promotion badge to products. Shoppers are able to tap the item and "clip" the coupon (which really just means copying and pasting it on the retailer site when it comes time to check out).
More From GOBankingRates
Make Your Money Work for You