Don't Shop at Walmart on This Day of the Week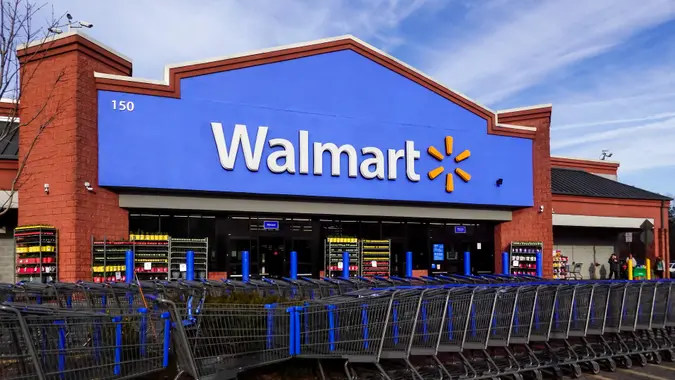 Alexander Farnsworth / iStock.com
Initially founded in the early 1960s as a small discount retailer, Walmart has since expanded across the United States and to 19 other countries, transforming into a globally-known supermarket chain with around 10,500 stores and over 2 million employees. Today, Walmart still maintains its roots as a discount retailer, offering affordable prices on a wide variety of everyday goods ranging from home and furniture to electronics, apparel and groceries. It even has a strong online presence and has become an e-commerce giant in its own right.
If you're looking to shop at Walmart but want to make sure you're optimizing both your time and money, it's important to plan your shopping trip around specific days. These are the best and worst days to shop at this retailer, as well as a few money- and time-saving strategies to implement on your next trip.
Best Days To Shop at Walmart: Tuesdays and Wednesdays
The best days to shop at Walmart are generally in the middle of the week — like Tuesdays and Wednesdays.
"Generally, weekdays, particularly Tuesday and Wednesday, are the best days to shop at Walmart," said Tommy Mello, a home service expert and founder of A1 Garage Door Service. "During these days, stores are less crowded, resulting in a more comfortable and efficient shopping experience. Furthermore, some businesses may begin their weekly specials and rollbacks on these days, thus the best deals are generally found early in the week."
Going in the morning on these days can also give you the best shopping experience.
"A weekday morning, especially mid-week like Wednesday, is a great time to shop at Walmart," said Melissa Cid, consumer savings expert for MySavings.com. "You're more likely to encounter a less busy store, stocked shelves and fresh produce and meats. Mid-week is when the store is caught up on restocking from the weekend crowds."
Make Your Money Work for You
Worst Days To Shop at Walmart: Saturdays and Sundays
Many major retailers become busier and more crowded on the weekends, and Walmart's no different. Given this, it's generally best to avoid shopping on Saturdays or Sundays.
"Saturday and Sunday is the worst day to shop at Walmart," said Cid. "On the weekends, you'll be battling a busy store, long lines and possibly empty shelves and slim pickings on fresh foods."
"Many individuals do their weekly shopping on these days, resulting in greater crowds and longer checkout queues," added Mello. "By avoiding these peak shopping hours, you can make your visit more enjoyable."
Strategies To Save Money and Time at Walmart
In addition to planning your shopping trip around certain days of the week, there are other ways to maximize your money and time. Here are some of the big ones.
Shop at the Beginning of the Month
If you're looking for additional savings and discounts, head to Walmart early in the month.
"In my experience, the best days to shop at Walmart are during the first five days of the month," said Athina Zisi, chief operations officer of Energy Casino. "That's when you can find newly discounted items and clearance deals right at the beginning of the month."
Samantha Landau, consumer expert at TopCashback.com, added, "Head to Walmart first thing on weekdays to get the best selection of perishable goods, and the best clearance deals before they sell out, as well… Another time to consider is at the beginning of the month — Walmart often has plenty of markdowns from the previous month that they try to get rid of at the beginning of the next month."
Make Your Money Work for You
Get a Walmart+ Membership
A Walmart+ membership comes with many perks that non-members don't get, including free home delivery, free shipping on all orders, fuel rebates and more. If you're a frequent shopper, becoming a member could lead to some great savings.
"I personally love the Walmart+ membership," said Cid. "I get a lot of value out of Walmart+ with their free shipping, no minimum spend required! I've picked up clearance items on their website for as low as $0.50 shipped! You can also order same-day grocery delivery for free. You just need to tip the driver."
Use Cash Back
Walmart offers cash back on select purchases. For example, the retailer has up to 5% cash back on travel-related goods for members.
"Look for products online or in the app that offer Walmart cash back," said Cid. "These are manufacturer offers available on select products. When available, clip the manufacturer offer to add it to your Walmart account. When you buy online or in-store, you'll score Walmart cash that you can use for a future product or cash out in store for real money once you hit $25."
Take Advantage of Price Matching
Many major retailers, including Walmart, offer price matching on items sold storewide.
"Walmart has a price match policy that states that they will match the quoted price of identical items from local competitors. This might help you save money by ensuring you get the best price possible," said Mello.
You could secure additional savings by using the Walmart Savings Catcher app.
"Scan your receipts with the Walmart Savings Catcher app," said Mello. "If a competitor in your area provides a cheaper price on an item you purchased, the difference will be credited to your Walmart eGift Card."
Shop Late at Night
While some Walmart locations used to be 24/7, these stores are few and far between. But that doesn't mean you can't still benefit from shopping late at night. Weekday nights in particular tend to be a great time to score some deals and shop without many people around.
"If you are looking for deep discounts, you'll want to shop at Walmart on a weekday evening," said Cid. "This is when markdowns for the next day happen with savings of 30%-50% off stickers on many soon-to-be expiring foods from the bakery, produce and meat departments."
More From GOBankingRates