Amazon Prime Day Has Special Deals by Invite Only — How To Get Yours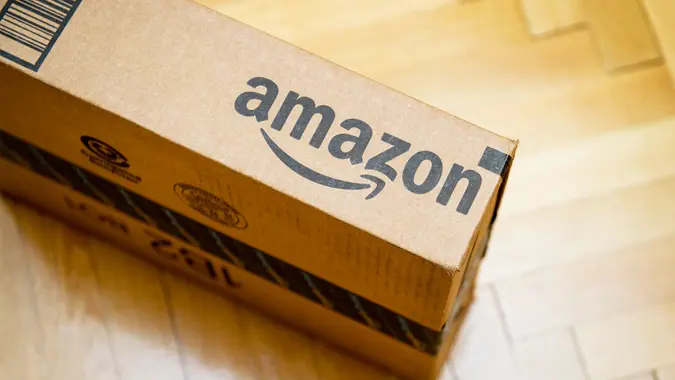 AdrianHancu / iStock.com
In two weeks, Amazon will kick off its biggest global shopping event exclusively for Prime members. Prime Day will take place on July 11 and July 12, giving shoppers 48 hours of crazy deals.
See: 8 Major Appliances That Are Wastes of MoneyI'm a Financial Planning Expert: 6 Worst Purchases To Make in an Economic Downturn
For this year's event, Amazon is initiating an all-new invite-only deals program for Prime members, who can request an invitation to score some of Prime Day's best deals that are expected to sell out.
Launched in 2015 primarily to celebrate Amazon's 20th year in business, Amazon Prime Day is now an annual (bi-annual this year; see below) summer sales event that will take place in more than 20 countries in 2023.
According to per Digital Commerce, last year's event reached $12.09 billion in global sales, up 8.1% from 2021. This year's extravaganza is sure to be bigger. So, to make sure you get in on the savings, amazon suggests setting calendar reminders, signing up for personalized deal alerts and requesting deal notifications from Alexa.  
What Deals Will Be Available During the Prime Day Event?
As Amazon.com states, "Prime members can save big on popular brands like Lancôme, Kérastase, Peloton, Victoria's Secret, YETI, The Drop, and Sony, and save on new Amazon-exclusive deals from D'Amelio Footwear, OPI, and Alo Yoga.
"Plus, members will get exclusive access to Amazon's lowest prices so far this year on select products from a variety of brands like Bose, Hey Dude, and Theragun. This Prime Day, members in the U.S. can also shop more deals on small business products than ever before."
Make Your Money Work for You
Amazon will be offering up to $45 off its house brand items and up to 60% off Amazon devices in addition to huge savings on invite-only Prime deals throughout the store.
How to Sign Up for Invite-Only Prime Day Deals
1. Log In to Amazon
First things first, you can't enjoy special invite-only Amazon Prime Day deals without an Amazon Prime membership. For membership information and to sign up for a 30-day free trial or a regular membership click here.
Amazon Prime costs $14.99 per month or you can buy an annual membership for $139. College students get a student discount of $7.49 per month or $69 per year. Those who qualify for government assistance can receive a Prime membership for just $6.99 after their free trial.
For existing members, log in to your account to sign up for invite-only Prime Day deals.
2. Search for Prime Day Invite
As ZDNET notes, there aren't many exclusive invite only deals listed yet on Amazon yet, but more will be advertised between now and July 11. You'll find these special deals under Amazon's regular deals tab marked as invite-only or on Amazon's Prime Day page. Amazon has announced that the following discounted items will be included as invite-only deals on Jul. 11 and 12.
3. Request an Invitation
To score an invitation to shop for deals, you'll have to navigate to the right side of the page on any invite-only deal anytime before Prime Day. Click "request invite" and you'll get a pop-up with a confirmation that your request has been received.
Make Your Money Work for You
4. Wait for an Email With Prime Day Ordering Instructions
Once you have requested an invitation, you will receive an email with ordering instructions on July 11 and 12 from Amazon with unique links to the chosen items you requested.
Members who are selected will be notified during Prime Day with instructions on how to purchase the item at the exclusive deal price. If you're not selected, you will still be notified by email (make sure Amazon emails don't get routed to your junk mail!).
During the Prime Day event, new deals will be offered every 30 minutes during select periods throughout the days, "with deep discounts on products from the hottest brands," per Amazon. 
Amazon.com Inc. is planning a second Prime Day for 2023, according to marketplace sellers who say they have been notified of an Aug. 11 deadline to submit deals for the event, according to Digital Commerce 360. This second event is expected to come in October, well before the start of the Black Friday weekend.
Find Out: 6 Household Staples That Are a Waste of MoneyBillionaires vs. the Middle Class: Who Pays More in Taxes?
For all Prime Day info and invite-only deals, take some time to roam around Amazon's site. And keep an eye out for early Prime Day deals on products like TVs, laptops, phones, monitors and more.
More From GOBankingRates