Dollar Store Drugstore Buys: Top Brand Names You Can Get for Cheap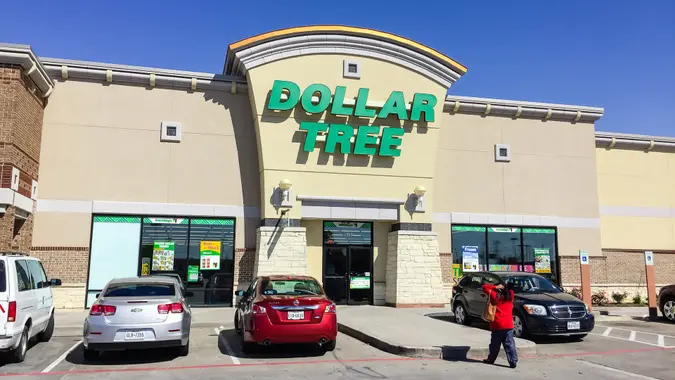 Trong Nguyen / Shutterstock.com
While American consumers have a wide array of choices when it comes to where to purchase personal care products, a large portion of them choose to go to dollar stores for these items, according to a new survey by GOBankingRates.
Discover: 10 Dollar Store Items That Aren't Even Worth the Buck
Tip: 10 Things You Always (and Never) Should Buy at the Dollar Store
The survey finds that the second-most purchased items at dollar stores are personal care products, with 22% of American consumers purchasing these items at the discount retailers. This comes just after food purchases, with 24% of consumers purchasing food at dollar stores, the data shows.
This is not surprising, as NPR reports that the popularity of dollar stores has exploded during the pandemic. Indeed, research suggests that 88% of Americans shop at dollar stores at least sometimes, and about 4 in 10 new store openings in the country this year are for dollar stores, according to NPR.
Why Americans Are Turning to Dollar Stores for Personal Care Purchases
Sarah Mawji, managing director of Sevans PR, said the soaring cost of goods has Americans looking for new ways to preserve their well-earned money.
Make Your Money Work for You
"The recent GOBankingRates survey further indicates that many are tossing out shopping at high-end retailers and instead subbing in trips to the dollar store to more frequently buy well-known personal care items, and for less," Mawji said. "Dollar stores today carry some of the top brand-name shampoos, face washes and lotions, and sell them at a lower cost because they operate on lower margins."
In terms of gender, women prefer dollar stores more than men for personal care items, with 23% of women shopping for these items compared to 19% of men, the GOBankingRates survey notes.
In terms of age groups, the largest portion of Americans who buy personal care items most frequently at dollar stores is in the 45-54 age group, with 29%, followed by the 25-34 age group at 23% and the 65-plus age group, with 21%, the survey's data shows.
Take Our Poll: Do You Have a Side Gig or Other Hustle?
Top Personal Care Brands Carried by Dollar Stores
Shannon Vissers, retail analyst at MerchantMaverick.com, told GOBankingRates that she also purchases mostly name-brand personal care items at dollar stores such as Dollar Tree.
Make Your Money Work for You
The products these stores carry run the gamut, from deodorants to pregnancy tests and from toothpaste to chapsticks.
Dollar Tree, for example, carries brand-name items including Dove body cream, Crest and Colgate toothpaste and Always liners.
As for Dollar General, some brands it carries include Dove, Purell, Old Spice, Kotex, Axe and Tampax.
"Personally, I find dollar stores great for toothpaste and toothbrushes," Vissers said. "At certain dollar stores, you can also find mid-range brand-name shampoo and conditioner products such as Tresemme, Pantene, Aussie, Herbal Essences and Head and Shoulders; but, at Dollar Tree or other stores that keep prices at or under $1, you'll probably only find White Rain or V05."
Vissers added, however, that consumers should keep in mind that you don't always save when buying personal care products from a dollar store.
"Many dollar stores, such as Dollar General, charge much more than $1 for most personal care products," she said, "and in some cases, you can find the same product cheaper at Walmart or Target."
Stock Up on $1 Personal Care Items While You Still Can
The dollar store market is expected to generate a revenue of $93.9 billion in 2022, down from the revenues of $95 billion the year before, according to Statista. Dollar Tree and Dollar General are the market leaders in the U.S. dollar store industry. The slowdown might be partly explained by the fact that some of these retailers have been raising their namesake $1 price points in recent months — amid 41-year-high inflation.
Make Your Money Work for You
Dollar Tree, for example, said in September that it will hike its price points above $1 for certain items.
"We believe testing additional price points above $1 for Dollar Tree products will enable us over time to expand our assortments, introduce new products and meet more of our customers' everyday needs," Michael Witynski, president and CEO of Dollar Tree, said in an announcement at the time.
More From GOBankingRates
Make Your Money Work for You