Back-to-School Items You Can Safely Eliminate from Your Shopping List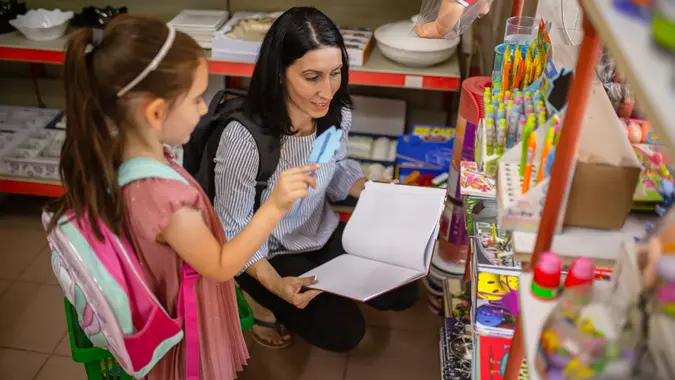 Dusan Stankovic / iStock.com
Back-to-school season will be here before you know it. This means checking your shopping list to make sure you don't miss out on any school supplies — and double-checking you don't go over your budget either.
How do you know which supplies are must-haves versus nice-to-haves? If you're getting ready to shop for back-to-school items, consider safely crossing the following supplies off your shopping list.
New Backpack
Is your child's backpack from last year in good condition? Instead of buying a new backpack, money-saving expert Andrea Woroch recommends reusing the old one. If you need to make it look like new again, Woroch suggested throwing it in the washing machine for a quick clean-up. 
Mechanical Pencils
In an article on DealNews.com, consumer analyst Julie Ramhold doesn't recommend purchasing mechanical pencils if they're on your school supply list. 
Make Your Money Work for You
Mechanical pencils, Ramhold said, require near-constant lead replacement due to general use and breakage. Instead, parents should purchase unsharpened or pre-sharpened wood pencils — typically a requirement for students of all ages. 
New Computer or Laptop
It may seem like you need to buy your child a new computer or laptop to tackle major classroom assignments and projects. However, there are a few ways parents can skirt this major expense. 
Woroch recommends seeing whether your school has a computer center your child can use outside of class. If it does not, Woroch recommends heading to your local library, where kids can use the computer for no charge. 
Colorful Ink Pens
It's cute to take notes using green, purple or orange ink pens, but it's seldom considered acceptable when turning in assignments. 
If your budget is tight this year, Ramhold recommends sticking to blue and black ink pens and any requested red pens from teachers.
New Clothes
"Go through your kid's wardrobe to figure out what fits and is still in good condition," Woroch said. "Chances are you have plenty of clothes to help them get through the first few months of school, especially since weather is generally still warm and summer clothing will work just fine."
Make Your Money Work for You
What if you don't have enough clothes? Woroch recommends setting up a swap with other families in your neighborhood with kids in the same class or around the same age.
Lunchboxes
In addition to reusing last year's backpack, check out your child's lunchbox. If it's still in good condition, it's worth reusing for the upcoming semester. 
Parents who really need to buy new lunchboxes are recommended by Ramhold to check their favorite retailer after Labor Day. Stores will be clearing out the last of their back-to-school supplies and you may get a good discount during this time.
More From GOBankingRates