Back-to-School Sales: 13 Places To Get the Best Deals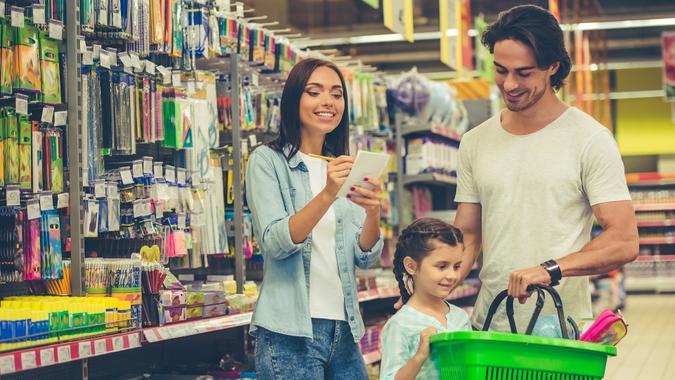 George Rudy / Shutterstock.com
With the summer vacations drawing to a close, one of the significant parental concerns is back-to-school shopping. Kids need everything from new writing supplies and water bottles to backpacks and tech products.
The past curricular year has been online, with Zoom classes in full effect, limiting the need for back-to-school supplies.
However, with schools opening back up in the fall, it's time to raid some back-to-school sales and fill your shopping carts with pencils, glue sticks, binders, notebooks and a whole host of other essentials. If you're wondering how to save a few bucks here and there, make sure to check out the following sales.
Back-to-School Sales at Major Retailers
As the new school year approaches, major retailers hold back-to-school sales that parents can benefit from. Here are some retailers to shop from.
Amazon
Although vaccinations are taking place, the threat of COVID-19 still looms over our heads, especially with the new delta variant on the loose. So, if you want to stay safe and maintain social distancing protocols by shopping from home, Amazon is the way to go.
Make Your Money Work for You
The e-commerce giant has created a separate landing page for back-to-school shopping, making it easy for parents to find everything in one place. The items are categorized under individual grades and product types.
More importantly, Amazon currently gives you $10 off when you purchase $100 worth of select items.
Walmart
If you prefer shopping in person, Walmart is the place to go. You'll find everything your child can possibly need for school at reasonable prices. Some items at Walmart are even under a dollar, so you're likely to find a ton of steals.
Even better, you can specifically shop for the list provided by your child's school. All you have to do is enter the school name and city on the Walmart website, and a supply list will be generated for you. Having a list generated automatically will save you a lot of time and hassle.
Best Buy
If you're on the hunt for budget-friendly tech supplies, you'll find them all at Best Buy. Starting Aug. 1, the website started offering significant savings on tech products, such as $100 off an Apple MacBook Air.
Make Your Money Work for You
If you're a college student going back for the semester or settling into a new dorm, Best Buy can also supply you with kitchen appliances, including coffee makers and rice cookers.
Target
In addition to affordable prices on school supplies, Target is offering kids' back-to-school clothing starting at $4.
Target also has bedding, organizers and furniture for college dorms that are more budget-friendly than other retailers. It's got you covered on tech, too: students can snag good deals on Apple AirPods Pro and AirPods.
Target also gives buyers a $5 gift card when they select same-day delivery or pickup and purchase two select household items, so you can save while you shop.
Back-to-School Sales on Dorm Essentials
The Home Depot
If you're a college student, don't miss out on the back-to-school appliances collection at Home Depot, including everything from microwaves for up to 30% off to mini fridges that are the perfect size for your dorm room.
Make Your Money Work for You
Back-to-School Sales on Tech
Lenovo
If you need a new laptop or phone accessories for the upcoming school year, shop at Lenovo's sitewide back-to-school sale. Want to know the best part? You don't even need a student ID card to enjoy the bargains, making this an excellent opportunity for parents to save on outfitting their work-from-home office.
Even better, if you're enrolled in Lenovo's Smart Family or MyLenovo Rewards, you can get 3% rewards on all of your purchases.
Apple
Apple's got you covered for college. Currently, the website has discounts on MacBooks and other Apple accessories along with 20% off AppleCare+ support packages.
If you need help looking for the right computer for school, you can chat with a specialist through the Apple website.
Moreover, Apple gives you three free months on Apple Arcade when you buy an iPad or Mac, making it easier for you to unwind after a day of studying.
Likewise, students get three free months of Apple TV+ and Apple Music.
Back-to-School Sales on School Supplies
Staples
When going back-to-school shopping, most of the items on your list are likely to be school supplies. Fortunately, Staples has plenty of offerings in that category, from Elmer's glue to ring binders.
As an added bonus, Staples has back-to-school deals on notebooks, pencils, calculators and other supplies that are worth checking out.
Office Depot
Buying school supplies for multiple kids can take a toll on your pocket, but not when you're buying from Office Depot's back-to-school sales.
The website offers sales on popular brands, such as Crayola and Elmer's, with some products up to 70% off.
On top of that, you can get school essentials up to 65% off and backpacks up to 40% off.
Office Depot also has sales on teacher supplies, such as disinfecting wipes and tissues. Some items start at as low as $3.99, allowing you and your wallet to breathe a sigh of relief amid the back-to-school shopping madness.
Back-to-School Sales on Apparel, Shoes and Backpacks
Old Navy
As for clothing, you don't have to spend a fortune to get your little ones new outfits for class. Old Navy has a back-to-school sale going on, with packs of three shirts as low as $13 and a pair of tights at just $5.
Since the clothes are categorized according to age and gender, it's effortless to find the right fit for your kids.
Nordstrom Rack
Nordstrom Rack has back-to-school sales on clothing for kids and young adults. You can also get your children new shoes or boots from the website, with styles starting from as little as $10.
There's even a sale on backpacks, with some up to 50% off.
J.Crew
Speaking of deals on apparel, J.Crew is also offering back-to-school discounts for teachers and students. Buyers can get 20% off with a valid teacher or college student ID.
Apart from that, the website also offers up to 30% off on back-to-school picks for kids.
Reebok
Looking for new shoes or want to buy a pair for your child? Reebok offers 40-45% off sitewide back-to-school sales on apparel and shoes.
You can get 30% off your order when you use the code BTS at checkout, and if you're a Reebok member, all you have to do is log in to enjoy the 35% member discount.
Good To Know

Since many back-to-school sales are online, you have a chance of getting the same thing much cheaper from another store. Instead of wasting hours looking for the lowest price, use price comparison apps to find out which retailer sells the product for the best bargain. You can also take advantage of coupon apps for even more savings.
Deals and prices are accurate as of Aug. 25, 2021, and subject to change.