Bed Bath & Beyond Files For Bankruptcy — How Long Will Your 20% Coupons and Gift Cards Be Good For?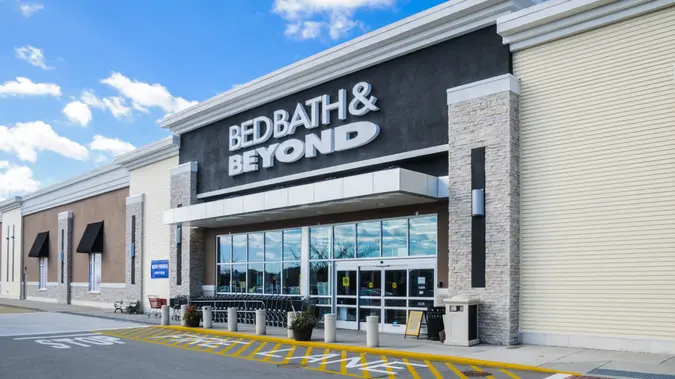 KenWiedemann / Getty Images
Home goods retailer Bed Bath & Beyond became the latest high-profile chain to throw in the towel, as the New Jersey-based company declared bankruptcy on Sunday, April 23, following a years-long effort to try and turn things around. Customers who want to use Bed Bath & Beyond gift cards or coupons — including those ubiquitous "Big Blue" discount mailers — need to act quickly.
An FAQ page on the company's website said it expects to "stop accepting coupons on April 26, 2023, when we will start our store closing sales."
As for gift cards, the FAQ states customers can use them through May 8, 2023.
Bed Bath & Beyond has been warning of the possibility of bankruptcy since early January, CNBC reported, which came after the retailer said it might not have enough cash to cover expenses following a disappointing holiday season.
The company's 360 namesake stores and 120 buybuyBABY locations will remain open while it undergoes the process of closing the business and liquidating assets. It had already committed to closing all of its Harmon Face Values stores.
Make Your Money Work for You
"Millions of customers have trusted us through the most important milestones in their lives – from going to college to getting married, settling into a new home to having a baby," Bed Bath & Beyond CEO Sue Gove said in a statement. "We deeply appreciate our associates, customers, partners, and the communities we serve, and we remain steadfastly determined to serve them throughout this process.
On its FAQ page, Bed Bath & Beyond said stores "are open and serving customers as we begin our winddown process." Store closing sales will begin on April 26. Customers can also continue to shop online.
The company also issued the following guidance:
Customers can redeem Welcome Rewards benefits until May 15, 2023, though Bed Bath & Beyond is no longer awarding Welcome Rewards on purchases.
If are registered with Bed Bath & Beyond, your registry data is "safe" and you can still view your registry. The company expects to partner with an alternative platform that will let you transfer your data and complete your registry. More details should be available in "coming days."
Additional information is available here. Stakeholders with questions can email BBBYInfo@ra.kroll.com or call 833-570-5355 (or 646-440-4806 if calling from outside the U.S. or Canada).
Make Your Money Work for You
Bed Bath & Beyond's troubles were due to both external and internal forces. Like many chains, Bed Bath & Beyond was hit hard by the COVID-19 pandemic and competition from online retailers. But the company also failed to keep up with the times, experts say.
"If there is a single point of failure of Bed Bath and Beyond, it's that the company stopped being relevant to consumers," Neil Saunders, managing director of GlobalData, told CNBC. "Arguably, this goes back a long way thanks to the rise of online and the improvement of home offers at rivals like Target. Against this increased competition, Bed Bath and Beyond's approach to retail — which lacked inspiration — was found wanting."
Regarding its coupon policy following the bankruptcy announcement, Bed Bath & Beyond is following the lead of other retailers such as Toys 'R' Us, which honored its gift cards, store credit and coupons for a 30-day period after it filed for bankruptcy in 2017, CNN reported.
Take Our Poll: Do You Think AI Will Replace Your Job?
Discover: 7 Best Home Items To Buy at Dollar Tree in April
However, not everyone is likely to be happy with Bed Bath & Beyond still honoring discount coupons on top of liquidation discounts.
Make Your Money Work for You
"For suppliers of name brands in particular, they wouldn't want the deep discounting to negatively impact their brand image," Ali Besharat, a professor at the University of Denver's Daniels College of Business, told CNN.
Bed Bath and Beyond stock traded at around 29 cents a share early Monday. As recently as two years ago shares were above $25.
More From GOBankingRates
Make Your Money Work for You