Best and Worst Times To Shop at Walmart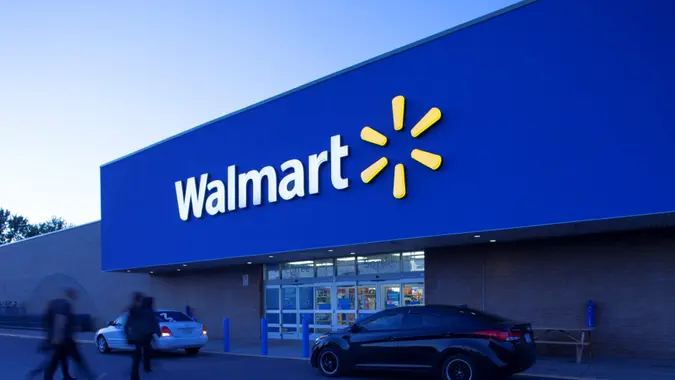 YvanDube / Getty Images
When you need bread, a baseball glove, a backpack and a can of beef and barley soup — and want to make only one stop — where do you shop? For millions of Americans, the answer is Walmart. Chances are that if you can't find what you're looking for at Walmart, you probably don't really need it.
Discover: 11 Grocery Items To Buy at Dollar Tree
Advice: If Your Credit Score Is Under 740, Make These 4 Moves Now
But shopping at Walmart isn't always the easiest proposition, especially since so many other people have the same idea. The experience of walking up and down the aisles to fill your cart at Walmart varies depending on the time of day that you shop.
So just when are the best — and worst — times to shop at Walmart?
Best Walmart Shopping Times
Mornings undoubtedly are busy in your house, getting yourself or the kids ready for the day. But if you can carve out some time to shop weekday mornings, especially before lunchtime, that's ideal. The reasons are plentiful.
Take Our Poll: How Do You Typically Split the Restaurant Bill?
Make Your Money Work for You
It starts with the lack of crowds. The fewest shoppers are out at 7 or 8 a.m., giving you a clear path through the store and no lines when checking out. The overnight crew will have cleaned up, too, giving the store an early morning sparkle. But the benefits go on.
The website Shopfood.com reports that most Walmart stores restock their groceries between 10 p.m. and 7 a.m., so you should find what you need on the shelves and in the dairy cabinets in the morning. You will have your choice of the freshest produce and meats in the morning.
You'll also get the best deals on reduced-price groceries.
"Employees typically do their clearance markdowns early in the morning," Kyle James, the founder of Rather-Be-Shopping.com, wrote in his blog. "So by shopping early you get first dibs and save some money on meat, breads, fruits and vegetables.
"Some of the items may be nearing their 'sell by' date; but, if you're planning on eating the item that day (or the next), it doesn't really matter."
If you can't get to Walmart between 7 and 11 a.m. or so, on the weekdays, plan to shop early in the morning on the weekends. As some people prefer to sleep in on weekend mornings, you can buzz through the store on a mission to get in and out before the crowds gather. If you've made it through the registers by 10 a.m., you've beaten the weekend crowds to Walmart.
Make Your Money Work for You
Worst Walmart Shopping Times
If you want to avoid the crowds, stay away from Walmart on weekend afternoons, when shoppers whose schedules prevent weekday buying show up in droves. You'll battle for a parking spot even in a massive lot, and once inside, you might find yourself waiting two deep to grab a gallon of milk.
Weekday evenings also draw crowds, with shoppers stopping in after work or picking up the kids to grab things for dinner and for school lunches the next day.
While some people might prefer shopping late at night — say, 10 p.m. when many are in bed — it isn't ideal. You won't be fighting a crowd of shoppers, but your efforts to get through the aisles could be impeded by the staff that works hard to stock the shelves. The units that hold their merchandise take up a lot of space.
Make Your Money Work for You
Other worst times to shop? The days right before major holidays or events. If you're looking for trinkets to fill Christmas stockings, you won't be alone. It's best to shop early in every season at Walmart to make sure the store has what you need — without the stress.
Another Walmart Option
If your schedule doesn't permit you to shop during the best hours at Walmart, shop at any hour. Walmart's online ordering system allows you to fill your basket from home and let a personal shopper pick and pack the items for you. You can grab your bags at a convenient time — and bypass the crowds at no charge. The service isn't limited to grocery purchases. Anything in stock at your local store — from handbags to hammers — can be picked up.
Walmart is the place many of us turn to for our everyday goods. Knowing the best times of day to shop can help us save time and grab some prime deals.
More From GOBankingRates
Make Your Money Work for You