8 Best New Items at Sam's Club in 2023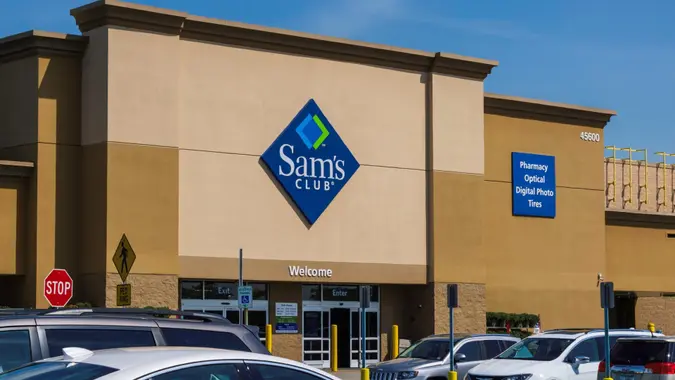 RiverNorthPhotography / Getty Images
Sam's Club is one of the wholesaling retailers you can count on to provide discounts on bulk products of all types year-round. Spring often brings with it new needs, such as spring cleaning, spring holidays, outdoor activities and refreshing outdoor spaces.
Check out these best new items at Sam's Club here in early 2023.
Hershey's Springtime Mix Chocolate Assortment Candy, Easter, Bulk Variety Bag 
Easter is fast approaching, which might mean Easter baskets to fill or candy eggs to hide for a fun Easter egg hunt. Or maybe you just want to have some tasty sweets on hand for a spring-themed gathering, Mother's Day, graduations or sports events.
Make it easy on yourself with Hershey's springtime mix of chocolate candy. This 39.5 oz. bag contains 125 pieces of individually wrapped, kosher, tasty goodness. The entire bag is just $10.48.
Neutrogena Beach Defense Spray Sunscreen SPF 50 
Now that spring is finally here, it means many people can start returning to outdoor activities. But even in mild spring weather, the sun can do plenty of damage to your skin — so it's best to use sunscreen.
Rather than goopy, mineral-based sunscreens, try Neutrogena's "beach-strength" SPF 50 full body sunscreen spray. It's water-resistant for as much as 80 minutes and doesn't include oxybenzone. It provides both UVA and UVB protection. This three-pack of 6.5 oz. bottles is just $19.48.
Make Your Money Work for You
Pantene Pro-V Nourishing Shampoo, Coconut Milk & Shea Butter
Now that you can stop wearing toasty hats, you might want to start showing off your shiny, healthy head of hair.
Weather changes, particularly warmer weather, can dry out your scalp and hair, so you'll want to get your hands on this bottle of Pantene Pro-V nourishing shampoo, made with coconut milk and shea butter, for luxurious moisture. Just $8.98 for a 38.2 oz. bottle.
Member's Mark 2-Pack Extra Large Anti-Gravity Chair 
Whether you just want to enjoy some patio comfort at home or you're entertaining, these oversized anti-gravity chairs from Member's Mark are perfect for lounging under any circumstances.
Their long frames mean that people of all heights can comfortably enjoy them. They also come with adjustable locking frames, slide-out track pillows and a slide-out table for keeping your drinks, snacks or book nearby. This two-pack of chairs is just $139.96.
Member's Mark Egyptian Cotton Waffle 6-Piece Towel Set 
What's better than a set of super comfy, absorbent towels when you're dripping wet? Made with soft Egyptian cotton, these Member's Mark waffle-style towels are lightweight yet fully absorbent, and also quick drying. Get a set of six in one of four neutral colors for just $34.98.
Member's Mark Bee Proud Pure Honey 
Honey is an all-purpose sweetener that has many uses. Put it in tea or coffee, drizzle it over pancakes, oatmeal or ice cream, or replace it in baked goods for sugar. However you use it, you'll love the flavor of this wildflower honey, which is heated, filtered and quickly cooled all before it ends up in a bottle for you.
Make Your Money Work for You
This 48 oz. jar is only $11.52 and should last you quite some time.
Astepro Adult Nasal Spray 
With spring flowers and sunshine also comes…spring allergies! Don't suffer needlessly when you can get affordable, over-the-counter relief.
Astepro adult nasal spray (also for use in children ages 12 and older) is a steroid-free nasal spray with 205.5 mcg of azelastine HCl in every spray. The medicine should provide 24 hours of relief for indoor and outdoor allergy symptoms. Get it at $38.98 for a 3-pack of 120 ml bottles.
Cascade Platinum Plus ActionPacs Dishwasher Detergent Pods
Hand washing dishes is tedious and messy. If you have a dishwasher, Cascade is one of the most trusted brands in cleaning your dishes.
These "ActionPacs" contain Dawn detergent, known for its ability to fight grease, with no pre-washing needed. This 81-count of pods is just $23.48.
More From GOBankingRates