8 Best Things To Buy at Thrift Stores in November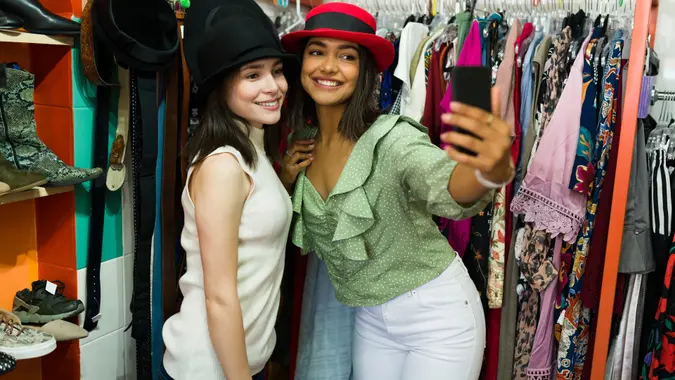 Antonio_Diaz / iStock.com
The most expensive time of the year is just around the corner, and anyone looking to add some cushion to their holiday budget should check their local thrift store before Black Friday signals the official start of the shopping season.
You might not scratch everything off your wish list at a thrift store, but you can free up money for the upcoming sales season by scoring deep discounts on some of the following hot November thrift store finds.
Holiday Decor
Many shopping experts suggest hitting the dollar store for seasonal decor, but you might do even better at your local secondhand shop.
"With households upgrading their decorations, November is a good time to see if thrift stores have more offerings than normal," said Julie Ramhold, consumer analyst with DealNews. "Be cautious with this, but if you find holiday decor for a reasonable price that doesn't look like it's from the '80s, then you may be able to get away with decorating for much less this holiday season. Note that older decorations may not work correctly or may show signs of wear and tear."
Dinnerware
If you're looking to head into feast season with a new set of dinnerware in your cabinet, you might get lucky at your local thrift shop.
Make Your Money Work for You
"As people head into the holiday season, they may be trying to declutter in anticipation of buying new items or being gifted something new, so they may find it an excellent time to get rid of things they don't use anymore," Ramhold said. "Be sure to check thoroughly for cracks and chips before purchasing, and if you can't find a full set, try to find pieces that at least complement each other for an interesting but cohesive look."
Electronics 
There will be no shortage of electronics sales on Black Friday and beyond, but check the thrift store for hidden gems first.
"This is going to largely depend on where you're shopping and what you're looking for, but you may be able to find recent generation electronics for much less at a thrift store," Ramhold said. "Just note that you normally may be stuck with the item, so try to test it before you purchase it. Otherwise, you could end up with a dud and still be in need of a good deal."
Clothing
The thrift store might not be the place for apparel you're looking to put under the tree, but November is a great month to spruce up your own wardrobe ahead of party season.
"I wouldn't necessarily gift clothing from thrift stores unless I know the recipient is open to gently used clothing," Ramhold said, "but, if you need a new look for a holiday party and don't want to spend a ton on the flashy options at retailers right now, this can be a good way to go.
"Try shopping at thrift stores in upscale parts of town, as that increases the odds of finding things like cashmere for much less than list price, dresses that will last for years and even ugly holiday sweaters if that's more your vibe."
Make Your Money Work for You
Pet Bedding, Clothing and Decor
Dr. Mollie Newton, doctor of veterinary medicine and founder of PetMeTwice, has found that thrift stores can help you cut back on animal care costs in November to add some wiggle room to your holiday budget.
"To start, be on the lookout for pet bedding options," she said. "As the weather gets colder, you may come across secondhand, easily washable pet beds or blankets. These can provide your beloved furry companion with a snug and inviting spot to rest. It's a budget-friendly approach to ensuring your pet's warmth and comfort during colder times."
Newton also said to look out for pet-themed decorations.
"Thrift stores often have unique, inexpensive holiday decor items," she said. "Lastly, don't forget about pet clothing. You might stumble upon adorable sweaters or coats for your pet. These can be especially handy if you're in a colder climate, ensuring your pet stays warm during those festive outdoor walks."
Winter Apparel
Every dollar you save at a thrift store on winter gear for yourself is one more you have to spend on gifts for your loved ones.
"Thrift stores often stock up on winter clothing during November," said Bhavin Swadas, consumer savings expert and founder of Coupon Saturn. "Take advantage of this to find gently used coats, sweaters and accessories at a fraction of the cost. With the holiday season approaching, it's a budget-friendly way to stay warm and stylish."
Hosting Essentials
Some people go to parties, but if the party is coming to you this holiday season, your local resale store could help you prepare for less.
"Thrift stores can be a treasure trove for hosting essentials like serving platters, glassware and table linens," Swadas said. "You can create a unique and eclectic table setting without breaking the bank, adding a personal touch to your holiday gatherings."
Make Your Money Work for You
Vintage Cookware and Bakeware
This is also the perfect month to find cool, high-quality throwback baking and cooking essentials, too.
"November is ideal for finding vintage kitchen items at thrift stores," Swadas said. "From classic pie dishes to retro serving trays, these unique pieces can add charm to your holiday cooking and baking. Plus, they often come at a fraction of the cost compared to buying new."
More From GOBankingRates