Thrifting 101: Everything You Need To Know To Save Money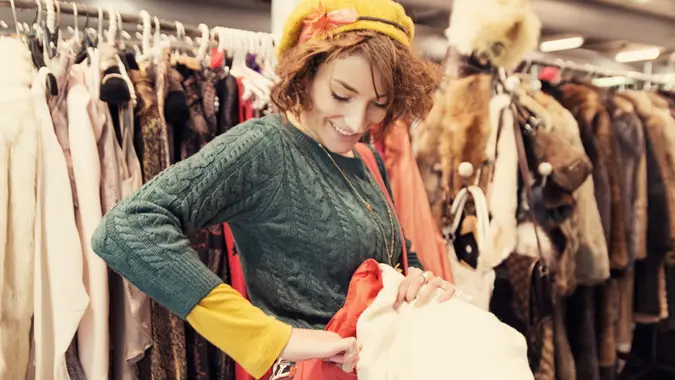 martinedoucet / iStock.com
You're a thrifting novice, but you're ready to see what the hype is all about. Whether you've visited at least a few thrift stores in the past or have never set foot in one, this is an exciting new adventure.
As with all new experiences, there's plenty to learn to help you find incredible items at thrift stores, while saving money. Use this guide to get started on what may soon be your favorite way to shop.
10 Tips To Get the Most From Thrifting
So, what exactly is thrifting? Thrifting means shopping at a thrift store, flea market or garage sale. Unlike traditional retail stores like Target, Macy's or HomeGoods, items purchased while thrifting are pre-owned. Despite that, they're typically in good condition, with some potentially never even used by the person who once owned them.
Here are 10 tips to help you get started.
1. Use Label Resource to Spot Designer Goods
Thrift stores are a great place to find high-end pieces at deep discounts. However, the sheer volume of brands sold in these stores can make it hard to separate designer labels from other goods.
Sure, you know big names like Chanel and Tom Ford, but there are a lot of other high-end brands out there. A quick check of the brand on the site Label Resource will tell you everything you need to know.
2. Ignore Sizes on Vintage Goods
When browsing through a rack of vintage items seemingly your size, you might be a bit confused. If they seem several sizes too small or too large it's not you — it's them.
Make Your Money Work for You
Items from the 1950s, 60s and 70s will likely run small, while those from the 80s and 90s may run big. This is due to vanity sizing, where brands have rearranged their sizes to match the number customers want to see.
Avoid inadvertently buying something that doesn't fit by taking key measurements — i.e., chest, waist, hips — before shopping. This will allow you to truly shop by size, so you can gauge your perfect fit.
3. Shop Off-Season
Just as with major retailers, thrift stores tend to have end-of-season sales to make room for weather-appropriate inventory. In fact, since thrift stores are typically much smaller than big-box stores, they probably have an even deeper desire to get rid of off-season inventory, due to a lack of storage space. Therefore, if you time it right, you can score incredible discounts.
4. Find Out Which Days Inventory Is Restocked
Finding success at a thrift store is all about uncovering items you actually like. Shopping on days inventory is restocked will help you achieve this.
Ask an employee what days new items are brought onto the floor, so you can time your visits right. This will help you save money, because you'll likely be able to find more at your favorite thrift stores, instead of having to pay full-price elsewhere.
Why Is Thrifting So Popular?

People choose to go thrifting for a variety of reasons, including finding unique items and as a way to save money. Thrifting is also an eco-friendly way to shop, since you're bringing new life to pre-owned items.

Some people are passionate about thrifting, but it's not for everyone. If you're having trouble finding your groove, try out a few different stores. There's a good chance you'll get hooked as soon as you uncover your first really great find.
Make Your Money Work for You
5. Set a Time Limit
Thrift stores can be monumentally fun, but also a lot. Avoid burnout by giving yourself a time limit before you walk in the door. This will help you avoid buying things you don't actually need — or even want — because you're mentally exhausted.
6. Test Electronics Before Purchasing
From small kitchen appliances to battery-operated kids' toys, there are a lot of amazing deals to be had on electronic items at thrift stores. However, you can't just assume they're in good working order.
Since these pieces are pre-owned, it's always smart to test them out before purchasing. This will allow you to avoid wasting your money on an item that doesn't work properly — or at all.
Plug objects with a cord into an electrical outlet to see if they power up. Bring batteries in a variety of sizes to test out battery-operated items, to make sure they function as intended.
7. Make Sure Items Contain All Pieces
Thrifting is all about finding amazing deals, which don't include items without all the pieces. It might seem a bit tedious, but you must open the boxes to make sure all components are intact. You should do this with anything like board games, puzzles and sets of toys.
Many of these items won't be functional without all the pieces — or at least not as useful. You'll thank yourself later.
8. Consider Some Broken or Damaged Items
At first thought, it might seem crazy to buy anything broken or damaged from a thrift store. This is definitely the case for many items, but there are exceptions.
For example, if you're a sewing expert, you might be able to easily replace a broken zipper on a pair of expensive jeans. Broken and damaged items are typically sold at major discounts, so they're definitely worth a look.
9. Seek Out Discount Days
They're known as a place to save money, but some thrift stores offer even deeper discounts on certain days of the week. Ask the employees at your favorite stores if any such promotions exist, so you can take advantage of them.
10. Shop With a List
It's always a good idea to shop with a list, and thrifting is no exception. Since thrift stores sell a wide variety of goods, it's easy to get off-track and buy things you really don't need.
Making a list can help you stay focused. Vow to stick to it before stepping foot in the door, so you don't overspend.
Final Take
An amazing way to save money, thrifting can also double as a hobby. You can find unique and interesting items, while sticking to a budget.
Of course, as with any type of shopping, it's still easy to overspend when thrifting. Hopefully these tips will help you find success on your next thrifting adventure.
Our in-house research team and on-site financial experts work together to create content that's accurate, impartial, and up to date. We fact-check every single statistic, quote and fact using trusted primary resources to make sure the information we provide is correct. You can learn more about GOBankingRates' processes and standards in our editorial policy.