The Best and Worst Deals at Sam's Club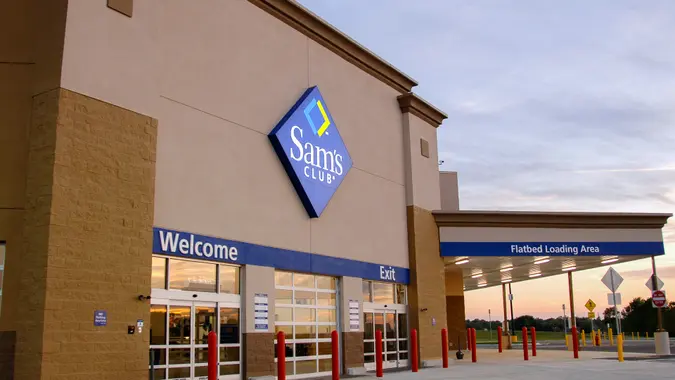 Americans have a few top-notch warehouse clubs to choose from including Sam's Club. Dating back to the early '80s, this megachain now has about 600 locations in the United States and Puerto Rico. Like other warehouse clubs such as Costco and BJ's, Sam's Club offers bulk pricing for its members. The value you receive from your membership depends on how often you shop there and, more specifically, what you buy. 
Walking through the aisles or browsing the Sam's Club website can be overwhelming. There are just so many products and so many hyped-up "deals." What's really worth your money and what are you better off purchasing elsewhere? GOBankingRates asked retail experts for their two cents on what to buy and what to skip at Sam's Club, and also learned about some general savings strategies.  
Buy These Items at Sam's Club 
Here are some items you should always consider getting at Sam's Club.
Quaker Instant Oatmeal
Julie Ramhold, consumer analyst at DealNews.com, said packets of Quaker instant oatmeal are a great deal at Sam's Club. The warehouse club sells a 52-pack box, in a variety of three flavors, for about $15, or 29 cents per packet. But at Walmart, a box of 20 packets costs almost $8 – nearly 40 cents each.
Perrier Mineral Water
At Sam's Club, you can get a 24-pack of 16.9 fluid ounce bottles for $18.98, or about 79 cents per bottle, and Ramhold identified that as a great deal. Walmart sells Perrier in six packs for about $6 – or $1 per bottle.
Make Your Money Work for You
Cottonelle Toilet Paper 
The warehouse club carries a bulk package of 36 "mega" rolls for around $26, and Ramhold said you'll pay more elsewhere. You can buy Cottonelle for the same price at Target – but you'll only get 30 mega rolls.
Clorox Bleach 
Sam's Club has a 3-pack of 121 fluid-ounce bottles of Clorox bleach priced at $14.98, so that works out to roughly $5 per bottle. If you shop at Walmart, you'll pay around $6.50 for just one 121 fluid-ounce bottle of Clorox bleach.
International Delight Caramel Macchiato Coffee Creamer Singles 
Ramhold's pick of the coffee creamer is a real deal. At Sam's Club, a box of 192 will only cost you $11.38, which is about 6 cents per cup. It's hard to find a case that large elsewhere, and you'll pay more than double buying in smaller packages. Walmart sells a 24-pack for $3.44, which calculates to 14.3 cents per cup.
Tires
"Tires are a decent deal at Sam's – and they offer roadside tire assistance," said Trae Bodge, smart shopping expert at TrueTrae. "Members can receive free flat tire repairs, even if you didn't buy the tires there."
Travel
"Sam's Club and other wholesale clubs offer discounted trips, which is a great way to save on travel," Bodge said. "So, if you're dying to get out of dodge … the packaged vacations at Sam's Club are worth a look."
Skip These Items at Sam's Club
Here's a closer look at some items you should avoid buying at Sam's Club.
Salad Mix
"While salad mix is a good deal at Sam's, those delicate greens need to be eaten within a few days while they are at their best," Bodge said. "Unless you have a big family full of salad lovers, you'll be better off buying smaller quantities at the grocery store or farmer's market."
Make Your Money Work for You
Brawny Tear-A-Square Paper Towels  
A 16-pack at Sam's Club will cost members nearly $34, or $2.12 per roll, and Ramhold said you can beat that deal. At Walmart, the same item is $31.88, or less than $2 a roll. "While Sam's Club isn't significantly more expensive, once you factor in the cost of a membership, it makes this product price even worse," she said.
Spices
"Sure, you can't beat the price of cumin at Sam's Club, but if you're cooking for a small family, it could take you years to get through that big [container]," Bodge said. "Spices tend to lose their potency after six to 12 months, so buy them in bulk mindfully."
Snacks
"While that huge bin of pretzels or cheese balls look tempting, ask yourself, 'How long will it take me and my family to eat them?'" Bodge said. "If you happen to be planning a gathering, those bulk snacks are a good deal, but if not, they could end up getting stale before you have a chance to reach the bottom. Bulk packages of single-serve snacks in bulk are a better option."
Milk
Milk is one of those things we say we are just going to "run into the store" to grab. And you're better off not making that stop at Sam's Club. Not only does milk cost a bit more per gallon, but you could wind up putting one of Sam's big-package bargains in your cart on the way out of the store, making your milk run an expensive one.
General Savings Tips for Sam's Club Shoppers  
Regardless of what you purchase at Sam's Club, it's important to know how to get the biggest bang for your buck. 
"There are multiple ways you can ensure you save more when shopping at Sam's Club, though a couple of them will cost you more upfront or require you to apply for a credit card," Ramhold said. "If you opt for a Plus membership, which costs $100 per year compared to $45 per year for the Club membership, you'll pay more but you'll also earn 2% back on all your qualifying purchases, up to $500 every year. If you shop at Sam's frequently, this could make the more expensive membership well worth it."
A Plus membership also comes with free shipping.
If you don't want the Plus membership, you can always apply for the Sam's Club Mastercard, as it's available to all members. 
"Once approved, you can use your card to receive up to 5% cash back on gas anywhere Mastercard is accepted," Ramhold said. "Plus members will earn 3% back in Sam's Cash on Sam's Club purchases while Club members receive 1% cash back. Plus, cardholders will earn 3% back on dining and takeout, and 1% back on everything else. The Mastercard will also double as your membership card, and it should be noted that it's different from the regular Sam's Club credit card."
Sam's Club offers other ways to save, too.
"Shopping the sales is a must, as you'll save extra on top of the already low prices whether the sales are online-only or both online and instore," Ramhold said. "Pay attention to the start and end dates on these so that you don't miss out; as Sam's Club is a warehouse club, its events don't have the same runtime as what you might see at big-box stores. Be sure to also sign up for emails, as they'll alert you to special deals going on that you'll want to take advantage of before they sell out."
More From GOBankingRates
Jami Farkas contributed to the reporting for this article.