Black Friday vs. Cyber Monday: Which Has the Better Deals?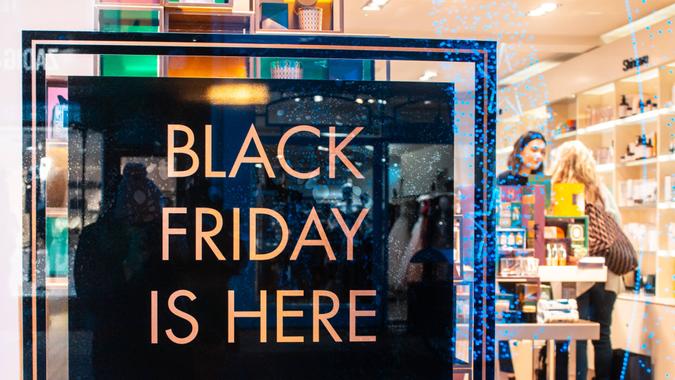 Diana Vucane / Shutterstock.com
The question comes up every year for holiday shoppers, "Should I take advantage of Black Friday or wait a couple more days for Cyber Monday?"
This year, the answer is a bit more complicated than usual, thanks to the ongoing pandemic and the havoc it has wreaked on the manufacturing and shipping side.
"Worldwide supply chain issues continue to impact retailers and consumers, and that's not going to change this holiday shopping season," said Dan Neiweem, co-founder and principal at Avionos, a digital commerce and marketing firm. "Unlike previous holiday seasons, they won't be pushing specific toys, electronics, or apparel because higher shipping costs are impacting shipments for these products, leading to limited inventory."
We can also expect to see higher prices and longer waits due to supply chain issues along with labor shortages, Neiweem said. 
But despite the unique challenges the retailers are up against, they're still going big on Black Friday and Cyber Monday. After all, their livelihood depends on their success this time of year. 
​​"Black Friday and the holiday season, in general, are hugely important for most retailers," said Kunal Chopra, CEO of Kaspien, an ecommerce marketplace growth platform. "These sales are a necessary part of the annual retail sales cycle, moving inventory and generating profit. Most retailers don't become profitable until Q4, a challenge from which the 'Black Friday' moniker is derived." 
Make Your Money Work for You
The shopping events also serve as critical indicators to the health of their businesses during a highly competitive holiday season, noted Harvey Ma, senior VP of Omni, Consumer & Retail Performance of North America at NielsenIQ.
"These events signal who consumers are 'voting' for and who they have selected to feed, delight, surprise and entertain their personal networks," Ma said. "And the ones who get it right across all facets of the consumer experience will win, not just on Black Friday or Cyber Monday, but likely throughout the holiday season and beyond." 
Because the holiday season as a whole is such a crucial time for retailers to rake in profits, we'll see both Black Friday and Cyber Monday bombarded with sales. But these two shopping events aren't quite created equal. 
"Cyber Monday tends to outperform Black Friday for online discounts, with the best deals of any during the five days between Black Friday and Cyber Monday but not by a significant amount," said Jonathan Silver, founder and CEO, Affinity Solutions, a global insights firm tracking consumer purchasing habits. "Last year, the average discount started at 28 percent on Thanksgiving and ended up at 29 percent on Cyber Monday, according to Salesforce."
Make Your Money Work for You
Though Cyber Monday has just a slight edge over Black Friday in terms of savings, the choice really comes down to what you're looking to save on. 
Shop Smarter: 5 Reasons Why You Need a Cash-Back Card in Your Wallet
Find Out: Top Holiday Toys, Gadgets and More To Shop Now — And What They'll Cost You
Shop For TVs, Appliances, And Video Games on Black Friday
In some cases, Black Friday sales — specifically doorbuster deals — trump Cyber Monday. 
"The Black Friday doorbusters on Thanksgiving Day offer shoppers the best chance to score the lowest prices on a variety of both budget and high-end brands for things like 4k TVs, video games, toys, large and small appliances and kitchen and dinnerware," said Vipin Porwal, founder of Smarty, a shopping tool for coupons and cash back. "Often these deals are available in advance to Black Friday."
Katie Roberts, consumer analyst with DealNews added that tools tend to see the sweetest savings on Black Friday. 
You'll Have More Time To Prepare For Black Friday
Another perk of Black Friday is that these sales tend to be advertised ahead of time, so you have more opportunity to get ready for them. 
Make Your Money Work for You
"There's less time to prepare for Cyber Monday than there is for Black Friday," Roberts said.  "With Black Friday, you may have weeks to pore over a store's ad and decide what you're going to buy. With Cyber Monday, you probably won't see as many sale ads, and some may not even show up until after Black Friday."
Shop Cyber Monday For Electronics, Apparel, and some continued Black Friday deals
"Cyber Monday is typically the best time to find a big discount on popular clothing brands, as well as great pricing on electronics and computing devices from all the major brands," said Porwal. "Beyond the traditional doorbuster deals, this will be a very good year to shop Black Friday sales for health and wellness products, as well as work/study from home items, as current inventories are saturated from the pandemic, so prices on these items can fall up to 50% off. Cyber Monday sales should remain consistent with past offerings featuring huge discounts on apparel and electronics, but also expect some of those Black Friday Deals to carry over into Cyber Week sales."
To Be Sure And Nab The Deal, Shop Black Friday
Though Cyber Monday may host better savings opportunities on key categories — savvy shoppers may not want to wait the extra few days. 
"Generally shoppers shouldn't wait to buy items on Cyber Monday if they like the Black Friday price because the item could either sell out, or go back up in price," Porwal said. "And this year that will play more of a factor than previous shipping issues as concerns for supply chain delays will push Black Friday sales earlier than ever before."
Expect Amazon To Dominate
Some experts suggest that there's really not much of a difference between Black Friday and Cyber Monday anymore — since so many Black Friday deals end up online — sometimes even before they hit stores.  
"Online sales will lead the charge for holiday retail revenue," said Gina Pomponi, president and COO of Bluewater Media. "Or maybe I should say Amazon will lead the charge with everyone else trying to catch up.  All of this is going to make Black Friday's online deals even more important. This year you'll have a better chance of finding Black Friday big screen TV deals in the comfort of your own home rather than waiting in line outside of a physical store at 4am."
Some Argue You Shouldn't Even Wait Until Black Friday
Many consumers began their holiday shopping in October — highlighting that the smartest move of all is to buy sooner than later, thanks to the supply chain issues. 
If you are dead set on a certain toy or other product this holiday season, don't risk waiting for a deal to pop up. 
"There will be shortages of toys and popular items since many of the goods could actually be sitting in the ports waiting to unload," said Ian Sells, CEO and co-founder of RebateKey.com. "Make sure to start early even if you think there might be a deal coming, you might miss the opportunity to buy that popular toy just to save a few bucks."
Plan Ahead Of Time For Both Black Friday And Cyber Monday
If you're willing to take the chance and hold out until Black Friday and/or Cyber Monday, it's crucial that you plan ahead. 
"Planning ahead of time can increase your odds of saving big during Black Friday and Cyber Monday," Roberts said. "Study the Black Friday ads if you can, and check to see which stores are going to have the best prices on the items you want. Pay attention to the ads from stores you don't normally shop, too. You'll want to look for when the deals will be available, and if any restrictions are associated with them."
More From GOBankingRates
Make Your Money Work for You