19 Clothing Stores That Offer Free Alterations
Take advantage of these complimentary services.
Many major retailers and brands offer free clothing alterations on their merchandise, so you could save major bucks if you take advantage of the complimentary services instead of going to an outside tailor.
Click through to find out which retailers offer free alterations, so you can save money on clothes.
1/19
Andi Brown / Flickr.com
1. Athleta
If your Athleta athletic apparel doesn't fit you quite right, you can head to your local store get your pants, skirt or dress hemmed for free. Other in-store perks include access to expert stylists and free fitness classes.
You might just find a new fitness trend to try while you're there.
2/19
Sorbis / Shutterstock.com
2. Banana Republic
Banana Republic Luxe cardholders get unlimited complimentary basic alterations on Banana Republic merchandise. Luxe status is attained by earning 5,000 points in a calendar year (five points are earned on every $1 spent at Gap, Old Navy, Athleta or Banana Republic). If you don't want to open a Banana Republic credit card or don't earn enough points to qualify for Luxe status, you can still enjoy affordable, $10 in-store alterations on Banana Republic apparel.
3/19
663highland / Wikimedia Commons
3. Barneys New York
Barneys New York offers complimentary in-store basic tailoring on all men's full-price suits and tailored clothing. Complimentary tailoring services include shortening of men's dress shirt sleeves up to one inch; tailoring the waist, hem or cuff of men's pants; and tailoring the center and side seams and sleeve length on sports coats, suit jackets and tuxedo jackets. To obtain the free suit alterations and other services, simply bring your purchase and a receipt to your nearest Barneys New York flagship store.
4. Blue Owl Workshop
Denim retailer Blue Owl Workshop will hem jeans purchased online for free. To get free hemming services, ship back the denim and send an email with the desired length. Blue Owl Workshop will also hem denim purchased elsewhere for a $25 fee.
5. Brooklyn Denim Co.
Brooklyn Denim Co. offers complimentary hemming on every pair of jeans purchased in-store or online. The Brooklyn-based shop also offers custom tailoring on dresses, jackets, pants and shirts for an additional charge. They also accept outside alterations, which is helpful when you're trying to achieve the perfect wardrobe.
6/19
GoToVan / Wikimedia Commons
6. Brooks Brothers
Brooks Brothers offers free basic alterations on trousers, including taking in or letting out the waist one inch, finished hems for a specific inseam length, and plain or cuffed hemming options.
7/19
Goran Bogicevic / Shutterstock.com
7. Buckle
Free jean hemming is available at Buckle stores for any denim purchased in-store or on Buckle.com. However, alterations must be requested within 30 days of purchase, and you must present the original receipt to receive the service.
8/19
Miosotis_Jade / Shutterstock.com
8. Dillard's
Alterations on full-price tailored items and unfinished pant bottoms are free for Dillard's customers. However, there is a fee for on-sale tailored items, as well as alterations on ready-to-wear coat sleeves, pant bottoms, skirt and dress hems, sleeves and straps.
9/19
Dan Theurer / Flickr.com
9. Hugo Boss
Hugo Boss offers free basic alterations on full-price men's and women's plain unfinished trousers. Hugo Boss Experience members receive other alteration services free of charge, including (non-leather) jackets, coats, trousers, leather trousers, shirts, skirts, dresses, blouses and tops. Hugo Boss alterations are not available at outlet locations.
10/19
Solis / Shutterstock.com
10. J. Crew
J. Crew offers complimentary standard alterations of full-price men's and women's pants, men's and women's jackets, and skirts if they are purchased with a J. Crew credit card. They do not offer alterations on sale items or special occasion merchandise.
11/19
Corey Coyle / Wikimedia Commons
11. Lands' End
Lands' End offers free cuffing and hemming on trousers and pants. To receive the service, you must specify the length, and keep in mind that requests will add one to two days to the processing time.
12/19
Elvert Barnes / Flickr.com
12. Lululemon
Athletic brand Lululemon offers complimentary hemming on tops and pants at all of its stores. You do not need to have tags on your merchandise or present receipts to get the service.
13/19
Susan Montgomery / Shutterstock.com
13. Madewell
You have to be a Madewell Insider to receive free hemming on jeans, but the loyalty program is free to join. Members also get a birthday gift, free monogramming, free economy shipping, free returns, early access to exclusive collaborations and invitations to special events.
14/19
August_0802 / Shutterstock.com
14. Nike
Select Nike locations, including San Francisco, Chicago and Los Angeles, offer free pant hemming services on women's athletic apparel purchased in-store.
15/19
GoToVan / Flickr.com
15. Nordstrom
Nordstrom stores offer free basic alterations on many full-price items purchased at Nordstrom and Trunk Club, online or in stores. To receive the service, bring in your receipt or packing slip for your consultation with an onsite alteration expert. If any charges do apply, they will let you know upfront.
In addition to offering free basic alterations, Nordstrom is also one of the retailers that offer free shipping all year.
16/19
thinkretail / Flickr.com
16. Ralph Lauren
Ralph Lauren provides complimentary alterations on full-price men's suits and women's Collection apparel in select stores. A copy of your invoice must be presented at the store for alterations to be made. Complimentary alterations are not available on sale items, but they will perform the services for a fee.
17/19
Philip Pessar / Flickr.com
17. Saks Fifth Avenue
All full-line Saks Fifth Avenue stores provide alteration services, many of which are complimentary. All bottoms and cuffs are free to alter, but other basic alterations including shortening or lengthening sleeves and hemming jeans with a top-stitch finish are only free on full-price garments. Sale items can also be altered, but there is a fee.
18. Self Edge
Denim brand Self Edge offers free chain-stitch hemming on all jeans bought in-store at their San Francisco, New York, Los Angeles or Portland locations. You can also get previously-owned jeans chain-stitched in-store for a $25 fee.
19/19
Sorbis / Shutterstock.com
19. Uniqlo
Uniqlo offers free hemming on pants costing $20 or more that require machine stitching. Items below $20 can be machine-stitched for $5. For hidden stitching, pants costing $20 or more can be hemmed for $5, and pants costing less than $20 can be hemmed for $10.
More From GOBankingRates
About the Author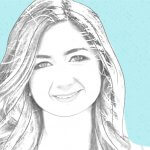 Gabrielle joined GOBankingRates in 2017 and brings with her a decade of experience in the journalism industry. Before joining the team, she was a staff writer-reporter for People Magazine and People.com. Her work has also appeared on E! Online, Us Weekly, Patch, Sweety High and Discover Los Angeles, and she has been featured on "Good Morning America" as a celebrity news expert.