7 Costco Brand Items To Stock Up On in January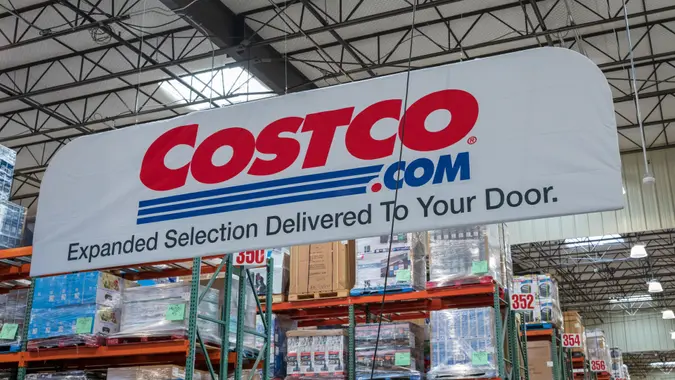 artran / Getty Images
People shop at Costco for many reasons and products, but there's no doubt that one of the things that keeps customers so loyal is Costco's own signature brand of products, Kirkland.
Food Stamps: What Is the Maximum SNAP EBT Benefit for 2023?
See: 3 Ways Smart People Save Money When Filing Their Taxes
SNAP Benefits: How Long Do They Last?
Kirkland products stretch across all consumer areas, from food to clothing to household supplies, vitamins, baby care and more, and these products are often much cheaper than their brand-name counterparts. We gathered up a list of seven Kirkland items that you'd be smart to stock up on in January.
Kirkland Signature Chewable Vitamin C 500 mg, 500 Tablets
Along with January's cold and intemperate weather conditions comes cold and flu season. Boost your immune system and try to get ahead of those nasty little viruses that want to take you down with a healthy dose of Kirkland's Vitamin C. These 500 mg tablets are a tasty orange flavor and chewable. Your body will thank you for the extra boost. This 500-tablet container is just $17.99.
Make Your Money Work for You
Kirkland Signature Stretch-Tite Plastic Food Wrap
Winter is a good time to make big batches of hearty meals, like stew, soups, pot roasts and casseroles. But when you have leftovers, you need to cover them up for freshness. Take advantage of Kirkland's Stretch-Tite plastic food wrap. According to SheKnows, "this stuff is way better than any other brand of plastic wrap we've tried." It's just $24.99 for a whopping 3,000 feet of the stuff — you probably won't run out until 2025! Or if you want to spend less, it's just $15.99 for two boxes, adding up to 1,500 feet for $15.99.
Kirkland Signature Organic Broccoli Florets, 4 Pounds
Maybe you made a New Year's resolution to eat more veggies or get your kids to do so. Maybe you are already a vegetable lover who doesn't want to have to brave the weather to get out and shop frequently. Whatever your approach, Kirkland makes eating healthy easy, by selling a 4-pound bag of broccoli florets. According to Kitchn, the florets come in four 1-pound bags, which helps you avoid freezer burn because you only have to open one bag at a time. Though the price may vary from location to location, according to Kitchn, they should run you around $7.99.
Make Your Money Work for You
Take Our Poll: Are You In Favor of More Inflation Relief in 2023?
Kirkland Signature Merino Wool Blend Socks for Women and Men
Winter is the season for keeping your tootsies extra toasty, and Kirkland can help with that. Its extra-fine merino wool blend socks come in a pack of four pairs, and offer such features as breathable mesh and a smooth finish toe seam, so you don't have any irritants in your shoes. Wear them while kicking back on the couch with a movie, to the gym or to work. The four-pack of crew socks for women is just $16.99. There's also a six-pack of Kirkland's merino wool socks for men for just $22.99. These are moisture-wicking with a full cushion in addition to the same features as the women's socks.
Kirkland Signature Filtered Water Pitcher
With bad winter storms often come interruptions to things like water and power. Flooding can back up drains and make it unsafe to drink the water from your house. Ice and snow can freeze pipes. Rather than buying a lot of plastic water bottles that go to waste, you can take advantage of this affordable water filtration pitcher that Kirkland offers. For less than $30 ($29.99), you get the pitcher and two filter cartridges. The BPA-free pitcher makes 10 cups of filtered water and its electronic reminder will let you know when it's time to put in a new cartridge.
Make Your Money Work for You
Kirkland Signature Dark Roast Colombian Coffee, 3 Pounds
What better to get you through the cold dark days of winter than strong Colombian coffee? Costco's 3-pound container is finely ground for your coffee pot, French press or drip filter. Even the most avid coffee drinker won't have to worry about running out for quite some time. Enjoy this java goodness for less than the cost of four fancy lattes as it rings in at $19.99.
Kirkland Signature Animal Crackers
Nobody has time to keep making their kids' food all day long, but kids often have a penchant for snacking, especially when they're stuck inside on cold, rainy or snowy days. Solve one of these problems with Kirkland's bucket of animal crackers. They stay fresh and tasty in their easy-to-seal container, and you can rest in the knowledge that your kids aren't eating something unhealthy for a snack. Adults like them, too! These happen to also be organic and Kosher. A 64-ounce tub is $13.49.
More From GOBankingRates
Make Your Money Work for You