Costco Deal: Get a $30 Gift Card When You Buy a Gold Membership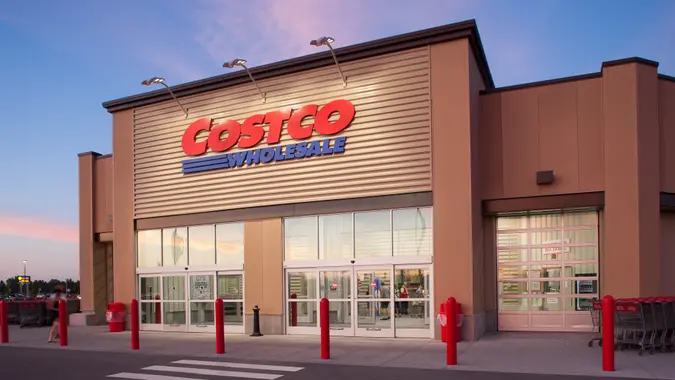 Yvan DubA / iStock.com
If you've been waiting for one of Costco's frequent membership deals, now is a great time to join and purchase a one-year Costco Gold Star Membership card for $60. For a limited time, if you sign up for Costco's basic membership plan, you'll receive a $30 Digital Costco Shop Card for free — that's like getting your membership for half price.
Costco's Best Deals? Employee Reveals Standout Buys for Your Money
Find: If Your Credit Score Is Under 600, Make These 3 Moves ASAP
The Gold Star membership plan comes with a card for the household to use at any Costco location worldwide, including more than 800 locations throughout the United States, where shoppers can always find a wide selection of great value groceries, home goods, electronics and more.
The current deal is only available to U.S. and Puerto Rico residents and you must be joining either as a new customer or a previous member whose membership has been expired for more than 18 months (before Apr. 2021).
Make Your Money Work for You
Per GameSpot, the one-year Gold Star Membership allows customers to shop at Costco Business Centers, Costco Travel, online at Costco.com and at its gas stations, optical and hearing aid centers and pharmacies.
To qualify for this promotion, your membership must be redeemed by May 14, 2023, but Costco encourages shoppers to redeem it within 30 days of purchase. The $30 Digital Costco Shop Card will be emailed to you within two weeks of joining Costco, does not expire, cannot be regained for cash and can be redeemed in-store or online.
Compare: 5 Most Overpriced Costco Items, According To Superfans
Dollar Store Survey: 44% of Americans Plan To Bargain Shop in 2023
Now more than ever, Americans and their families are trying to come up with ways to stretch their budgets further. Becoming a member of the nation's favorite one-stop retailer is always a smart move, but it makes even more sense to get a deal when you join.
More From GOBankingRates
Make Your Money Work for You