Costco Is Offering Free Digital Gift Cards to New Members — Is Now the Right Time To Sign Up?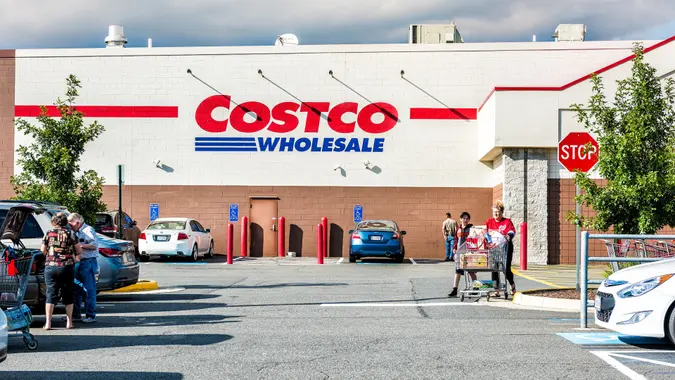 855684128 / iStock.com
If all the Costco deals as of late have enticed you, then you're in luck. Current new members can earn a $30 digital Costco Shop Card when they sign up for a Gold or an Executive membership and agree to automatic renewal for next year.
Gold memberships cost $60, while an Executive membership costs $120 but pays 2% back as a Costco voucher at the end of your one-year membership anniversary. With the $30 Costco Shop Card, your Gold membership is half-price, or you can snag 25% off your Executive membership.
It takes $6,000 in purchases to earn back your Executive membership fee. But if you shave $30 off the price upfront with this deal, you only need to spend $4,500 the first year to cover your membership fee.
Costco often offers deals for new members. The wholesale club previously offered $60 gift cards, essentially making the first-year membership free. But with so many companies cutting costs right now, we will not likely see that deal again soon.
Fifty percent off a Gold membership is still a tremendous value, and there are a few good reasons to sign up right now.
We Don't Know How Long This Deal Will Last
Even though Costco has offered other membership deals in the past, there are also times when they still need to provide incentives to new members. Since the Costco website doesn't indicate when this promotion ends, it's smart to take advantage now and avoid missing out. 
Make Your Money Work for You
Costco Is Cracking Down on Card Sharing
Costco fans on Reddit have recently shared stories of how their favorite wholesale club is cracking on people sharing their membership cards. The Gold and Executive memberships include one free card for someone else in your household.
In an emailed statement, Costco previously told GOBankingRates, "We don't feel it's right that nonmembers receive the same benefits and pricing as our members." Costco confirmed that their new policy now entails checking membership cards – and verifying that the card photo matches the shopper – at self-checkout lanes. If your Costco card doesn't contain an image, the employee will ask to see a photo idea.
If you've been sharing a card with a friend or relative to cut costs, investing in your membership is time.
You Could Start Saving and Earning Today
Many people start home renovations in the fall, whether updating aging patio furniture, revamping your kitchen in time for the holidays, or splurging on new living room furniture. Big-ticket purchases like these could cover the cost of your Executive membership in one shopping trip. Imagine all the cash back you can earn during the winter holidays.
Even if you opt for the Gold membership, you can save money on things like fall décor, holiday decorations, and all the foods you need for seasonal entertainment.
If you've been on the fence about joining the legions of Costco fans, why wait?
More From GOBankingRates
Make Your Money Work for You