How Shopping at Dollar Tree Can Help You Save Over $300 a Month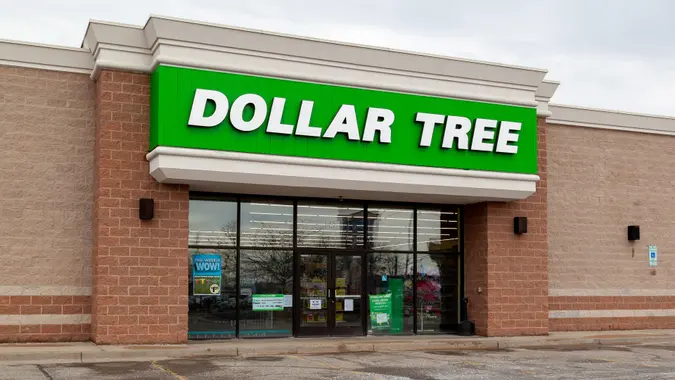 JHVEPhoto / iStock.com
When you shop at Dollar Tree, you know you're going to save money. That's because the discount retailer is there to make sure you don't overspend on the products you buy everyday. But have you ever added up all of the bargain discounts and totaled the amount of moolah you're keeping in your pocket?
Here is how you can save $300 a month when you buy at Dollar Tree.
Family Meals & Other Food
Dinner is served when you shop at Dollar Tree and pick up any one of their name or in-store brand pasta items that are cheaper than other retailers.
Dollar Tree also has a large selection of spices, which can save money every time you need to refill. Among other bargain foods you will find at Dollar Tree: protein bars, granola, soup, crackers, chips, hot sauce, cake mix, noodles, instant coffee.
You can create a meal for as little as $2 per person off your Dollar Tree groceries. The standard monthly food budget for a four-person family is at least $1,000, so Dollar Tree can provide family meals on a budget of $750 a month (though you might need to find fresh fruit and vegetables elsewhere).
Make Your Money Work for You
So, if you go the full budget route on dinners, you can save at least $250 a month for a family of four.
Take Our Poll: Would You Put All of Your Savings in an Apple Savings Account?
Cookware
Eating food isn't something you do just once a day. If you are meal prepping and making three squares a day, then you need to be saving some dough by shopping at Dollar Tree for your cookware.
You can save on pizza pans, cake pans, cooling racks, coffee filters, funnels, measuring cups, utensils, drinkware and more. Some of these are monthly needs that could save $20 or more off your food-prep budget.
Organization and Storage
Having too much of something can be a bad thing, even if it's things you like. Luckily, Dollar Tree has so many tools to organize and store your stuff. From large, clear plastic bins to keep clothes or personal effects safe to food containers that will keep your favorite produce fresh. 
You can even get closet storage bins or fridge organizers for a third of what you would pay at Target or other stores.
Julie Ramhold, consumer analyst with DealNews.com, told GOBankingRates that you could save $5 on plastic sandwich bags and $1 on hand soap refills.
Make Your Money Work for You
You can probably count on savings of $10 to $15 a month on standard storage items.
Cleaning Supplies
Throughout the year, you're going to have to do some cleaning. Shopping at Dollar Tree will let you buy name-brand products for a fraction of the cost at other retailers. Tile cleaners, disinfectants and stain removers are all cheap at Dollar Tree, costing $3 to $5.
Ramhold told GOBankingRates you could save around $18 a month on cleaning supplies, including disinfecting wipes, toilet bowl cleaner, latex gloves and sponges.
Clothing and Apparel
No matter how hard you try to avoid spills or ripping, you're going to damage your clothes at some point. Dollar Tree is the place to go for basic apparel: hosiery, socks, tank tops, hats, scarves, gloves. These all cost anywhere from $1.25 to $5.
If you have kids, you probably find yourself replacing socks and shirts all the time. Your average monthly savings on basic clothing items could be as high as $30.
Personal Care Items
Dollar Tree offers great prices on toothpaste, dental floss, cleaning pads, deodorant, body wash, shampoo, soap, soap dispensers, bath mats, etc.
Make Your Money Work for You
You could save at least $20 a month on the items you use most in your bathroom.
School and Art Supplies
You can save a lot of money — two-thirds of what you might pay elsewhere — using Dollar Tree to supply your kids with notebooks, pens and pencils, crayons, scissors, glue, etc.
Also, if you are an artist or have one in your life, just picture all of the green you'll be saving when you buy art supplies at Dollar Tree. From pouring paints to watercolor pads, Dollar Tree has it all at a discounted price.
Final Tally
By shopping at Dollar Tree, you can see the savings each month reflected back to you in your bank account. Once you get out the calculator and add it all up, you'll find that smart shopping at this dollar retailer can save you up to $300 each month, if not more.
More From GOBankingRates
Make Your Money Work for You
Make Your Money Work for You