Dollar Tree Is Dropping Prices Back to $1 — Here's What Could Be Impacted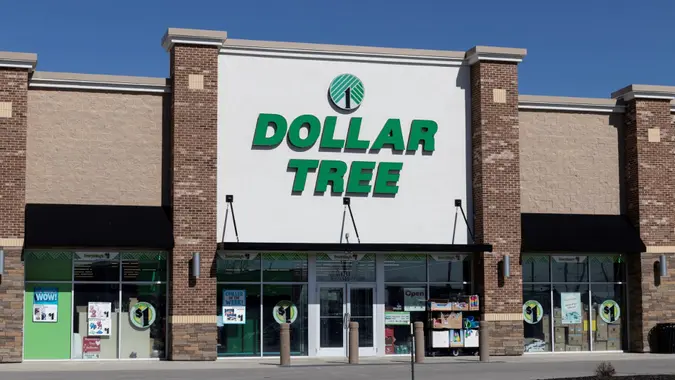 In an economy that has seen its fair share of ups and downs over the past few years, it's not surprising that Dollar Tree has turned back the clock and slashed hundreds of store items back to $1, as GOBankingRates previously reported. However, those expecting inventory-wide dollar deals will be disappointed.
At the end of 2021, Dollar Tree pushed the base price of many of its products from $1 to $1.25 and has indicated it will stick to even higher price points on a good number of its products, charging $3, $4 and $5 for select items, even as it drops many others to a buck.
"It's pretty hard to have a banner like (Dollar Tree), and you have an item that everybody else has at $1, and you're at a buck and a quarter," Dollar Tree CEO Rick Dreiling told an investors' conference in June.
The concern for long-time customers is that Dollar Tree is scaling back the price on things it can still make a profit on — namely, cheaper products or brand-names in smaller quantities or packages (for the same price).
Keeping a price structure that includes an array of price points is worrisome, too, as it seems conform to typical retail store pricing and goes against the very nature of "dollar" stores.
However, Dreiling was quick to clarify that price points will be limited in number. "I don't want anybody walking out of this room thinking we're going to have $1.25, $1.30, $1.35," he said. "That's not what we're going to do at all."
Make Your Money Work for You
Which Dollar Tree Products Will Be Available for $1?
So what is Dollar Tree going to do? And which products will be impacted? No one knows for sure yet, but according to CMO Rick McNeely, the company is rolling back "roughly 300, maybe 400 items" of its 8,000 available products (about 5% of its inventory) back to $1.
"We intend to have limited and fixed price points," said McNeely. "We're not going to have every price under the sun. We're going to remain the Dollar Tree that the customer loves… complication is not our friend."
But as Coupons in the News reported, Dreiling and company have confirmed certain stores are going to be "experimenting with a couple more price points," and will be adding more products priced at $1.50 — and between $3 and $5 — in an effort to expand their share of today's food market.
Lowering prices back to $1 is nothing to scoff at, but the benefits to loyal customers might turn out to be minimal. This 5% inventory price concession could simply be Dollar Tree answering competitors like Dollar General, who "remain committed to offering products at $1 or less."
"One of the things we're very, very pleased with is the fact that we are still leaning hard into our dollar price point," Dollar General CEO Jeffery Owen told investors earlier this year.
More From GOBankingRates
Make Your Money Work for You