Dollar Tree: What Are My Payment Options?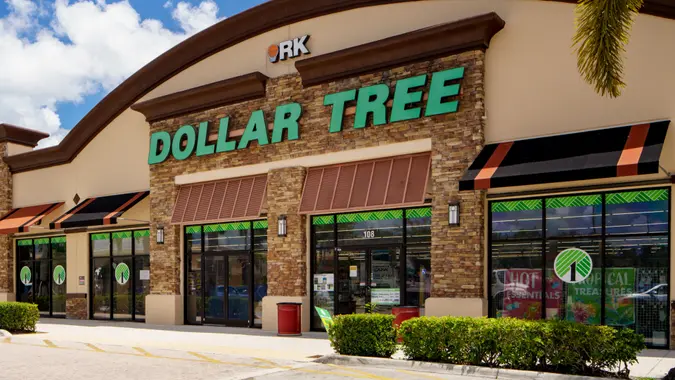 felixmizioznikov / Getty Images
Dollar Tree shoppers have several payment options they can use to complete their transactions. How you make a payment in-store may be different than how you pay if you shop online. It's important to know the difference to ensure your payment goes through and your order is processed.
Here's what the payment options are at Dollar Tree.
In-Store Dollar Tree Transactions
Credit, debit and EBT cards are accepted as forms of payment at Dollar Tree. You may use checks to make payments since all stores are equipped to process checks through electronic check acceptance.
If you have a Dollar Tree gift card, you may use it to complete your purchase. Dollar Tree also accepts coupons in stores. Shoppers are encouraged to visit their Terms & Conditions page to learn more about their In-Store Coupon Acceptance Policy.
Take Our Poll: Do You Think AI Will Replace Your Job?
$1 Fee for Cash Back on Debit Transactions
According to Dollar Tree's FAQ, the retailer charges a $1 surcharge on cash back transactions. It must be approved at the point of sale by the customer before the transaction is completed.
Make Your Money Work for You
What if you ask for cash back and do not receive it? Shoppers are encouraged to contact Dollar Tree's Asset Protection department for extra assistance. 
How To Check Dollar Tree Gift Card Balances
Not sure how much money is left on your gift card? You can check the balance in-store at any of the store's registers or call the number on the back of your card.
Online Dollar Tree Transactions
Online orders made through the Dollar Tree website accept American Express, Visa, Mastercard and Discover credit or debit cards. You may also pay using PayPal or PayPal Credit.
What Forms of Payment Are Not Accepted Online?
Dollar Tree does not currently accept payment in these forms:
Purchase orders
Coupons
Google Wallet
Apple Pay
When Does the Charge Appear on My Account if I Use a Credit or Debit Card?
After placing an order online, a pending authorization will be put on your credit or debit card account. This is for the full amount of your order. In your account, it will show up as a pending transaction. Your credit or debit card will be charged once the order has been shipped to your address.
Make Your Money Work for You
More From GOBankingRates
Make Your Money Work for You