Don't Shop at Target on This Day of the Week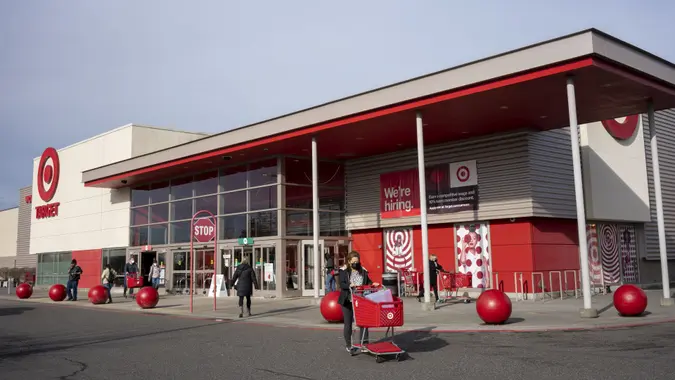 hapabapa / Getty Images
The many perks of shopping at Target often come with a catch: The big-box retailer can become extremely busy, especially if you go during the busiest days of the week. During these times, you're more likely to get caught up in long lines and have difficulty finding a store representative to help you if you need it. You may also be facing limited stock on the shelves, depending on how busy your particular location gets.
If you're trying to find ways to avoid the crowds and still get the best deals at Target, here are the best and worst times to plan your shopping trip.
Best Days To Shop at Target: Tuesday and Wednesday
While the best and worst days to shop may vary a little by location, many major retailers — like Walmart and Target — have similar patterns when it comes to how busy they get and their restocking schedule.
"In my opinion, the best days to shop at Target would be early on weekdays, particularly Tuesday and Wednesday," said Liam Lucas, owner of Off Road Genius. "Many retail stores, including Target, restock their shelves during these days, giving customers access to fresh inventory and a wider selection of items."
You may want to time your visit to ensure you go in the mornings, though.
"The best days of the week to shop at Target are weekdays in the morning," added Scott Lieberman, founder of Touchdown Money. "You'll typically find fewer people at the store, meaning you'll be able to really explore the aisles, see the discounts — and have them be in stock."
Make Your Money Work for You
Worst Day To Shop at Target: Saturday
If the best days to shop at Target are during the middle of the week, then it should come as no surprise that the worst days are typically the weekends. In particular, you should generally avoid shopping on Saturdays as they tend to be busier and have a more limited selection of discounted items.
"Weekends, especially Saturdays, can be the worst days to shop at Target," said Lucas. "This is when the stores are most crowded, leading to longer check-out lines and potentially depleted stock from high customer volume."
For similar reasons, you may also want to avoid the store on Sundays. Unlike Saturday, however, Sundays at least come with the release of Target's new weekly ad and its storewide discounts.
Also, avoid going to your local Target near the holidays as a lot of other people will have the same idea and be heading to the store for their shopping needs.
"Target is typically more crowded on holidays and the days leading up to holidays, so this is a time to avoid shopping if possible," said Ivan Marusic, founder of Game Boy World.
If you need to get some shopping done around the holidays, try to do it online. But be aware that delivery times may be longer. Certain in-demand items are also more likely to be out of stock around the holidays, and anything that was discounted could already be gone.
Tips To Save Time and Money at Target
Here are a few strategies you can use to optimize your Target shopping experience and save a bit of money:
Use Target's rewards program. This is a free app that gives you exclusive discounts and deals storewide. "Make sure to sign up for Target's Circle rewards program, where you'll save 1% on items, get deals tailored to your shopping habits, discounts on your birthday, and more," said Lieberman.
Get the Target RedCard. Target's RedCard is a store card that lets you save money on your purchases. "Utilising Target's RedCard can help shoppers save 5% on all purchases," said Lucas.
Purchase your items in advance. "Consider doing 'pick up and go' on Target.com, where you shop and pay for your items online, then go in store to pick up those items at designated areas," said Lieberman. "This will help reduce impulse shopping (which is almost guaranteed at Target!) and can help you stick to your budget better." To further resist impulse buys, take advantage of Target's curbside delivery service.
Buy from the clearance section. Like many retailers, Target has a clearance section that's worth checking out. After all, you never know what deals you might find there. "Target has a clearance section where you can find items that have been marked down significantly," said Marusic. "The clearance section is typically located at the back of the store, so be sure to check it out before you leave." Just avoid buying things you don't need.
Get the weekly ad. Typically, Target puts out a new ad once a week with the latest deals and savings opportunities. "Keeping an eye out for Target's weekly ad can give you a heads up on upcoming discounts and deals," said Lucas.
Shop at the retailer's Dollar Spot. If you're looking for very inexpensive items, you might be able to find them at Target. "Target's Dollar Spot is a section of the store where you can find items for $1 or less," said Marusic. "The Dollar Spot is a great place to find snacks, party supplies, and other small items."
Make Your Money Work for You
More From GOBankingRates