Dress Like a Runway Model for Cheap by Shopping at These 6 Luxury Thrift Shops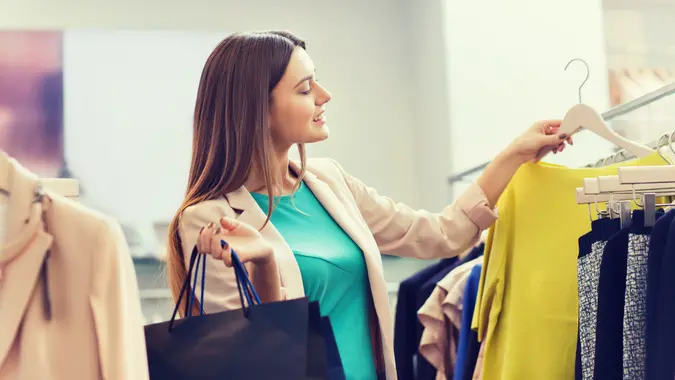 ©Shutterstock.com
Are you looking for luxury wear, but don't want to pay the price for it? Thrifting is one of the best ways to find luxury goods at a low price.
Thrifting has taken America by storm in recent years. As prices rise around the country, the love for thrifting remains constant. In an economic crisis, people turn to buying and selling goods at consignment shops, hoping to find good deals on clothing and household wares.
When most people think of thrifting, they are not thinking of these luxury shops that specialize in only high-end goods. In fact, some of these thrift shops will not take the clothing you are trying to sell to them if it is not from a recognizable brand. If you're looking for luxury, skip your local Goodwill or Salvation Army — check out these thrift shops instead.
Buffalo Exchange
With its humble beginnings in Tucson, Arizona, in the 1970s, Buffalo Exchange has expanded nationwide. Now with over 40 locations, Buffalo Exchange is a top pick for many thrifting enthusiasts.
The store specializes in both men's and women's clothing. It offers 25% cash back or 50% in-store credit if you wish to bring in old clothing.
Crossroads Trading
Crossroads has more locations on the West Coast, but this thrift store can also be found in major cities across the U.S. Crossroads promotes accessibility to luxury wear and sustainability in clothing. Gently used name-brand clothing is Crossroads' specialty.
Uptown Cheapskate
In 2009, Uptown Cheapskate opened its first store in Salt Lake City, Utah, and has since spread across the country. Uptown Cheapskate aims to bring trendy, name-brand clothing to teens and young adults at a low price. To trade in, Uptown Cheapskate wants gently used clothing in great condition that has been freshly laundered and will provide instant cash back or 25% in-store credit.
Make Your Money Work for You
Plato's Closet
Also for teens, Plato's Closet is known for carrying trendy accessories and clothing for young people. Like the other stores on this list, Plato's Closet will only take clothing from particular brands, so if you are interested in trade-in, do your research.
Style Encore
Style Encore is Plato's Closet's sister chain. Similar to Plato's Closet in its methodology, Style Encore is only focused on the purchasing and reselling of name-brand women's clothing. They offer women's clothing for a discount of 90% off of retail prices. 
Clothes Mentor
Clothes Mentor has over 120 locations nationwide. Like Style Encore, Clothes Mentor specializes in luxury women's clothing. Clothes Mentor also has an online store. Clothes Mentor offers high-end clothing and accessories at up to 70% off retail prices.
More From GOBankingRates