Egg Prices Plummet to Lowest in Over Seven Decades, While Another Big-Buy Skyrockets to an All-Time High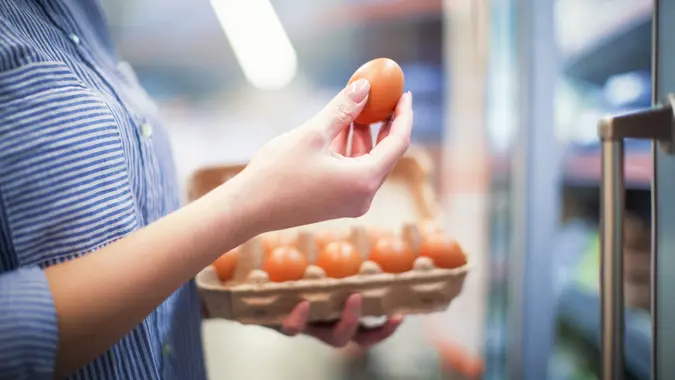 Aja Koska / iStock.com
Egg lovers can finally rejoice and breathe a sigh of relief. The price of eggs– which have somewhat become a symbol of inflation in the past months– have finally significantly declined.
Hidden Gems: Affordable Luxury Goods at AldiMore: How To Build Your Savings From Scratch
In fact, the price of eggs decreased 1.2% in May, as the index for eggs fell 13.8%, the largest decrease in that index since January 1951, according to the May Consumer Price Index (CPI) released June 13. For the year, eggs' prices are down 0.4%.
"Egg prices, in particular, have been front and center for households in recent months and are now falling. Between January and April 2023, egg prices fell a cumulative 18%; however, as of April they were still 40% above January 2022 levels," White House Council Economic Advisers wrote in a June 7 report.
While this is positive news for consumers, following two months of unchanged prices, food prices were up 0.2% in May — a 6.7% increase over the year, according to the CPI.
And some items saw particularly large jumps in prices in May, such as frozen noncarbonated juices and drinks, whose prices increased 7.4%, and a whopping 10% over the last year, according to the CPI.
Bloomberg reports that this is the biggest jump most ever, amid a disappointing U.S. orange harvest.
Additional food items that increased for the month include fruits and vegetables, which were up 1.3%  in May, with the price of lettuce increasing 5.3% for example, and the price of apples up 1.9%.
On the other hand, some items saw some relief, such as the index for meats, poultry, fish and eggs, which decreased 1.2% in May, with pork chops being down 1.5% for example and frozen fish and seafood being down 2,2%, the CPI data shows.
Make Your Money Work for You
Take Our Poll: Who Has Given You the Best Money Advice You Have Ever Received?I Work at Costco: Here Are 12 Insider Secrets You Should Know
Overall, the food-at-home index increased 0.1% for the month and 5.8% over the year, while the food away from home rose 0.5% in May.
More From GOBankingRates