6 Electronics Items You Should Buy at Walmart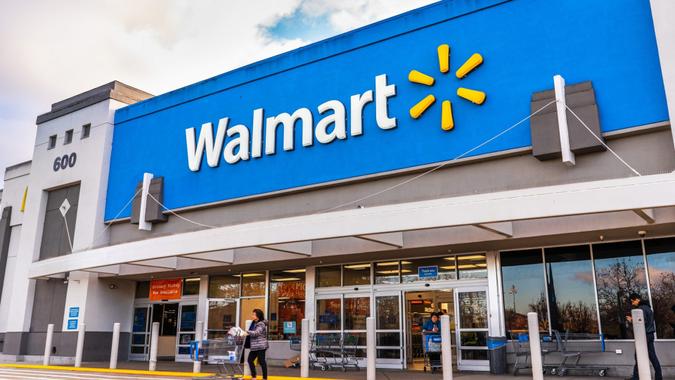 Sundry Photography / Getty Images
For many people, Walmart is the go-to for just about everything, from bread, milk and eggs to diapers, birthday cakes and lawnmowers. Now, you can add electronics to the list.
See: 10 Walmart Items That Give You the Best Bang for Your Buck
Find: Should You Buy Groceries at Walmart?
Whether in-store on online, the retail giant stocks just about every television, tablet, camera, computer, cellphone or game console you might want. It carries an extensive line of products under its onn. label — Walmart's private brand — as well as big-name lines. And while the store's Black Friday electronics sales draw a crowd, you can count on everyday low prices, as well as price rollbacks and reductions throughout the year in the department to find what you need.
Read on to learn more about some of the best deals currently available in the electronics department at Walmart.
Straight Talk Prepaid Plans and Phones
Walmart is the exclusive retailer of Straight Talk, a prepaid phone service. You aren't required to sign a contract. Monthly plans start at $30, but the unlimited plan costs $45. Buy an airtime card in store each month or set your account to autopay.
Make Your Money Work for You
You can buy a phone through Straight Talk or bring your own compatible device. Straight Talk has both Apple and Android phones, including the popular iPhone SE 2020 with 64GB, which sells for $249.99. As a bonus, you'll get 90 days of free service, a $130 value, included in the price.
Verizon also offers prepaid plans and phones. The next-generation iPhone SE 2022 with 64GB costs $429.99. The unlimited service plan starts at $65 per month, but the price drops to $55 in your tenth month of service. The price falls another $5 a month if you enroll in autopay in your second month of service or later.
Headphones
Walmart sells a variety of headphones, including Apple AirPods, and has models for just about every need and price point. When Walmart does a price reduction, the savings can be phenomenal. Currently, Walmart has the Beats Solo Pro Wireless Noice Cancelling On-Ear Headphones, with an Apple H1 headphone chip, on sale for $129, down from $299.95.
A similar refurbished pair at Amazon costs $149.
Make Your Money Work for You
Related: 21 Dollar Store Items That Give You the Best Bang for Your Buck
Televisions
We've all walked through Walmart and seen the displays of big-screen TVs in the aisles with the low prices posted, and they can be awfully tempting. Walmart's television prices can beat or match the competition year-round, with Black Friday specials offering the biggest savings. The store featured an onn. brand 70-inch Class 4K UHD LED Roku Smart TV HDR for $398 during Black Friday 2021 sales.
If you don't need such a big screen, or can't wait until November to score the biggest deals, Walmart currently has a similar 55-inch model priced at $298 — reduced from $379 — a 50-incher for $268, and a 42-inch model for $218.
Laptop Computers
In store and on its website, Walmart has a variety of laptop computers to suit personal and business needs. If you're looking for a low-price model for the kids to use for homework, Walmart has a contender: a Samsung 11.6-inch laptop Chromebook with 4 GB RAM. It's on rollback for $119.99, reduced from $229. If you order straight from the manufacturer's website, you'll pay the higher price.
Make Your Money Work for You
Printer Ink
For something that doesn't plug in, printer ink can be pricey, but Walmart has an alternative for big savings.
A standard-yield cartridge of black ink in the widely used HP61 size costs $12.97 under the onn. private label. A remanufactured — that's an empty ink cartridge that's been refilled — HP61XL high-yield cartridge sells for $19.27, while the remanufactured pair of black and tri-color high-yields is priced at $40.86.
Compare those to the sticker price at Staples for the original HP brand: $21.89 for the black HP61, $45.89 for black HP61XL and $73.89 for the black/color pair. If you go through a lot of ink, the savings at Walmart are significant.
Ring Lights
Improve your social media game with the 10.2-inch Selfie Ring Light with Tripod Stand and Phone Holder. Ring lights reduce shadows and offer more uniform lighting, which is ideal for TikTok or Instagram videos, podcasters who post their recordings online on video, and for still photography. This model has extras, such as the ability to shoot in three color modes — with 10 adjustable brightness levels for each color. It's on clearance for $29.99, reduced from $109.99.
More From GOBankingRates
Make Your Money Work for You