7 Fine Jewelry Advent Calendars for Every Budget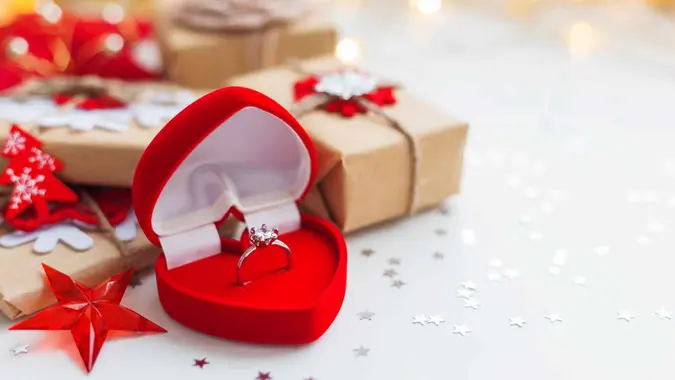 Konstantin Aksenov / Getty Images/iStockphoto
As Mental Floss detailed, although Advent was developed in the 4th century to prepare candidates for baptism, modern Advent calendars are a much newer creation.
Credited to Gerhard Lang, Advent calendars were first printed at the beginning of the 1900s in Germany and featured small doors with Bible verses or pictures behind them. Typically, the Advent calendar counts down the days from Dec. 1 to Dec. 25.
Now, there are Advent calendars for every type of person — whether you're a lover of cookies, coffee or wine. And for jewelry fans, there are Advents for every budget.
Jewelry Advent Calendars for under $4,000
1. Sam's Club 25-Day Fine Jewelry Advent Calendar
Sam's is offering a collection of 20 14-karat gold and 5 sterling silver treasures, housed in a box containing 25 individual pull-drawers marked with a number representing the countdown to Christmas, this holiday season. The opulent gift comes with a hefty price tag — $3,799 — but will save you $500 versus buying all the pieces on their own. Available here.
2. Lark & Berry Luxury Advent Calendars
The 2023 Lark & Berry Advent Calendars are not for the light of wallet — the cheapest is a 12-day curated collection of fine ear piercings — but the dazzling high-end jewelry collections are the pinnacle of indulgence. Here's what's on offer from Lark & Berry for the holiday season:
12-day fine piercings: $3,500.
12-day mixed jewelry: $7,500.
24-day fine piercings: $6,850.
24-day jewelry extravaganza: $14,350.
Purely fine jewelry 12-day: $45,000.
3. Sam's Club 12-Day Fine Jewelry Advent Calendar
If $3,800 is a bit out of your price range, Sam's is also offering an Advent calendar spanning 12 days. This piece features pull-drawers containing pieces made of 14-karat yellow gold, 14-karat yellow and white gold and sterling silver. This 12-day calendar retails for $1,933 and will save you $250 versus purchasing all the items individually.
Make Your Money Work for You
Jewelry Advent Calendars for under $1,000
4. Astrid & Miyu 12-Day Advent Calendar in Gold
Worth $850, Astrid & Miyu are selling this 12-day 18-karat gold-plated recycled sterling silver earring collection for $470 through its site. As the company stated: "This has everything you need for the earring collection of your dreams, from our iconic Cosmic Dome Hoops to essential stacking staples, as well as pieces exclusively made for the advent calendar. This is our fastest-selling calendar ever, so don't wait to get yours."
5. 12 Days of Pandora Advent Calendar
Another 12-day calendar, Pandora is offering plenty of popular brand icons, best-selling charms and surprises as part of its 2023 Advent calendar. The collection is a $1,050 value but can be yours, or your loved one's, for just $695.
Jewelry Advent Calendars for under $100
6. H&M Jewelry Advent Calendar
You don't have to spend a lot of money to make someone feel special during the month of December. This H&M Jewelry Advent calendar comes with a cardboard case with gold-colored printed motifs and 24 windows with metal, plastic and glass accessories in various sizes and designs.
7. Boshar 12 Days of Beauty Advent Calendar
Featured in Glamour as its best 12-day jewelry Advent calendar, the Boshar collection is packed with gold-plated and cubic zirconia necklaces, bracelets, ear cuffs, huggie hoops, rings and charms. While megastores like Walmart have a selection of affordable Advent calendars, they are mostly restricted to a month of one type of jewelry, like charms or bracelet sets. Boshar's Advent will surprise your loved one with a surprise every day.
Make Your Money Work for You
More From GOBankingRates