7 Gen Z Shopping Hacks That Millennials Can Learn From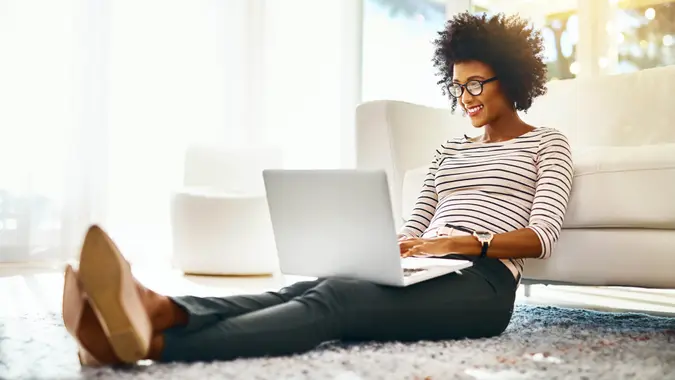 PeopleImages / Getty Images
Every generation has its own way of doing things, including finding new or innovative methods to save money when shopping. While some of these strategies might be primarily employed by Gen Z, they're not exclusive to the younger generation. Older generations, like millennials, also can use these tactics to cut costs and save more of their hard-earned cash.
If you're a millennial looking for more ways to save money — either directly or indirectly — here are a few shopping habits or hacks from Gen Z that you could learn from.
Follow Social Media and Influencers
Many content creators and influencers market sponsored products or services to their followers across various online platforms. Typically, this sponsored content comes from brands they believe in or follow. It's also often offered at a discount for a short period of time — something that can lead to significant savings.
Just Try It, a group of three influencers (Allison Irwin, Gretchen Schubert and Laura Beardsley), said, "Gen Z has a different way of shopping in comparison to the shopping habits of millennials. These differences are defined by the emphasis of social media and technology Gen Z has always had in their life.
"Because of social media's massive place and its influence over them, they're often driven by people or personalities suggesting specific products. If they follow someone on YouTube, TikTok or Instagram, they are most likely to take their shopping cues from them. They watch their tutorials, they're invested in their daily lives and, in turn, the products they use and suggest."
Make Your Money Work for You
Rob Weisberg, president of the incentives and loyalty division at Inmar Intelligence, added, "Gen Z is more likely to follow social media influencers who often share discount codes and exclusive deals with their followers. According to Inmar Intelligence's 2023 Shopper Demographic Survey, nearly 40% of Gen Z are making grocery buying decisions based on influencer content weekly. They are adept at leveraging these influencer partnerships to access discounts that may not be as readily available to millennials who might not be as immersed in influencer culture."
Use Cost-Saving Technology
While younger millennials also use cost-saving technology like rebate or cash-back apps, Gen Z tends to be more familiar with these money-saving options.
"In addition to social media influences, new technology has brought about many websites such as Honey that populate discount codes across the internet for hundreds of retailers," Just Try It said. "Gen Z loves taking advantage of these types of tools right at their fingertips. Gen Z is almost hardwired to wait for a holiday sale or a promo code they know is coming because of their time spent on these types of sites."
Weisberg added, "Gen Z is tech-savvy and frequently use apps that offer discounts or loyalty points for shopping with partner retailers. They are more likely to have these apps installed on their smartphones and use them strategically to earn rewards and savings."
Use Price Comparison Tools
Although comparing prices and using coupons as a shopping hack has been around for decades, there are many modern methods that millennials might not be using.
"Gen Z, being digital natives, effortlessly navigates online platforms," said Natalie Warb, financial expert at CouponBirds. "They often leverage various online shopping websites, apps and emails to compare prices from different retailers before making a purchase. Additionally, they use multiple tech-savvy tools to find the best promotional deals and coupons to save money on their purchases."
Make Your Money Work for You
Use a Digital Wallet
Digital wallets are another more innovative way of handling personal finances, as well as spending and saving money. When combined with coupons or loyalty programs, this can result in even greater savings.
"Gen Z often integrates their loyalty cards with digital wallets like Apple Wallet or Google Pay," Weisberg said. "This streamlines the process of earning and redeeming rewards, making it more likely for them to participate in loyalty programs."
Clear Browser Data
When it comes to online shopping, the price of certain consumer goods or services — like airline tickets — can sometimes fluctuate based on your browsing data. Gen Z has a way around this.
"Gen Z is also acutely aware of dynamic pricing practices and uses this knowledge to their advantage," Weisberg said. "They may clear browser cookies or use VPNs to avoid price hikes on certain online purchases, ensuring they get the best deal."
Gen Z Focuses More on Thrifting and Resale
Like many younger millennials, members of Gen Z often prioritize sustainability and cost savings when shopping. One popular way of doing that is through thrift shopping.
"With a sustainability-conscious mindset, Gen Z frequently uses resale and thrifting apps like Depop and Poshmark to buy secondhand clothing, accessories and other items at a fraction of the cost of new items," Weisberg said. "This thrifty approach to fashion is often more prevalent among Gen Z consumers."
Warb added that Gen Z often uses online thrift platforms or engages in clothing swaps to find the best deals. This generation is also more likely to resell goods in order to recover some of the original cost.
Make Your Money Work for You
Along with this, Gen Z also tends to rent short-term items rather than buy to cut costs.
"This includes items like formal wear, cameras, cars and other high-cost items that may not be used frequently," Warb said.
Participate in Group Purchases
Unlike millennials, Gen Z often practices what's known as group buying to save money.
"Gen Z often utilizes group-buying platforms to obtain bulk discounts or special offers when multiple people make a purchase together," Warb said.
This shopping method lets them buy an expensive item or service for less as it's being split among several people rather than just one.
More From GOBankingRates