19 Gifts To Grab at Trader Joe's While You're Grocery Shopping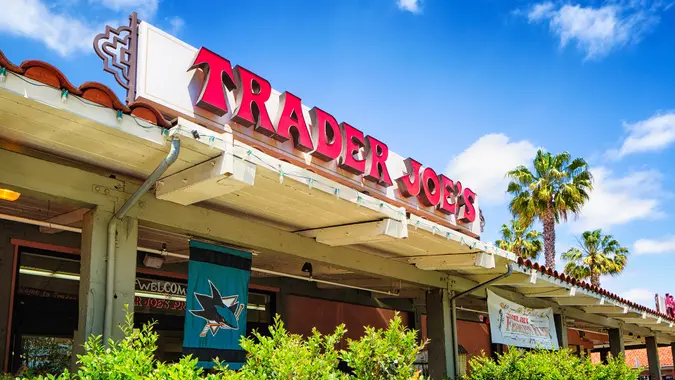 NicolasMcComber / Getty Images
Trader Joe's is always a go-to for holiday grocery shopping — with their seasonal special items you can't get anywhere else. But here's a little-known tip for saving precious time around the holidays: You can even get some of your gift shopping done at TJ's.
Here are some holiday gift ideas you can pick up while you're getting cornbread stuffing or mini dark chocolate mint stars.
Trader Joe's Gifts for Kids
Kids love Trader Joe's as much as adults, so they'll be thrilled to find these holiday specials in their stockings or under the tree.
Advent Calendars
You can pick these up while doing your TJ's Thanksgiving run since December 1st will be here before you know it. Choose from several holiday themes — a big win if you have more than one child and want to cut down on the fighting. Behind each of the 24 windows is a tiny, yummy milk chocolate treat to help you count down to Christmas — a bargain at $0.99 each.
Salted Caramel Hot Cocoa Stirring Spoon
Elevate your hot cocoa game with this stirring spoon that includes chocolate, caramel and mini marshmallows that will melt into your milk to make yummy hot chocolate. Makes a great stocking stuffer at just $0.99.
Jingle Jangle Pretzel Twists
What happens when you take a pretzel twist, cover it in peanut butter coating, and dunk it in mini chocolate candies and crushed Joe-Joe cookies? You get Jingle Jangle Pretzel Twists, and a lot of smiling faces! Give these boxes as stocking stuffers or add the yummy treats to your cookie tray for around $4.
Make Your Money Work for You
Gummy Bear Flavored Lip Duo
Teens and tweens can be hard to buy, but this overnight lip mask and lip balm butter that tastes like gummy bears can be a great choice. It tastes like childhood but feels like being a grown-up. Win-win. About $7.
Trader Joe's Gifts for the Home
The holidays usually mean a glow-up for your home, plus invitations that require hostess gifts. Pick up some of these and be prepared!
Felted Wool Garland
Whether you're buying it as a gift or for your own decorations, Trader Joe's colorful felted wool garland will make your holiday merry and bright. Choose all white, multi-colored, or red, white, and green for around $10.
Cinnamon Broom
Nothing brings the holiday spirit into your home like the smell of cinnamon. Just prop this decorative broom up by the fireplace or in a corner and your house will smell delicious all season long — a hall-decking bargain at about $5.
Phalaenopsis Orchid
A phalaenopsis orchid makes an impressive hostess gift, but you may also want to buy one for yourself. They come in several different colors and will bloom each year. For around $15, this plant makes a perfect gift.
Mistletoe
What would the holidays be without a kiss from your loved one under the mistletoe? Hang this in a doorway all season long or give it as a gift, around $3.
Trader Joe's Gifts for Friends or Co-Workers
Whether it's a thoughtful present for your best friend, or a secret Santa gift for that co-worker you don't know all that well, Trader Joe's has you covered.
Make Your Money Work for You
Dark Chocolate Sea Salt Caramels Gift Cards
Giving a gift card is easy and safe, but it can sometimes feel like taking the easy way out. If you want to give a gift card that's a little more special than just a card in an envelope, try TJ's dark chocolate sea sale caramels gift card. This festive box includes four delicious chocolates plus a slot for a gift card, so the recipient will have something to enjoy now, plus a gift card for later. The box costs about $2, and you can add your own gift card.
Mexican Style Hot Chocolate Melts
Each package contains four melts, which are white chocolate pumpkins with a dash of cinnamon to put in a mug of hot water or milk. Once they melt, the milk chocolate bits and marshmallows inside create a yummy hot drink for a cold day. Each pack of four is around $5.
Cocoa Truffles
Nothing says the holidays like luxurious truffles. This box of about 25 truffles makes a great hostess gift, but you may also want to buy one for yourself — a bargain at around $3.
Chocolate Passport
If you have a chocolate lover on your list, who doesn't? – the TJ's chocolate passport is a fun and tasty gift. It features eight chocolate bars – one each from Tanzania, Sao Tome, Papua New Guinea, Ghana, the Dominical Republic, Venezuela, Ecuador, and Peru. The flavor of each bar is different and unique to its country — a fun and fancy gift for around $10.
Paperwhites
Paperwhite narcissus plants grow and bloom quickly, providing a light, bright touch to any home on a dull mid-winter day. These bulbs are already 'planted' in water, so there's not much to do besides watch them grow for around $4.
Holiday Candle Trio
Three little candles in holiday scents like nutmeg, fresh current and cranberry pine will brighten any home. Perfect for a hostess gift, secret Santa or white elephant gift exchange. About $8.
Trader Joe's Gifts for Anybody (or To Put on Your Own Wish List)
Still need something for that hard-to-buy-for someone? Here are some suggestions. And no law says you can't treat yourself around the holidays, too, so add some of these to your cart for yourself.
Instant Boba Kit
Make your own boba by heating these sweet tapioca pearls in the microwave, then mix them into a glass of your favorite milk and add some ice. Four packets of boba mix are included for $5.
Marula Facial Oil
Winter weather can be hard on the skin, but antioxidant marula oil can help. Non-greasy and light, it works hydration magic on winter-worn skin — $ 7.
Sparking White Chardonnay Grape Juice
Try TJ's sparking white grape juice for an alcohol-free alternative to champagne or sparkling wine. It's deliciously bubbly, and even the kids can toast with it! At just $4 a bottle, you can keep a few extras on hand for last-minute guests.
Coconut Body Butter
When winter becomes too much, smoothing on this coconut-scented body butter will feel like a tropical vacation. It's made with shea butter, coconut oil, aloe vera and vitamin E, and just $6.
Truffle Oil Duo
If you have a cook you need to buy for, they're bound to love this pair of truffle oils. One bottle includes black truffles, the other white, but they both include that truffle flavor you can't mistake — $10 for the pair.
These gifts can only be found at Trader Joe's, so look for them next time you shop. Happy holidays!
More From GOBankingRates