Here's How Much Americans Plan To Spend on Black Friday — and Ways You Can Save More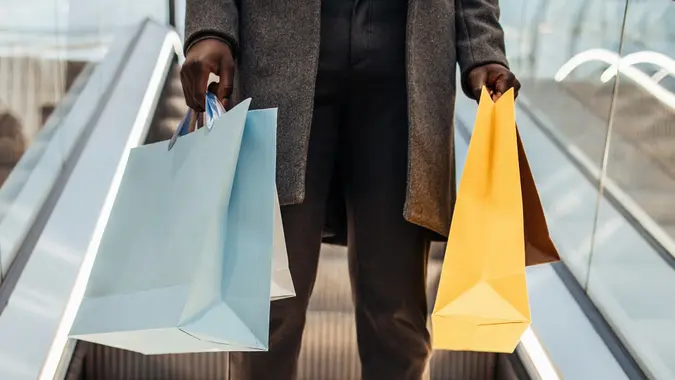 mladenbalinovac / iStock.com
Black Friday is just a few days away, and despite the many financial impediments that hinder Americans — such as inflation, soaring rates and the resumption of student loans — Americans are planning to maintain their high spending levels for Black Friday 2023.
A new Attest U.S. Q4 Shopper Trends Report found that consumers are happy to open their wallets in the hunt for Black Friday bargains. And spending is expected to nearly mirror 2022, with most Americans planning to spend between $101 and $200 on Black Friday 2023 — which represents only a 1-2 percentage point difference in spending levels from Attest's 2022 data. In addition, 16% plan to spend between $201 and $300.
Asked whether this finding was surprising, given the current economic landscape, Attest CEO Jeremy King said that inflation appears to have had a minimal effect on Black Friday sales, as last year was one of the biggest shopping days on record, according to the National Retail Federation.
"It comes down to perception — the majority of consumers (67%) still believe that Black Friday is the best day of the year to buy heavily discounted products," said King. "Shoppers delay making purchases ahead of Black Friday in the belief they're going to bag a bargain."
And the numbers speak for themselves: consumers are willing to wait for Black Friday deals and avoid making purchases ahead of Black Friday.
Make Your Money Work for You
According to Attest data, 42% of shoppers delay making purchases — compared to 26% who purchase when they please — underscoring the fact that Black Friday creates a reasonably high level of pent-up demand.
King, asked whether this method was worth it to get the best bargains, cited a study conducted by ITMAGINATION, which concluded that Black Friday deals are frequently not the best value.
"Only a third of the products were priced at their lowest level compared to the preceding 90 days. To be sure they're getting a worthwhile deal, consumers should monitor the prices of the goods they're interested in and do thorough online research to compare deals before they press the 'buy' button," he said.
Another finding is that Black Friday is also still seen as the best shopping day of the year to bag a bargain, with 81% of consumers using the day to keep an eye on Christmas gifts for others, while 25% are seeking birthday presents for their friends or family.
King noted that holiday shopping is the main motivator for Black Friday shoppers, with the vast majority of shoppers looking to buy Christmas gifts at a discounted price.
"However, the event is also seen as a good opportunity to treat yourself: 61.5% of Black Friday shoppers are planning to buy something for themselves," he said.
In terms of what items Americans spend on Black Friday, clothing trumps technology once again this year — a shift King said could be contributed to the rising cost of living.
Make Your Money Work for You
Clothing demand is soaring by more than 9 percentage points to 54.1%, and 71.3% of Gen Z plan to shop in the category, according to Attest data.
"Clothing deals may also be cheaper than those on tech, making it a more accessible category — especially for Gen Z, the demographic driving the demand for clothing," said King.
Finally, in terms of ways Americans can save more on Black Friday, King recommended starting with having a clear idea of what you're looking for (if possible), down to the make and model.
"This makes searching for deals and comparing prices much easier and increases your chances of finding a genuine bargain, he said. "It also stops you from making impulse purchases that you might come to regret."
More From GOBankingRates