The Truth About Temu: Is It Safe and Is It Worth Your Money?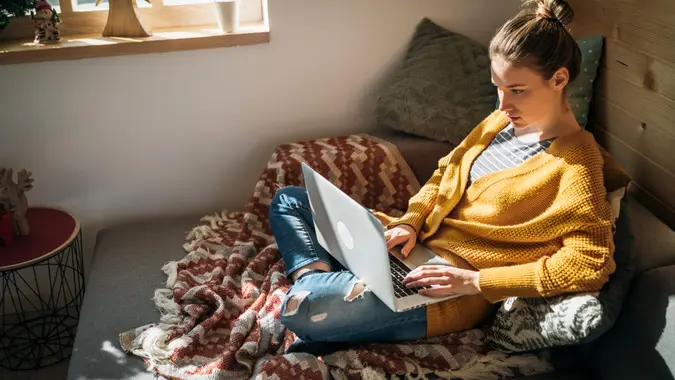 hobo_018 / Getty Images
When shopping online, your search results are filled with items from Temu. Low prices and seemingly nice items keep tempting you to make a purchase, but it's possible you're a bit leery.
As a savvy shopper, you don't want to buy from a company you don't know much about. So, is Temu legit? Keep reading to find out.
Read: How To Get Cash Back on Your Everyday Purchases
Is Temu a Real Company?
Due to the seriously competitive prices, it's fair to wonder if Temu is just an elaborate scam. You'll be happy to know the online marketplace is an actual business.
Founded by Colin Huang, the Chinese shopping e-commerce company is owned by PDD Holdings. Still very new, Temu just launched in the U.S. in September 2022.
Is Temu Worth the Money?
Temu is known for having shockingly low prices, but some consumers would say you get what you pay for.
The company is not accredited by the Better Business Bureau, and currently holds a C- rating. It has more than 950 reviews, with an average of 2.55 stars — out of a possible five stars.
Most — nearly 600 — customer complaints are regarding Temu's products and services. Delivery issues is the second-most common complaint, with more than 230 cases filed.
For what it's worth, the company does respond to BBB customer complaints. That's not to say the reply is always what the customer wants to hear, but it could be viewed as better than nothing.
Make Your Money Work for You
Slightly better, Temu has a 3.4-star average rating on Trustpilot, out of a possible five stars. The company has received more than 7,500 reviews on the site, with 49% giving it a five-star rating and 31% rating it one star.
If you're looking for validation that Temu is legit, this is actually somewhat promising. Nearly half of reviewers had a good enough experience with the company to give it a perfect five-star rating.
Is Temu Safe to Use?
When shopping online, you always need to perform due diligence before entering your credit card information. Therefore, it's important to know if Temu is a trustworthy site.
It's definitely worth noting that the Better Business Bureau has received 26 complaints regarding billing and collection issues. Several of the complaints include a failure to refund charges for returned items and fraudulent charges.
An Distractify article published in August 2023 also shared the stories of several women who experienced issues with their banks after shopping on Temu. For example, TikToker @pheveyaa accused the company of selling her bank details to the black market. Additionally, TikToker @shyshy011 claimed $500 was taken out of her bank account after shopping on Temu.
Should You Trust Shopping on Temu?
There's a lot of gray area around the question of whether or not Temu is 100% legit.
If you shop on Temu, you will likely get products in the mail — unless you're like many of the Better Business Bureau reviewers who never actually received their items.
It's probably best not to get your hopes too high about the products. A PCMag article published in May 2023 noted that many Temu products are generic, but there's also a decent amount of fake items.
Make Your Money Work for You
For example, a WMP'L lip balm that has a look very similar to Vaseline Lip Therapy was highlighted.
Why Are Temu Products So Cheap?
It's definitely fair to wonder why Temu's prices are so low. The answer might not be as suspect as you think.
Several different factors allow Temu to sell items at such cheap prices. One reason is the company's ability to connect customers directly with manufacturers.
Most of Temu's suppliers are based in China, according to USA Today. This allows for a direct-to-consumer methodology that requires no middleman — significantly reducing overhead costs.
Additionally, Temu uses a "Next-Gen Manufacturing model," that helps sellers better predict trends, plan production and prevent overproducing unpopular items, according to USA Today. This carefully crafted supply chain allows Temu to cut backend costs, which is reflected in the company's rock-bottom prices.
Temu is also set up to succeed due to the resources from its parent company.
PDD Holdings owns and operates a portfolio of businesses. The company had a market capitalization of $132.14 billion, as of Sept. 15, 2023.
Falling under the umbrella of a multi-billion dollar company allows Temu to offer frequent discounts and promotional prices. The company also benefits from being a third-party marketplace, as sellers are competing against one another to win customers.
Finally, falling under the PDD Holdings umbrella means Temu can likely benefit from any price negotiations its parent company has with its extensive network of global suppliers. Having the ability to purchase items at lower prices than competitors allows Temu to sell products at almost unbelievably low prices.
Make Your Money Work for You
Does Temu Actually Give You Money?
There's actually a way to make shopping on Temu even cheaper. The company has a social media referral program that allows both the referrer and the referee to earn rewards.
Specifically, a referrer can earn a $10 reward per successful referral — i.e., someone who signs up and makes a purchase. The referee also receives a $10 discount on their first Temu order.
This program is legit. For example, Brianna Lukey from Fort Worth, Texas told Time she's received $200 worth of items from Temu for free.
Even more ways to earn free money on Temu, the company has a "Temu Games" section that allows you to play for rewards on the app. Currently, five different games are listed, along with text informing that more will be added soon.
Essentially, if you're willing to put in the time and effort Temu will actually give you money to spend on the site.
So, Is Temu the Real Thing?
It seems too soon to fully know the answer.
The company has gained significant attention for its wide-range of products offered at amazingly low prices. While many customers are certainly satisfied, there are still a lot of red flags present.
For instance, the sheer volume of BBB complaints regarding orders not received, poor quality items and fraudulent charges shouldn't be taken lightly. Right now, the best advice is likely to sit back and wait and see if these issues clear up. This can help you avoid losing money on products that probably aren't worth the headache that might accompany them.
Make Your Money Work for You
Editorial Note: This content is not provided by any entity covered in this article. Any opinions, analyses, reviews, ratings or recommendations expressed in this article are those of the author alone and have not been reviewed, approved or otherwise endorsed by any entity named in this article.
Our in-house research team and on-site financial experts work together to create content that's accurate, impartial, and up to date. We fact-check every single statistic, quote and fact using trusted primary resources to make sure the information we provide is correct. You can learn more about GOBankingRates' processes and standards in our editorial policy.