What Is Temu? Does This App Really Help You 'Shop Like a Billionaire'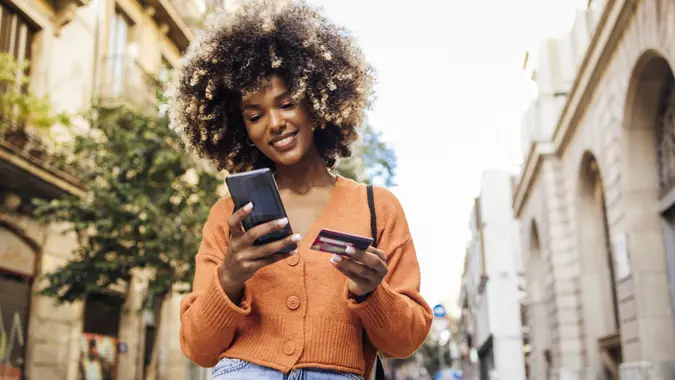 RgStudio / Getty Images
Temu is a shopping app that offers steep discounts on clothes, furniture, home appliances and just about anything else you can think of. It's currently the most downloaded free app on the App Store and Google Play. But the question is: does this app really help you 'shop like a billionaire,' or is it a scam?
Temu is not a scam — but like any cheap shopping platform, it's essential to do your research before you buy. Here's what you need to know about this discount shopping website. 
Key Takeaways
Temu offers low prices and discounts through its Next-Generation Manufacturing strategies. 
Many of Temu's goods are shipped directly from warehouses and factories in China. 
Temu offers free goods and discounts as a part of its advertising campaigns. 
Temu has faced criticism for its business practices and potentially low-quality products.  
What Is Temu?
Temu is an American offshoot of the Chinese e-commerce company Pinduoduo. Founded in 2022, the app has seen soaring popularity in the past year. It offers clothes, furniture and even budget-friendly wedding dresses at low prices, as well as regular discounts and special deals. Most of Temu's products are shipped directly from warehouses based in China. 
Unlike SHEIN, Temu is a third-party marketplace that connects buyers to a network of sellers. Its name originates from "Team Up, Price Down." According to Temu's website, that is the company's business model: "teaming up," or creating a massive community of buyers, which encourages sellers to drive down their prices.
How Does It Work?
Shopping on Temu is similar to shopping on Amazon but with a few more bells and whistles. You'll see a timer offering free shipping on all orders if you buy before the time runs out. There are also lightning deals and a pop-up wheel that you can spin for more discounts. 
Make Your Money Work for You
Temu offers free shipping on many of its items, but not all. Keep in mind, quick shipping is not always guaranteed. Temu does offer free shipping on returns within 90 days of purchase.
Is Temu like SHEIN?

Both Temu and SHEIN provide affordable products to consumers but they differ in their customer service and business models. As far as their product offerings, SHEIN mainly focuses on fashion-related items. Temu, on the other hand, offers clothes, furniture and even home appliances.
Why Is Temu So Cheap? 4 Reasons
So, how does Temu keep its prices so low? There are a few factors behind those shockingly low price tags. 
1. Next-Generation Manufacturing
Temu utilizes Next-Generation Manufacturing to leverage lower prices for its customers. This process uses insight-sharing, inventory management strategies, cheap marketing and other tools to encourage manufacturers to offer lower prices on the marketplace.
2. Support From Its Parent Company
Although Temu is a new company, it isn't a startup. It's owned by PDD Holdings, which also owns Pinduoduo, a successful third-party marketplace in China. Temu was able to tap into Pinduoduo's network of sellers and manufacturers, allowing it to offer low prices from the start.
3. Promotional Discounts and Giveaways
You might have heard of people getting free or nearly free products from Temu. That's because the app offers giveaways to people who promote it on their social media accounts. This strategy helped Temu gain its massive popularity so quickly. 
4. Low-Cost Manufacturing
It's important to understand that even with NGM and Temu's "team up" business strategy, low prices often come down to low-cost manufacturing. Like SHEIN, Temu has been accused of working with manufacturers that use controversial practices to produce goods quickly and affordably.
Make Your Money Work for You
That doesn't mean everything you buy on Temu will be low quality. However, high quality isn't guaranteed. Several customer complaints on the BBB have reported broken items or items that look different than advertised.
Temu Controversies: What You Need To Know
You might have seen a lot of headlines about Temu lately — not all of them positive. Although it's cheap and convenient, this app has faced some controversies since it was first launched in 2022. Here are a few things you need to know about Temu before downloading the app. 
Is Temu a Spy App?
There has been a lot of concern over malware and spying lately. Temu has not been accused of spying on U.S. users, but an investigation found that its sister app, Pinduoduo, contains malware that can collect data from other apps and even change settings.
There is currently no evidence that Temu contains any malware to make it a "spy app." As it continues to gain popularity in the U.S., it may attract more scrutiny. 
Questionable Business Practices
Some small business owners in the U.S. have accused Temu of stealing their designs. Along with copyright infringement concerns, Temu faces the same critiques as other fast fashion companies: cheap manufacturing practices and poor labor regulations. A recent report by the House Select Committee on the Chinese Communist Party claims that there is an "extremely high risk that Temu's supply chains are contaminated with forced labor."
Keep in mind that Temu is a new app, and a lot of its critiques are speculation. Future investigations will tell consumers more about Temu's practices and help to regulate the platform. 
High Rate of Complaints
Temu has a C- rating from the BBB and a score of 2.48/5 for its customer reviews. The majority of customer complaints refer to unclear advertising, delayed shipping and low-quality products. By comparison, Wish, which has been in business in the U.S. for 12 years, has a BBB rating of B+ and a score of 1.11/5 for its reviews.
Can Temu Help You "Shop Like a Billionaire?"
All things considered, should you shop at Temu? Can this app really help you save on fashion, furnishings and more?
Temu is a legitimate, safe shopping platform. It's also a new company, so it isn't as well understood as sites like Amazon. Its fast growth has raised questions about its quality and business practices. 
To sum it up, you can browse for deals on Temu — just be prepared to get what you pay for. You might find awesome home goods, clothes and accessories for half the price. But you might also experience delayed shipping and low-quality products. If you want guaranteed quality, it's best to stick with more established sites. 
Information is accurate as of July 5, 2023. 
Editorial Note: This content is not provided by any entity covered in this article. Any opinions, analyses, reviews, ratings or recommendations expressed in this article are those of the author alone and have not been reviewed, approved or otherwise endorsed by any entity named in this article.
Our in-house research team and on-site financial experts work together to create content that's accurate, impartial, and up to date. We fact-check every single statistic, quote and fact using trusted primary resources to make sure the information we provide is correct. You can learn more about GOBankingRates' processes and standards in our editorial policy.