SHEIN Return Policy Tips To Keep In Mind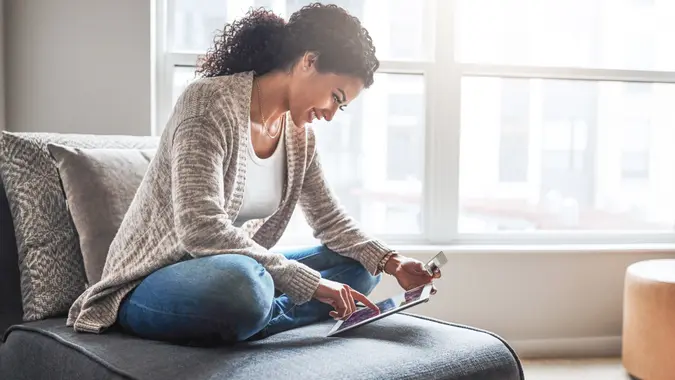 gradyreese / Getty Images
SHEIN is an online fashion powerhouse featuring the latest styles in everything from casual wear to lingerie. Founded in 2012, SHEIN now employs more than 10,000 people around the world.
Read: If Your Credit Score is Under 740, Make These 4 Moves Now
The large selection of the latest fashions is not the only reason to shop at SHEIN. You also get 15% off your first order in addition to significant discounts that climb as you spend more. SHEIN also regularly runs flash sales that offer free shipping on all orders. The company even promises to deliver your order in seven days or less.
Shopping for clothing online can be difficult, especially when it comes to getting the right size. Moreover, items that look appealing online may not look as good to you once you see them in person. That's why it's important to understand the SHEIN return policy before you shop.    
SHEIN Return Policy Time Limits
What is SHEIN's return policy? Most stores only accept returns for refunds or exchanges if you request the return within a reasonable amount of time. SHEIN is no different. The company requires you to request a return within 35 days of the date you made your purchase.
Make Your Money Work for You
It's important to make the distinction between the date you make a purchase and the date you receive your goods. Some online retailers start the return clock when you receive your shipment. That's not the case with SHEIN, so be sure to keep the date that you made the purchase in mind. 
Is It Free To Return Items to Shein?
SHEIN doesn't charge a restocking fee, and the company promotes free returns on its website. However, there's a catch. Your return might not be free depending on how many times you've returned items in the past. Here's how it works:
Your first return — You can return your order for free the first time you ask for a refund as long as you use the shipping label that SHEIN provides. 
All subsequent returns — You will pay a $7.99 shipping fee the second time you return an item and every time thereafter unless the company is running a flash sale or other promotion that guarantees free returns on all orders.  
How To Return Items to SHEIN
Many wonder if SHEIN is easy to return to. Luckily, yes, SHEIN makes it easy to process a return by following these steps:
Log into the SHEIN online account that you created when you made your first purchase. 
Click on "My Orders."
Find the item that you want to return. 
Click "Order Details."
Click "Quick Returns."
When prompted, let SHEIN know why you're returning your order.
Click "Next Step."
Choose how you would like your money to be reimbursed.
Choose whether you want to print your return label or use a QR code when you take your item to be shipped. You can also choose whether to ship your return through UPS or USPS.
Securely pack your items and tape your return label to the outside of the package. 
Bring your package to the USPS or UPS location that's closest to you. Make sure that you ship your return within 35 days of your purchase date. 
Make Your Money Work for You
How Do I Get a Return Label for SHEIN?
Unless you choose to return your item with a QR code, you will need to print your return label and tape it to the outside of your package.
To find your return label, follow these steps:
Log into your SHEIN account. 
Click the "My Orders" link. 
Find the item you're returning. 
Click the "Order Details" link. 
Click the "Return & Refund Record" link. 
Click the "Details" link. 
Click the "Save the Label" link. 
Once you click the "Save the Label" link, SHEIN will redirect you to a copy of the return label. Hold Control + P or Command + P on your keyboard or click the printer icon on the document to print your label. 
What Items Will SHEIN Not Accept for Returns?
SHEIN will not accept the following items for return:
Worn items
Washed items
Damaged items
Items without intact and attached original tags and hygiene stickers
Bodysuits
Lingerie
Underwear
Jewelry
Accessories
Cosmetics
Pet products
Free gifts or promotional items
Make Your Money Work for You
All returns must be unworn, unwashed and undamaged for SHEIN to accept them. 
What Is SHEIN's Return Policy on Gift Card Purchases?
According to SHEIN's gift card policy, gift card purchases are final and non-refundable. 
How To Track the Status of Your SHEIN Return
You can track returns on SHEIN the same way you track order deliveries. Follow these steps:
Log into your account.
Click "My Orders."
Find the order you returned. 
Click "View Details."
On the "View Details" page, you'll find information relating to the status of your return. 
How Long Does It Take To Get My Money Back From SHEIN?
When you purchase a product, the company gets its money right away, but the same does not hold true for you if you return an item. You will experience a wait time before you get your refund from SHEIN.
Here's how it works:
Typical refund times — SHEIN typically processes refunds within seven days of the date it receives the return package as long as you haven't worn, washed or damaged the item.
Bank processing times — SHEIN issues refunds within seven days of receiving returns, but it may take longer for you to receive your refund depending on how long it takes your financial institution to process it.  
Transportation delays — If SHEIN is experiencing transportation delays, its website will state that "your refund may require an additional 3-5 days to process." If you have waited for more than seven days and have not received your refund, check the website to see if SHEIN is currently experiencing such delays.
Keep in mind that SHEIN does not refund shipping fees. 
Final Take
SHEIN is a popular online store where you can find great deals on quality fashion items. If you need to return an item and it is not on the SHEIN return policy exclusions list, the process is easy to follow. If you have a SHEIN item you'd like to return, follow the steps above to get your refund.
Information is accurate as of Nov. 18, 2022. 
Editorial Note: This content is not provided by any entity covered in this article. Any opinions, analyses, reviews, ratings or recommendations expressed in this article are those of the author alone and have not been reviewed, approved or otherwise endorsed by any entity named in this article.
Make Your Money Work for You