Nordstrom Return Policy: 3 Ways To Make Your Return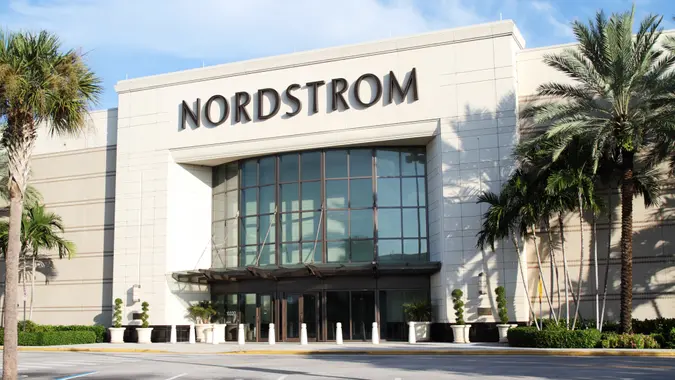 NoDerog / Getty Images
Currently, Nordstrom runs three different kinds of stores in the U.S.: Nordstrom, Nordstrom Rack and Nordstrom Local. The original store sells luxury items and designer fashion brands at market value, while Nordstrom Rack is an outlet store selling items at up to 70% off. Nordstrom Local stores are service hubs where customers can bring in returns, pick up items, get express alterations and receive styling help.
Nordstrom provides a generous return policy that permits free returns and exchanges without any time restrictions. Returns can be made in-store or through mail. Visit Nordstrom's website for complete details.
Across its stores, Nordstrom is known for its accommodating return policy. There are three main ways to return an item or a gift, but they're not without rules and limitations. Keep reading to find out exactly how the Nordstrom return policy works and what items are eligible.
Ways To Make a Return
Nordstrom's main stores offer three ways for customers to return items that they're not happy with. 
In-Store
Customers can bring in unwanted purchases at Nordstrom, Nordstrom Rack and Nordstrom Local stores. You simply need to bring your items to any service counter during operating hours. It's possible to return both in-store and online items with this method.
Curbside Drop-Off
Curbside drop-off is only available at Nordstrom stores. To use this option, start your return online by accessing your purchase history. Then, simply drop off in-store or online items in the designated spot. 
There are some limitations. The following items cannot be returned with curbside drop-off:
Designer items
Opened baby gear
Nordstrom Rack items
Make Your Money Work for You
Send by Mail
Customers can return items by mail to Nordstrom or Nordstrom Rack, but this service is only free with Nordstrom items. For Nordstrom Rack items, a $9.95 shipping fee will be deducted from the refunded amount. 
To return an item by mail, start the process online, choose the return by mail option and fill out the required information. It's possible to either print out the prepaid shipping label at home or show the emailed QR code at an eligible USPS location to have it printed there. It typically takes 10-14 days to process returns.
What Items are Eligible for Returns?
While Nordstrom's return policy is very lenient, there are still some items that can only be returned under certain circumstances.
Nordstrom Exceptions
The store requires special-occasion dresses and some designer items to be returned with the tags and in the same condition in which they were originally purchased.
If the item has a tag on it that says "If this tag is removed the garment cannot be returned," then it can only be returned with the tag attached and all packaging included.
Nordstrom evaluates returns on a case-by-case basis and may refuse a return in some situations.
Nordstrom Rack Exceptions
Nordstrom Rack only accepts returns of unworn items in their original packaging with tags intact. 
Some items are marked with a Final Sale or Non-Returnable tag which means they cannot be returned. 
Beauty items cannot be returned unless otherwise specified.
Make Your Money Work for You
Is There a Time Limit on Returns?
For Nordstrom items, there is no time limit on returns and worn items without tags can also be considered for returns. Some returns may not be accepted if the item is in a bad condition or if staff suspects a customer of abusing the return policy. 
For Nordstrom Rack items, online purchases must be returned within 40 days after purchase, and in-store items must be returned within 30 days of purchase. Late mailed returns may be accepted at the retailer's discretion, but can only receive a partial refund of 50%.
Do You Need a Receipt?
Bringing a receipt will help staff at Nordstrom stores find orders more quickly. However, staff can also use the computer system to search for a purchase as long as the customer can provide the necessary information. 
If no record of the sale can be found, Nordstrom may still choose to provide a refund. However, in this situation, personal identification will be required, and the refund can only be offered on a Nordstrom Gift Card.
Gifts returned with a gift receipt are refunded with a Nordstrom Gift Card that can be used online or in-store at either Nordstrom or Nordstrom Rack.
At Nordstrom Rack stores, customers need to present their receipt and original form of payment to make a return. 
Can You Return Nordstrom Items at Nordstrom Rack Stores?
Many Nordstrom items can be returned at Nordstrom Rack stores and vice versa, but there are some exceptions. For example, fine jewelry and designer items from Nordstrom or Nordstrom.com can't be returned to Nordstrom Rack stores.
Make Your Money Work for You
Additionally, Nordstrom Rack items can't be returned to Nordstrom stores via curbside drop-off. 
Final Take
The Nordstrom return policy is typically considered more lenient than other fashion retailers. The store accepts worn items and has no time limits on returns. The purpose of the policy is to keep customers happy, so anyone with a genuine return request will be taken seriously. 
FAQ
Here are the answers to some of the most frequently asked questions about Nordstrom's return policy.
How long do refunds at Nordstrom take?

Refunds of Nordstrom items typically take 5-7 business days. For mailed-in products, a processing time of 10-14 business days also applies. Refunds are credited to the original form of payment: a credit or debit card, Nordstrom credit card, gift card or Nordstrom Notes. This also applies to Nordstrom Rack returns.

Does Nordstrom offer free returns?

All returns of Nordstrom items are free, whether returned to the store, dropped off or mailed. Mailed items are shipped with a prepaid label that customers do not need to pay for. However, Nordstrom Rack items can only be returned for free in-store. To return products by mail, a prepaid label is still provided, but a fee of $9.95 will be deducted from the refund.

Can you return worn Nordstrom items?

Customers can return items bought from Nordstrom even if they have been worn, as long as the tag doesn't say otherwise. Nordstrom Rack items, on the other hand, must be returned unworn and with the tags and original packaging still intact.

Does Nordstrom accept returns after 45 days?

There is no time limit for returns on Nordstrom items. Nordstrom Rack items, however, have time limits. For anything bought online, you have 40 days after the date of purchase to make your return. For in-store items, there is a time limit of 30 days.

Does Nordstrom have a return limit?

Nordstrom does not have a set limit for the amount you can return at once. They also do not have a time limit for their returns as they want to make sure customers are truly satisfied.
Information is accurate as of Jan. 30, 2023. 
Editorial Note: This content is not provided by any entity covered in this article. Any opinions, analyses, reviews, ratings or recommendations expressed in this article are those of the author alone and have not been reviewed, approved or otherwise endorsed by any entity named in this article.