How To Make a Nordstrom Credit Card Payment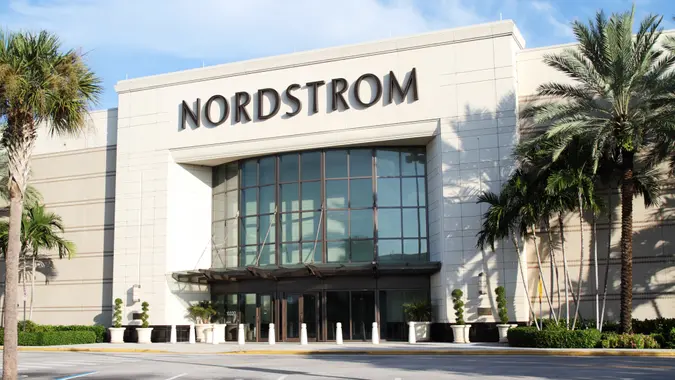 NoDerog / Getty Images
Nordstrom, known for its unparalleled customer service, is a favorite destination for customers seeking high-end fashion brands. In addition to Nordstrom stores and an online shopping portal, customers can also shop at Nordstrom Rack for deals on the same high-quality brands for up to 70% off.
Nordstrom makes financing your purchases easy with the Nordstrom credit card issued by TD Bank. With the store-branded card, you can enjoy shopping and earning rewards — up to three points for every dollar spent — even when you choose to save on your purchases using a Nordstrom coupon or Nordstrom coupon code.
Between shopping trips, however, you'll need to take a break and choose a Nordstrom bill-pay option to keep your card's benefits intact and stop late fees from occurring.
How To Make a Nordstrom Card Payment Online
Before you can make online payments, you'll have to register online. Once you do, you can make an online payment at the Nordstrom card services website by following these steps:
Visit the Nordstrom credit card login page and enter your username and password.
After logging in, locate the bill payment option in the account dashboard.
Select your method of payment — bank account, debit card or credit card — and fill in the associated information. When paying with your bank account, have your bank routing number available to complete the payment.
Verify the information and click "Submit" to make your one-time payment.
How To Make a Nordstrom Card Payment by Phone
Making a payment by phone is easy. Call Nordstrom's 24/7 customer service line at 1-866-491-7860 for online account management questions, 1-866-445-0433 for credit card questions or 1-800-964-1800 for retail credit card and debit card questions. Follow the automated prompts.
Have your bank account number and bank routing number available to complete your payment.
How To Make a Nordstrom Card Payment by Mail
Nordstrom cardholders receive a paper statement at the end of their billing cycle each month. Fill out the tear-off section and return it with a payment check in the provided, pre-addressed envelope. For lost statements, write a payment check, include your account number in the memo area and mail it to:
Nordstrom Card ServicesP.O. Box 100135Columbia, SC 29202-3135
How To Make a Nordstrom Card Payment Through the Mobile App
Using your mobile device to make a payment is convenient and easy through the Nordstrom app, which is available on both Google Play and the App Store. Here's how:
Install and open the Nordstrom app on your mobile device.
Register for online account access if you haven't already.
Log in to the app with the username and password you created when you registered.
Click the "Account" tab at the bottom of the screen.
Find the "Pay Bill Online" field and click; a new window will open.
Log in again and follow the prompts to complete your payment.
How To Make a Nordstrom Card Payment in a Store
You can pay your Nordstrom bill at any Nordstrom store. Simply go to the customer service desk and ask for assistance. If you're unsure where the nearest Nordstrom store is, use the store locator on the Nordstrom website.
This article has been updated with additional reporting since its original publication. Information is accurate as of April 5, 2023.
Editorial Note: This content is not provided by any entity covered in this article. Any opinions, analyses, reviews, ratings or recommendations expressed in this article are those of the author alone and have not been reviewed, approved or otherwise endorsed by any entity named in this article.