Is This America's Most Expensive Grocery Store?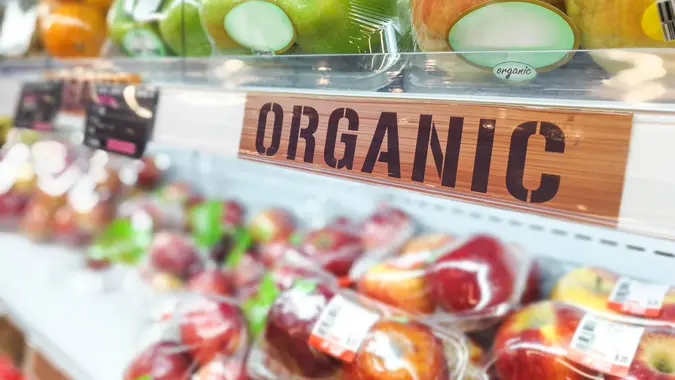 ©Shutterstock.com
At the beginning of the pandemic, and as it dragged on into 2020, when people were going nowhere but the grocery store, paparazzi set up shop outside the locations of Los Angeles County chain Erewhon — the ultra-expensive store favored by celebrities and the area's elite.
Find: 15 Worst States To Live on Just a Social Security Check
Discover: The Minimum Salary You Need To Be Happy in Every State
In a feature story published in October 2020, Vanity Fair detailed known regulars and the masked celebrities who had their photos snapped while grabbing raw, organic vanilla almond milk and other items. Jake Gyllenhaal, Miley Cirus and Leonardo DiCaprio were among the A-listers who shopped there, and Hilary Duff, Ashley Benson and rapper G-Eazy also dropped in. Dakota Johnson also was a regular, according to the magazine.
It takes Hollywood money to shop at Erewhon, where one source told Vanity Fair that shoppers could wind up spending $1,000 on a full cart. Is Erewhon America's most expensive grocery store? Read on to find out the cost of shopping there.
The Erewhon Story
Erewhon got its start in 1966, when the late Michio and Aveline Kushi introduced macrobiotic and organic foods to the people of Boston, opening what the company website bills as "the first store of its kind in America" in a stall measuring 10 feet by 20 feet. Three years later, Aveline Kushi relocated to Los Angeles and opened an Erewhon there.
Make Your Money Work for You
In 2011, Tony and Josephine Antoci bought the Erewhon location on Beverly Boulevard in the city and set upon an expansion plan. In the past decade, Erewhon has added six stores in Los Angeles County: the Silver Lake district, Venice, Pacific Palisades, Santa Monica, Studio City and Calabasas.
On its website, the store shares its mission:
"Erewhon is more than a grocery store. We are a community of people who are united in our love for pure products that protect the health of people and our planet."
Erewhon Products
Erewhon says it sells "exceptional organic products." But how do their products — and prices — compare to the competitors?
POLL: Where Have You Cut Back Most Because of Inflation?
Smoothies
Erewhon offers a variety of tantalizing smoothies, starting with the bottled Bohemian Raspberry. A 16-ounce serving costs $12. Or, you could opt for a custom-blended smoothie, starting at $12 — before add-ons. You'll pay $21 for the 20-ounce Strawberry Probotic Smoothie, but it could cost nearly $30 if you want to jazz it up with peanut butter ($2), whey protein ($3), spinach ($2) and maple syrup ($1.50).
Make Your Money Work for You
Alternatives: Head to Earth Organic, in the Los Feliz section of Los Angeles, to try one of 14 smoothies on the menu — $10.75 for a large and a dollar less for a medium. Among the offerings is the Delicious, a concoction of almond milk, almonds, raw honey, cacao powder, bananas and strawberries. Or, make your own. Competitors Whole Foods and Bristol Farms have healthy smoothie recipes on their websites.
Steak
At Erewhon, a 12-ounce cut of organic boneless beef ribeye steak is $26.99 — perfect for the spring grilling season.
Alternative: At Whole Foods, you'll pay $3 less for a 12-ounce organic boneless beef ribeye steak. At Sprouts, another chain competitor, the Dakota organic grass-fed beef ribeye steak is priced at $15.49 for 10 ounces.
Bottled Water
Can you tell the difference between one brand of "natural spring water" and another? If you can, you might prefer Erewhon's private label, which costs $2.79 per 16.9-ounce bottle.
Make Your Money Work for You
Alternative: All taste the same to you? Then head to Sprouts, where a 24-pack of the same-sized bottle of the house brand sells for $4.29.
Eggs
An egg is an egg, right? Not necessarily at Erewhon, which sells more than a dozen varieties. One of them, the Happy Egg Co. Organic Free Range Large Brown Eggs, sell for $7.29 a dozen.
Alternative: Sprouts, again, can beat that price. The same brand of eggs costs $5.99 per dozen at Sprouts, $7.99 for an 18-pack.
Dental Floss
Erewhon stocks some unusual items that competitors don't, including its dental floss, and you can't find it at the neighborhood drug store either. For the 32-yard package of Terra & Co. Bamboo Charcoal Dental Floss, store members pay $7.49 per package, with the regular price at $9.99.
Alternative: You'll have to turn to Amazon for a similar product. A triple-sized package — 99 yards in all — is priced at $13.95.
Chocolate Almond Milk
Craving chocolate milk after a workout? A 16-ounce bottle at Erewhon costs $9 and contains sprouted almonds, filtered water, raw cacao powder, dates, maca, lucuma, cinnamon and pink salt.
Alternative: Whole Foods sells a six-pack of 8-ounce containers of chocolate organic, unsweetened almond milk for $6.99, but something tells us it isn't quite the same as what Erewhon stocks. It has a lot more ingredients, for starters, including gellan gum and organic locust bean gum.
So is Erewhon America's most expensive grocery store? It could be. But one thing is certain. If you have a monthly grocery budget, this isn't the place for you.
More From GOBankingRates
Make Your Money Work for You