Is It Worth Buying Cheaper Furniture From Wayfair?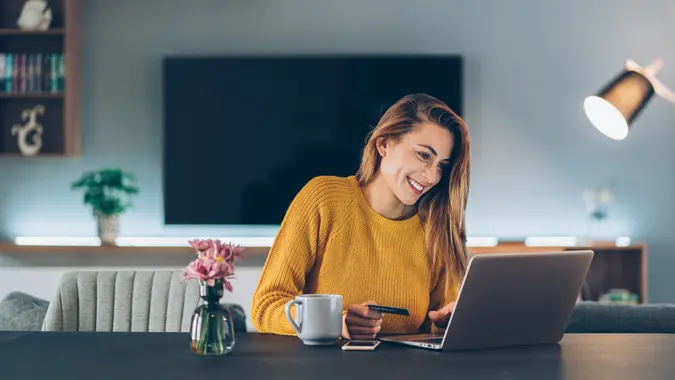 filadendron / Getty Images
If you're trying to find cheaper furniture options and Ikea just isn't your thing, you might have discovered Wayfair. However, after browsing the site and finding several items you like, you find yourself wondering whether you should place an order. The deals seem fantastic, but is it worth buying cheaper furniture from Wayfair? Here's everything you need to know. 
See: How To Get Cash Back on Your Everyday Purchases
Is Wayfair Legitimate?
If you're wondering if Wayfair is a legitimate place to buy furniture, the answer is yes. The e-commerce company started in the early 2000s when friends Niraj Shah and Steve Conine saw a need for people to have a multitude of choices when it came to buying home goods online and built a conglomeration of more than 200 sites, named CSN Stores, that sold everything from birdcages to barstools. In 2011, the friends made the decision to bring everything together under one umbrella, and Wayfair was born.
Today, Wayfair is an American e-commerce giant. Not only can you find furniture on Wayfair, you can also find millions of other products for your home. Additionally, Wayfair has gone beyond the online space by opening a handful of physical stores. It currently has an outlet in Florence, Kentucky, a temporary pop-up store in San Marcos, Texas, and has plans to open its first full-blown store experience in Wilmette, Illinois, in spring 2024.
What Is Wayfair's Furniture Quality?
Because Wayfair is considered a furniture and home goods marketplace — where you can find almost anything imaginable — the quality of furniture on Wayfair varies. It sells more expensive pieces and furniture for the budget-minded. However, before you hit the "buy" button, read the reviews and check the ratings for the item to ensure you're getting the quality you're looking for. You can also take it a step further and search the brand name on the Wayfair site so you can see all of the products under the brand plus their reviews. If most of the products have high ratings, including the item you are interested in, then it's likely a good item to buy.
Make Your Money Work for You
Where Does Wayfair Get Its Furniture?
Wayfair gets its furniture from a variety of manufacturers. To keep its prices lower, it buys in bulk.
Does Wayfair Sell Used Items?
Wayfair primarily sells new items. It does, however, offer "Open Box Deals" on returned items, but these are clearly marked. Open-box items are items that have been returned by a customer. These items have also been inspected by Wayfair and deemed to be in near or nearly new condition. As such, these items are sold at a discount. However, even though you might be tempted by the savings, you still should check the item's ratings and read its reviews before purchasing. Open-box items are not eligible for returns. 
Is Wayfair's Furniture Already Assembled?
If you're not a fan of putting together furniture, you'll be happy to know that Wayfair does sell furniture pieces that are already assembled. However, when looking for a particular type of furniture, such as a nightstand, you'll have to adjust the search parameters to find those pieces. Here's how:
Navigate to Wayfair.com and choose the type of furniture you're interested in, such as "Bedroom Furniture."
Choose a subcategory, such as "Nightstands."
Scroll down the menu on the left side of the page to the hyperlink labeled "Show more filters" and click the link. 
Scroll down the menu to find "Assembly" and click it. 
Choose "Fully Assembled, No Assembly Needed" from the drop-down menu.
Make Your Money Work for You
Shipping and Returns
One of Wayfair's strengths is its shipping and return policy. Most items ship for free, and the company offers a 30-day return window. You'll get a full refund if the item is in its original condition.
However, there are some items you can't return, including the following:
Items tagged as "Non-Returnable" on the product page
Discounted bundles, like five items for $25 (unless you return the entire set)
Live plants
Clearance merchandise
Items designated as "Open Box" — these can't be returned or replaced
Personalized products
Fabric samples
However, be prepared to have any shipping charges and other applicable fees deducted from your return. For example, the $4.99 shipping charge that applies to orders under $35 will be deducted. Items over $35 that were shipped for free will not result in a deduction to your return. 
However, if you originally paid for upgraded shipping charges — such as if you had the order expedited, or opted for delivery service upgrade charges, such as for assembly or setup — those charges, called return fees, will be deducted from your refund.
Is It Worth It To Buy Cheaper Furniture From Wayfair?
Wayfair is a legitimate marketplace where you can find a vast variety of furniture at different price points, which means you can find the items you need even if you're shopping on a budget. Wayfair offers a competitive shipping and return policy too. For most items over $35, shipping is free and so are the returns. So, yes, it could be worth it to buy cheaper furniture from Wayfair. However, it's important to carefully read the reviews for any furniture item you're interested in purchasing to find out about any quality issues. This can save you from being disappointed and having to make a return.
FAQ
Here are answers to some of the most frequently asked questions about Wayfair.
Is Wayfair owned by Walmart?

No, Wayfair is not owned by Walmart. They are two separate companies. Wayfair was founded by Niraj Shah and Steve Conine, not Sam Walton.

What are the benefits of shopping at Wayfair?

Wayfair is a home goods market that offers millions of items. Therefore, the selection is hard to beat. Items over $35 ship for free, with a few exceptions, and items under $35 ship for a flat-rate fee of $4.99. Also, two-day shipping is available on thousands of items.
Editorial Note: This content is not provided by any entity covered in this article. Any opinions, analyses, reviews, ratings or recommendations expressed in this article are those of the author alone and have not been reviewed, approved or otherwise endorsed by any entity named in this article.