16 Last-Minute Graduation Gifts Under $30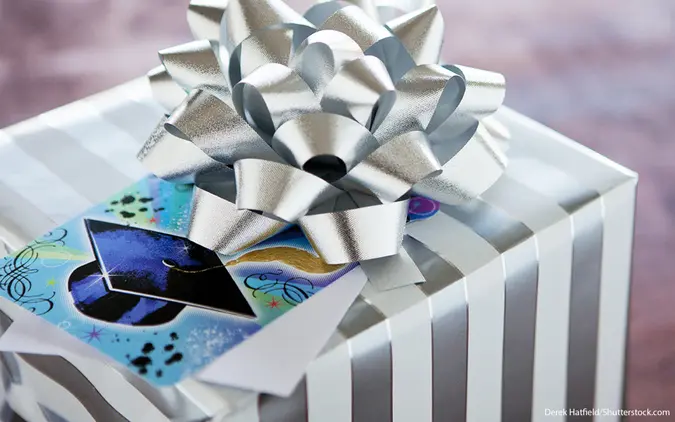 Spoiling a new graduate with a generous gift is never a bad idea, but if you're on a tight budget, you might need to explore some affordable alternatives. The average planned spending for one graduation gift is $53.73, according to the National Retail Federation's Graduation Spending Survey conducted by Prosper Insights & Analytics. It's not too late to come up with graduation gift ideas that will impress, inspire and support your grad this year and not spend nearly that much.
Here are 16 last-minute graduation gifts for 2016 graduates — all for under $30.
1. Personal Finance Book: $12
Give your fresh grad a chance to learn about budgeting basics and debt prevention with a personal finance book that can guide them through the money management process and help them learn good financial habits. Some good examples of graduate-friendly reading material include "Rich Bitch: A Simple 12-Step Guide for Getting Your Financial Life Together … Finally" by money expert Nicole Lapin or "Smart is the New Rich: Money Guide for Millennials" by CNN's chief business correspondent Christine Romans.
Read More: 25 Best Personal Finance Books for Your Summer Reading List
2. Phone Charger: $12
Busy grads will be getting even busier in the upcoming year. You can make sure their smartphone is always accessible and charged with a mobile charger. Buy a charger with a compact design and a powerful battery pack that will keep smart devices charged for hours on end. These chargers can be thrown into purses, briefcases and even backpacks or pockets for some pocket-friendly charging when it's needed most.
3. Cookbook: $15
Grads who will be living away from home for the first time or moving to an area where dining options are limited might enjoy some cooking tips. Pick out a hardcover cookbook for that vegetarian, paleo enthusiast or low-carb dieter, or stick with the classics like "Joy of Cooking" for a comprehensive guide on cooking fundamentals.
Make Your Money Work for You
4. Portable Furniture: $15
From folding chairs to collapsible storage bins, the new grad will need some dorm room or new apartment furniture that doesn't take up a lot of space. Choose from a few basic items that will help them furnish their new space — and save them space — like a collapsible laundry basket or folding chair.
5. Travel Bag: $18
Grads who are already making travel plans to spend a year or more abroad, or will be looking at a long commute in the upcoming year, will appreciate having a bag or small piece of luggage by their side to transport their items. A sturdy bag with pockets is the perfect weekender and go-to travel bag for any college-bound student or young professional.
Related: 24 Useful Gifts for College Graduates to Actually Use
6. Herb Garden Kit: $20
Give the new grad a chance to grow his or her own herbs in their new home with an at-home herb garden kit. These miniature gardening sets include planters, soil, seeds and instructions to create a set of fresh herbs they can use to cook up their favorite meals.
7. Journal and Stationery: $20
Support your grad's new transition in life by gifting them a beautifully designed journal or notebook. In addition, you can include some stationery or note cards, so that they can keep in touch in a more personal way. From watercolor prints to distressed paper covers, pick out stationery with an inspiring message or image so grads can jot down their thoughts.
Make Your Money Work for You
8. Alcohol: $20
Now, if your graduate just graduated high school, this isn't for them. However, any college graduate would appreciate a nice bottle of liquor or wine, or a six-pack of their favorite beer, to celebrate their accomplishment. You can get a decent bottle of whiskey or bourbon for under $30, or go the wine or beer route for under $20.
9. Portable Speaker: $20
Music enthusiasts will appreciate having the option of setting up their own sound system wherever they go with a wireless, Bluetooth speaker. Pick up a speaker with a unique design and remote so they can place it on their desk or tabletop in their new home, apartment or dorm.
10. Noise-Isolating Headphones: $25
Whether they're hitting the gym at sunrise, taking the train to work or needing to block out noisy dorm-mates, having a set of noise-isolating headphones can make the experience just a little better. Pick out a pair of ear buds or over-the-ear headphones with noise-isolating technology for under $30 for the new graduate.
11. Gas Card: $25
Some new graduates will be commuting to a new job and still be on a tight budget, so a gas card is sure to be well-received. Some cards can be reloaded so the cardholder can use it as a convenient way to monitor and manage their gas purchases.
12. Gourmet Food Basket: $25
A basket filled with sweet treats, nuts, snacks or even homemade items will keep a pantry full for at least a few days — and help them save money on grocery shopping. Shop at World Market or even Trader Joe's for some tasty snacks and treats that you can arrange in a basket you picked up from a party store for a personalized graduation gift that will also keep you within your budget this season.
13. Gift Card: $25
If you're not sure what your grad will be thrilled with, a retail store, restaurant, Starbucks or Amazon gift card is sure to please. You can buy electronic versions to take care of a last-minute graduate via email or have the card sent to the recipients home with a congratulatory message attached.
14. Laundry Kit: $28
If the new graduate is going away to college or renting a home after college, they'll need some basic supplies to get laundry done. Get them a care package that includes a laundry basket, laundry bag, detergent, fabric softener and stain remover. You can create this yourself with individual items or buy an already-made kit on Amazon for under $30.
15. College Team Hoodie: $28
Let them show off some college pride with a team or school logo hoodie or shirt. Look for the Officially Licensed Collegiate Product stamp to pick up something high-quality and durable that they can make use of at the gym, on weekends and to cozy up in on a night in after a stressful day.
16. Cash: Your Choice
Let's face it, sometimes cash is appreciated more than any other gift. That way, the new graduate can spend it on what they need — like bills — or use it toward a fun trip they're taking. You can even get creative and fold the money into some cap and diploma origami. Watch the video below to learn how.
No matter if a high school graduate is heading off to college for the first time, or a college graduate is heading into the work world to start a new life, these gifts can help make that transition a little smoother. But most of all, you don't have to spend a fortune to say congratulations.
Keep Reading: 5 People Who Should Get Cash Gifts — Like Recent Grads
Jamie Young contributed to the reporting for this article.
Disclaimer: All prices are based on the lowest price available online.