Liquidation Stores Near Me: How To Find the Best Deals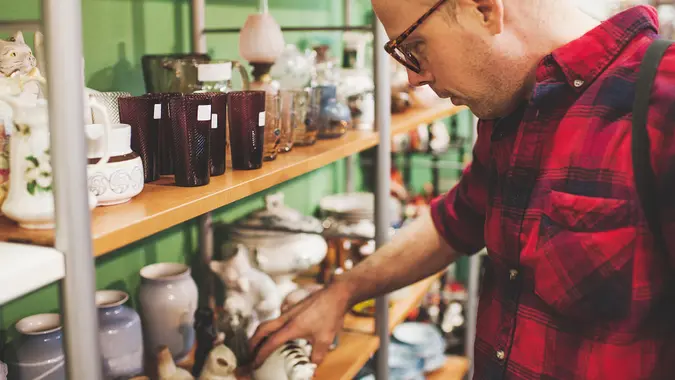 knape / iStock.com
There is nothing more satisfying than turning a good deal into a great deal by bargain shopping your way through bin stores and liquidation pallets. To take the pressure off of digging through your standard big box store, it can help to find a liquidation business where the deals are piled in one place. Whether you've been looking for a liquidation store near you or you just want to brag on social media about how you got your pants for $4, it's good to know where to find one.
What Is a Liquidation Store? 
To put it simply, liquidation stores take merchandise from well-known stores or major retailers and then resell them at a discount. Many big stores use them to move extra inventory. Liquidation stores can also be a sign that a store may be closing so it has to get rid of everything.
Though merchandise will vary by location, you can find home decor, electronics, furniture, toys, apparel, accessories and more at stores like the following: 
Make Your Money Work for You
Find Liquidation Stores Near You
In this economy, you can find a lot of stores in closeout sales mode. Liquidation stores, which are also often referred to as bin stores, are a great way to get up to 90% off of certain merchandise. Major retailers also consistently have regular liquidation sales. To find the closest one to you, you can simply search "liquidation stores near me" in your favorite internet browser.
It can be worth sifting through a bunch of undesirable items at liquidation stores as you might find hidden gems at a massive discount. Some big-ticket items to watch out for are:
Baby strollers
Name-brand kitchen appliances
Water filtration systems
Cast-iron dutch ovens
Mattresses 
Makeup 
Good To Know

Be aware that much of the inventory you'll find in a liquidation store, especially one that is doing a closeout sale, may be damaged or even missing parts.

There is also a reason many of these items were returned so be sure to thoroughly examine before you buy as most sales will be final.

However, if you are getting items anywhere from 50% to 90% off, you may be a bit more lenient with your expectations or standards.
Final Take To GO 
Liquidation stores, bin stores, salvage stores — no matter what you call them, are a great way to save money on big-ticket items. You can often find big discounts on merchandise you were going to buy anyway. Some big box stores have their own clearance and liquidation outlets or sites such as Big Lots, Target, Walmart, Kohl's, Nordstrom or Amazon, so keep your eyes peeled for liquidation stores near you.
Make Your Money Work for You
FAQ
Here are some answers to frequently asked questions about liquidation stores.
Are liquidation stores worth it?

Yes, liquidation stores can be worth it. Be sure to double-check the items in your cart as they may be damaged or have missing parts, and typically most sales are final. You can get a great price, just make sure you have what you want before you purchase it.

Does Kohl's have a liquidation store?

Yes, Kohl's has liquidation stores where you can get huge discounts and great deals on Kohl's items. You can find a Kohl's liquidation store by searching for "Kohl's liquidation store" or "liquidation store near me."

Does Target have a liquidation store?

Yes, Target has the Target Salvage Store which sells Target liquidation items for anywhere from 50% to 90% off.

Does Walmart sell liquidation pallets?

Yes, Walmart has the Walmart Liquidation Auctions Outlet. You can find bargains from this big box store on bulk inventory returned from Walmart.com or other overstock merchandise.

Does Amazon have a liquidation site?

Yes, Amazon has the Amazon Bulk Liquidations Store which offers great deals on liquidation pallets of varying inventory. These pallets are commonly filled with returned merchandise, open-box items or other general overstock. Liquidation stock will vary in price and selection based on availability.