Does Walmart Accept PayPal? What You Need To Know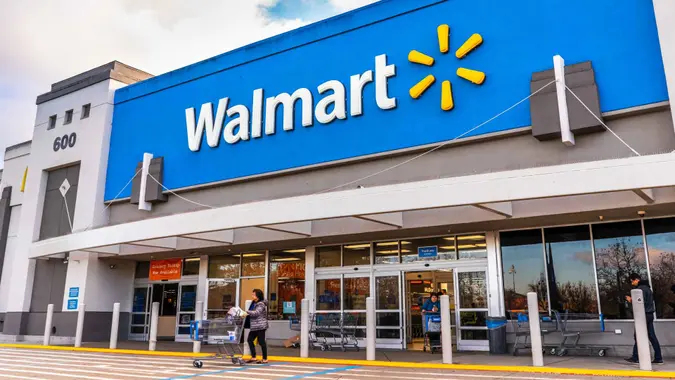 Sundry Photography / Getty Images
With the rise of mobile payment systems like PayPal, shopping has become more convenient than ever. However, it can be difficult to keep track of which stores accept your favorite payment apps or digital wallets.
You can use PayPal to pay at millions of stores around the world, either digitally or in person. Walmart is no exception, but there are a few things you should be aware of before heading to the nearest store. Here's what you need to know about using PayPal at Walmart.
Can You Use PayPal at Walmart?
Yes, Walmart accepts PayPal. However, the available methods of payment depend on whether you're purchasing items in person or through the online store. Before attempting either method, make sure you've already signed up for a PayPal account and linked it to a payment method, such as a bank account, credit card or debit card.
Walmart doesn't currently accept PayPal payments directly through the PayPal app. That means you can't scan your PayPal QR code to pay at checkout. But you can still use PayPal by following the steps below.
How To Use PayPal at a Walmart Store
If you want to know how to pay with PayPal at a Walmart store, you have a couple of options. The first option is to use a PayPal credit or debit card.
Sign up for a PayPal Cashback Mastercard, PayPal Debit Card or PayPal Prepaid Mastercard.
Once you've received your card, you can use it just like any other debit or credit card at checkout. You can also use it to withdraw money from an ATM inside the Walmart store.
Another way to pay with PayPal is by accessing your funds at the Walmart Services desk.
Go to the Walmart Services desk and ask them to add or withdraw funds from your PayPal account. This service costs $3.
In your mobile PayPal app, go to the "More" section and select the option "Add Cash" or "Get Cash."
Input the amount of cash you want to add or withdraw from your account. The app will generate a code that you can show to the Walmart Services desk staff. This code will allow them to deposit or withdraw your funds.
How To Use PayPal at Walmart Online
When it comes to paying with PayPal, Walmart's app and website make it easy:
Shop as you normally would and add your desired items to the cart.
At checkout, select PayPal as the payment option. If you don't see it right away, you may need to click the "+ More" button to display more payment options.
Log in to your PayPal account when prompted and confirm the transaction. Then, you'll be returned to Walmart.com or the app to complete the transaction.
Why Should You Pay With PayPal at Walmart?
Using PayPal at Walmart has some advantages over other payment methods.
PayPal is convenient. If you forget your wallet and don't have cash or a credit card on you, PayPal offers a quick and easy alternative.
Paying with PayPal also reduces the risk of scammers getting a hold of your credit card information and using it to make fraudulent purchases. Since PayPal comes with Buyer Protection, you can always dispute a transaction later if you receive an incorrect or defective item.
In addition, PayPal features a rewards program that allows users to earn cash back whenever they make purchases. By linking multiple credit or debit cards to your PayPal account, you can take advantage of PayPal's rewards program to cash in on desired items.
What Stores Accept PayPal In-Store?
According to PayPal, you can now use the app to shop at millions of stores globally. In addition to Walmart, PayPal is accepted at checkout at other large retailers, including Big Lots, Macy's, Bloomingdales, Foot Locker and Levi's.
There are plenty of other opportunities to use PayPal in person outside of major retail chains. For example, many quick-service restaurants, such as Panda Express and Pressed, have added PayPal QR codes to their checkout options. Likewise, customers can use their PayPal account to pay at CVS, gas stations, grocery stores and convenience stores across the U.S.
Good To Know

Does Amazon accept PayPal? Though Amazon doesn't accept PayPal directly, you can still use your PayPal Debit Card or PayPal Business Debit Mastercard to make Amazon purchases.
Key Takeaways
PayPal is a widely accessible payment method that makes it easy for you to buy things online or in person. Besides being convenient, PayPal provides purchase protection and offers cash-back programs and other rewards for frequent users.
Before trying to use PayPal at Walmart, find out if you need a physical PayPal credit or debit card at your local store. Many stores allow you to withdraw from your PayPal account at the Walmart Services desk, but this may not always apply. If you can't use PayPal to pay in person, you can always use your PayPal account to access the Walmart app or shop online at Walmart.com.
Information is accurate as of Aug. 7, 2023. 
Editorial Note: This content is not provided by any entity covered in this article. Any opinions, analyses, reviews, ratings or recommendations expressed in this article are those of the author alone and have not been reviewed, approved or otherwise endorsed by any entity named in this article.