What Are Walmart Money Center's New Year's Eve and Day Hours?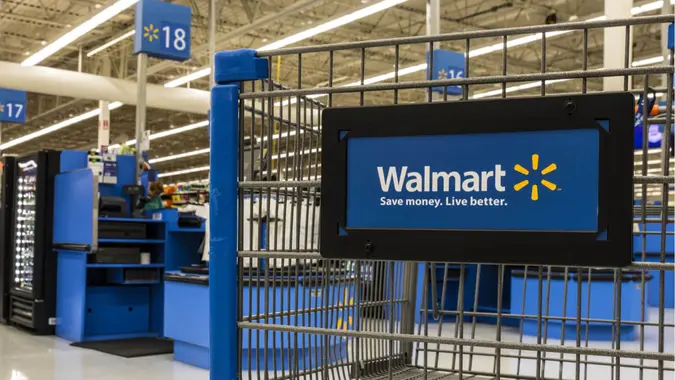 Walmart offers a one-stop shopping experience for its customers. In addition to groceries and your typical big box store items, many Walmart stores have a pharmacy, photo center and trade-in programs for unwanted electronics.
Read: This Credit Score Mistake Could Be Costing Millions Of Americans
Perhaps the biggest convenience is Walmart's on-site Money Center, offering a variety of financial services to its shoppers. The Money Center provides a host of convenient services that can help you save money and time.
Here's how to find out the hours of a Walmart Money Center near you.
Walmart Money Center New Year's Eve and Day Hours
Walmart Money Center hours are usually 6 a.m. to 11 p.m. Monday through Saturday, and 10 a.m. to 6 p.m. on Sunday, although Sunday hours are more variable across locations. Walmart's Money Center will be open on New Year's Eve and on New Year's Day.
Make Your Money Work for You
Common questions about Walmart's Money Center include, "Is Walmart Money Center open on Sunday?" and "How late is Walmart Money Center open?" Since hours of operation vary by location, it's best to check with your local store.
Here's a sample list of cities and their Walmart Money Center hours:
Walmart Money Center Hours
Walmart Money Center Location
Address
Phone Number
Money Center Hours
West Sacramento, Calif.
755 Riverpoint Court, 95605
916-373-2200
6 a.m. to 11 p.m.
San Diego, Calif.
3412 College Avenue, 92115
619-858-0071
6 a.m. to 11 p.m.
Rochester, N.Y.
1490 Hudson Avenue, 14621
585-266-2000
6 a.m. to 11 p.m.
North Versailles, Pa.
100 Walmart Drive, 15137
412-816-0301
6 a.m. to 11 p.m.
Tallahassee, Fla.
4400 W Tennessee Street, 32304
850-574-3588
6 a.m. to 11 p.m.
Miami Gardens, Fla.
19501 NW 27th Avenue, 33056
305-622-6664
6 a.m. to 11 p.m.
Cincinnati, Ohio
2322 Ferguson Road, 45238
513-922-8881
6 a.m. to 11 p.m.
Springfield, Mo.
1923 E Kearney Street, 65803
417-865-4545
6 a.m. to 11 p.m.
San Antonio, Texas
1603 Vance Jackson Road, 78213
210-738-8218
6 a.m. to 11 p.m.
Houston, Texas
111 Yale Street, 77007
713-860-0700
6 a.m. to 11 p.m.
How To Find Your Walmart Store Hours
Another way to find Walmart hours is to use the store's website. The following steps will get you the address, phone number and hours of your closest Walmart location.
Visit Walmart.com on your laptop, tablet or mobile device.
Click "Store Finder" at the top center of your screen.
Type your address into the text box and hit "Find."
Review the store address and hours and then click "More Services and Info" under the store closest to you.
Look for the words "Money Services." If you see those words, call the phone number listed to ask about the Money Center's hours. If you don't see those words, move on to the next location on your list, as that one does not currently have a Money Center.
Make Your Money Work for You
Services Offered at Walmart Money Center
The Walmart Money Center can be found at the front of store. Before visiting your local Walmart Money Center, familiarize yourself with some of the products and services offered.
The Money Center offers the following:
Walmart MoneyCard: A Walmart MoneyCard is a prepaid Visa or Mastercard that can be used anywhere Visa or Mastercard is accepted. The card offers many benefits including free online bill pay services, no overdraft fees and cash-back rewards on Walmart purchases.
Walmart credit card: Walmart credit card holders receive 3% cashback on Walmart.com purchases, 2% back on Walmart gas and 1% on purchases made anywhere the card is accepted.
Check cashing: Customers can cash multiple kinds of checks for instant access to cash or have the amount added to their Walmart MoneyCard.
Tax preparation services: Walmart offers tax preparation services with on-site professionals in over 3,100 stores.
Money transfers: You can send cash anywhere in the U.S. and almost anywhere around the globe quickly and conveniently at a Walmart Money Center.
Bluebird: Opening a Bluebird account allows you to take advantage of fee-free banking. You can set up direct deposits, make online bill payments and utilize the mobile check deposit feature.
Information is accurate as of Dec. 30, 2022.
Editorial Note: This content is not provided by any entity covered in this article. Any opinions, analyses, reviews, ratings or recommendations expressed in this article are those of the author alone and have not been reviewed, approved or otherwise endorsed by any entity named in this article.
Make Your Money Work for You