7 Luxury Goods That Are Cheaper at Walmart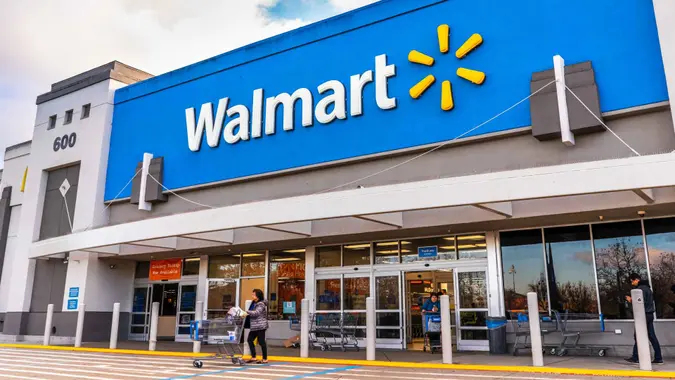 Sundry Photography / Getty Images
When it comes to buying luxury goods, it's easy to disregard major retailers like Walmart, Target or Costco. After all, these retailers are known for their lower prices and, in the case of Costco, bulk goods.
But if you haven't been shopping at Walmart, you could be missing out on some great savings on high-end items that go for a much higher price elsewhere. Not only does Walmart have a lot to offer when it comes to luxury and high-quality goods, but you can also find many of these deals online as well as in stores.
"You might be surprised to hear this, but Walmart isn't just a destination for everyday essentials," said James Allen, CPA, CFP, CFEI, and founder of Billpin.com. "It's also a treasure trove for luxury items that won't break the bank. For instance, you can find high-end brands like Chanel, Michael Kors, and even Rolex. Yes, you heard me right, Rolex!"
If you're looking for some hidden luxury items at Walmart, here are the top ones to check out.
Comforters and Bedspreads
If you're looking for luxury goods at Walmart, one of the best ways to get started is by checking the retailer's online page and the listings here. One popular high-end item category you can find at Walmart for less than at major name brands is comforters, sheets and bedspreads. Walmart carries such luxury brands as Home Essence and Home Chic.
Make Your Money Work for You
Here are two options online:
High-End Kitchenware
Walmart carries a variety of high-end cookware and other kitchen appliances.
"I have had the pleasure of finding some high-end cookware in Walmart at insanely low prices," said Young Pham, financial advisor and planner with BizReport and a regular deal hunter. "I know different people have different definitions of what high-end cookware means. However, these are basically products that, on a different day, you would end up paying a load of money for. But at Walmart, you could easily get them at massive discounts."
Current online deals:
Handbags
With a large selection of handbags and similar goods, it can be hard to find the hidden gems, but they're there. "Think of it like this," said Allen. "Walmart is like a giant treasure chest. You have to dig through a lot of sand and pebbles, but every now and then, you'll find a gem like a Louis Vuitton handbag or a piece of Alex and Ani jewelry."
Current online deals:
Make Your Money Work for You
Designer Fragrances
"One thing I have always enjoyed buying at Walmart on the cheap is designer fragrances," said Pham. "These brands would typically cost hundreds if not thousands of dollars, and yet you could still get them for as little as $30 [at] Walmart. I'm not sure if they are real brands selling at huge discounts or knockoffs. But the fact that you are paying way less for something that looks and smells identical to the designer brand is quite astonishing."
Current online deals:
Candles
Candles are another great find at Walmart — and a lovely addition to any home.
"Walmart's Better Homes & Gardens line has been creating products that closely resemble those found in high-end stores like Pottery Barn and Anthropologie. Not only do these items mimic the aesthetic of their more expensive counterparts, but they also maintain a high standard of quality," said Michelle Harler, owner of Guide2Free. "For instance, their Red Lava Citrus and Magnolia Daylily scented candles are not only affordable but also provide a similar sensory experience to high-end alternatives."
While these may not be luxury brands, here are some options:
Sunglasses and Accessories
"Imagine walking into a Walmart and walking out with a Rolex watch that would typically retail for over $65,000. Or perhaps a Celine bag, which usually retails for over $3,000. You can even find Miu Miu sunglasses and Chanel perfume," said Allen. "So, the next time you're thinking of splurging on a luxury item, take a detour to Walmart. You might just find the same item at a price that makes your wallet a lot happier."
Here are a couple of online deals:
Planters
Walmart's Better Homes & Gardens line also excels when it comes to other household items like planters. Again, this is not a luxury brand, but many products from the line look and feel just as high-end as those from more expensive companies.
Here's an online deal:
More From GOBankingRates