My Experience with Afterpay Purchases: Is It Worth It or Not?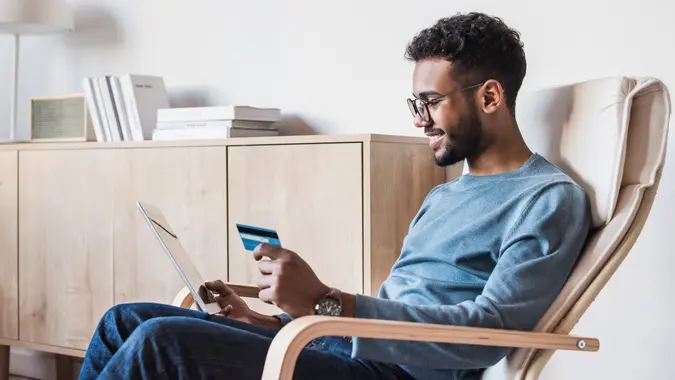 Poike / Getty Images/iStockphoto
Afterpay is what's known as a buy now, pay later payment solution. It can be super helpful when you want to make a large purchase but don't have the cash to cover it. But is it the right move for you?
Read: How To Get Cash Back on Your Everyday Purchases
According to Afterpay, all users begin with a spending limit of $600 and the first repayment has to be made upfront. With responsible repayment, however, this limit can increase over time, allowing you to make even larger purchases if needed.Plus, you don't have to worry about interest charges, like when you use a credit card.
Afterpay purchases do not incur interest due to the short pay-off schedule, which is usually around six to eight weeks. It's also worth noting that if you have a late payment, Afterpay will apply a late fee. Late fees start at $10, but are never more than 25% of your total purchase.
Read on for firsthand accounts of what happened when two different people used Afterpay for a large purchase and whether they think they'd use the buy now, pay later payment solution in the future. 
What Attracted You To Afterpay?
Cameron Heinz, CEO of Mobility Nest said he was initially attracted to Afterpay because of its flexibility in allowing him to make a significant purchase and pay for it over time. "It seemed like a convenient way to afford the mobility scooter I needed to purchase for my business."
Hannah M. Le, founder of RE.STATEMENT said, "I wanted to try out, especially with no interest or fees if I make payments on time. It also was the only buy now, pay later option on RE.STATEMENT, and I liked their list of merchants using Afterpay in their marketplace."
Make Your Money Work for You
Did You Have Any Reservations About This Type of Payment Solution?
"I did have some reservations initially," Heinz admitted, "mainly concerning the possibility of accruing interest or hidden fees. However, after reading Afterpay's terms and conditions carefully, I felt more confident about using it."
When asked if she had any reservations about using Afterpay, Le said, "I don't want to make a habit out of it since I don't want to juggle too many bills or debts at once."
The temptation to overspend is one of the known risks of using a buy now, pay later payment option. 
What Was the Sign-up Process Like?
"The sign-up process for Afterpay was straightforward," said Heinz. "I provided my personal information, including my email and mobile number. After a quick verification process, I was ready to use it. It only took a few minutes."
Le said, "I think it's just full name, email, and debit card. Then there was an identity check later on."
It's worth noting that Afterpay accepts all major credit and debit cards. But it does not allow you to store prepaid debit cards in your account for payment. It also does not accept bank transfers as payment.
What Type of Purchase Did You Make?
"I purchased a mobility scooter for $5,000," Heinz shared. "It was a significant investment."
Le said, "I ordered a few shirts, jackets, and pants off of RE.STATEMENT for $431 after tax and shipping." She said that the marketplace only sells unique statement pieces that are sustainable and made by artists and designers, so she wanted to buy them quickly since they are all one-of-one and didn't want to risk them selling out. 
Make Your Money Work for You
Did Anything Unexpected Happen?
"Fortunately, nothing unexpected happened," said Heinz. "I made sure to stick to the payment schedule to avoid any issues." 
"Making an account was easier than expected," said Le, "but it still added an extra step in the checkout process. Other than that, it was pretty seamless and fast."
What Are the Advantages of Using Afterpay for Purchases?
"The main advantage is the ability to spread out the cost of a large purchase without interest," said Heinz. "It also helps with budgeting and managing expenses."
Le said the main advantage of using Afterpay for purchases is that she has more cash in the bank to spend on things. 
What Are the Disadvantages of Afterpay?
"The primary disadvantage is the temptation to overspend, as it makes purchases feel more affordable," Heinz said. "Late payments can incur fees, so discipline is crucial."
Le said the drawback for her is that because she uses her debit card to pay for her Afterpay purchases, she is unable to earn credit card points. 
Would You Use Afterpay Again?
"Yes, I would use Afterpay again for similar purchases," Heinz said. "It provides a convenient way to manage expenses without the burden of immediate full payment."
"Yes," said Le, "especially for clothing companies where I spend more than $200."
What Advice Do You Have for People Who Are Considering Afterpay for a Large Purchase?
"Read the terms and conditions carefully to understand the payment schedule and avoid late fees," recommended Heinz. "Ensure you have a budget in place to make the payments on time. Afterpay can be a helpful tool when used responsibly."
Make Your Money Work for You
"Try it out," said Le, "but don't depend on it. If you tend to splurge on online shopping a lot, then maybe be aware of that before getting Afterpay because you have to keep up with a lot of payments, which gets confusing for budgeting."
Takeaway
Now that you know more about how Afterpay works, you can decide if it's right for you. But remember, it's just one of many when it comes to buy now, pay later solutions. Other options include Sezzle, Affirm, and Klarna. You might want to compare these options to figure out which suits your needs best.