What Is Afterpay and How Does It Work?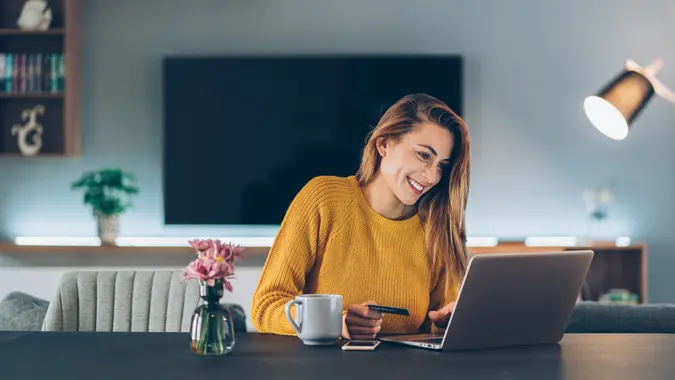 filadendron / Getty Images
You've seen the offers when you're shopping online — $100 or four interest-free payments of $25 each with Afterpay. But what is Afterpay? And how does it work? Here's what you need to know.
What Is Afterpay?
Afterpay is an app that allows you to pay for purchases over time with no interest. Sounds too good to be true? Well, it is true, but you need to understand the rules.
First, the no-interest payment plan is for four payments over six weeks. You pay 25% of the price at the time of purchase, and then three more payments within six weeks. As long as the purchase is paid off within the six-week timeframe, you don't pay any interest. Afterpay will automatically take your payments on the due date unless you make a payment sooner.
How Does Afterpay Work?

Here's an example — on July 1, you purchase a pair of shoes online for $100 and pay with Afterpay. You are charged $25 on July 1 and your shoes are shipped to you.

On July 15, your credit card is charged $25. It is charged again on July 29, and again on Aug. 12, for $25 each time.

You have now paid $100 for the shoes, which you've been happily wearing since they arrived on July 5.
For larger purchases — over $400 — you can spread your payments over 6 or 12 months. The merchant needs to participate for you to be able to use this feature — look for the "Pay Monthly" option at checkout. These payments come with interest. After a soft pull to your credit, your interest rate will be provided to you.
Make Your Money Work for You
How To Use Afterpay
There are a few ways to start shopping with Afterpay. If you are shopping online and see the Afterpay option, you can just choose that option as your payment method at checkout. Provide your payment details for the order, and your Afterpay account will be created. Your payment method will be charged 25% of the total amount for the first payment.
Another option is to download the Afterpay mobile app, either before or after you make your first purchase. When you get the app, you will be prompted to enter your information to create your Afterpay account — if you don't already have one from a previous purchase.
You can also get the Afterpay Card which you can add to your digital wallet.
Making Purchases With Afterpay
You can use the app to track your purchases and your payments. You can have multiple Afterpay purchases at the same time, but each new transaction will be approved by Afterpay at the time of purchase.
Afterpay approves purchases based on factors such as:
Whether you have enough money on your linked credit or debit card for the first installment
How long you have been using Afterpay
The number and amount of open orders you have on Afterpay
Making Payments on Afterpay
Afterpay will automatically make your payment on the due date. If you prefer, you can make a payment earlier on the app.
If your payment to Afterpay is declined by your card issuer and you do not provide an alternate payment method, you may be subject to a late fee.
Make Your Money Work for You
Good To Know

For orders under $40, your late fee will be capped at 25% of the purchase price.

For orders above $40, an initial late fee of $10 will be charged. If after seven days you still have not paid, you will face another late fee of up to $7. The late fees will continue and will be capped at 25% of the purchase price or $68, whichever is less.
Drawbacks of Afterpay
Using Afterpay to stretch out your payments can be an advantage, but there are also some drawbacks that are important to keep in mind.
Afterpay and similar services can encourage consumers to purchase items they may not otherwise buy because they can pay just a quarter of the item's cost now. Consumers may not consider the impact on their budget before committing to make the payments.
Since Afterpay uses several criteria to approve purchases, you may not be able to tell if a purchase will be approved prior to making it.
Final Take
Is it good to pay with Afterpay? Using Afterpay can be a smart choice if you are diligent about making payments on time and don't wrack up big bills you can't pay. Afterpay can be a way to spread out payments for a large purchase over a short period of time without paying interest, which can be an advantage. As with many credit products, however, it's important to clearly understand the terms, and make sure you're using it only when it makes sense.
FAQ
Here are the answers to some of the most frequently asked questions regarding Afterpay.
Is Afterpay good or bad for your credit?

Afterpay is neither good nor bad for your credit, as long as you pay on time. There's no hard credit pull when you use Afterpay, so there's no negative impact on your credit rating. On the other hand, your on-time payments will not be reported to credit agencies, so you won't see your score go up for paying as agreed.

Do you get your items straight away with Afterpay?

Yes. The merchant treats an Afterpay transaction like any other. You have paid for the goods, so they will ship as agreed.

What is a disadvantage of using Afterpay?

Services like Afterpay can encourage impulse purchases that may be beyond the buyer's means. Unless an item is a necessity that you must have right away, a better habit to get into is to pay for purchases with the cash you have on hand. If you do use Afterpay and make late payments, you will be charged late fees and your credit could be damaged.
Make Your Money Work for You
Information is accurate as of July 18, 2023. 
Editorial Note: This content is not provided by any entity covered in this article. Any opinions, analyses, reviews, ratings or recommendations expressed in this article are those of the author alone and have not been reviewed, approved or otherwise endorsed by any entity named in this article.