5 Reasons You Should Shop at Aldi Instead of Costco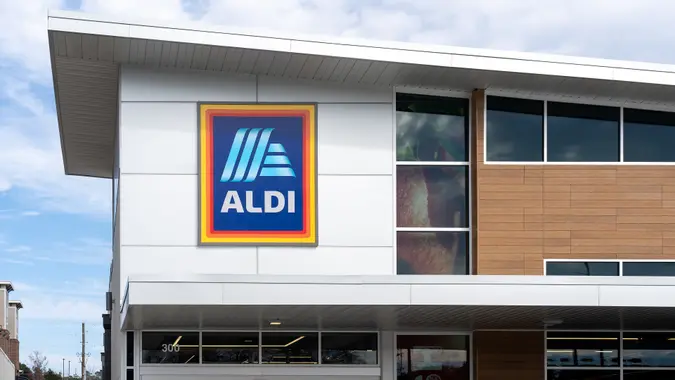 JHVEPhoto / iStock.com
Aldi and Costco both offer great deals, but which store is best to shop at?
Discount grocery store Aldi has over 2,000 stores across the U.S., in addition to being one of Forbes' top 200 companies for customer experience in 2023. If you've ever wondered, "Should I shop at Aldi or Costco?" here are the top reasons shoppers would rather seek out the former instead of the latter.
Lower Prices
Shoppers are consistently impressed with Aldi's low prices. Owner and director at Simify, Mac Steer, says Aldi provides a wide array of items at a cost that's unbeatably low. "My favorite thing about Aldi is how they're committed to providing their shoppers with everything they need at a great price. You can find everything from groceries to cleaning supplies and even clothing items all under one roof — and it's always priced right!" 
At Costco, four pounds of Kirkland Signature Salted Sweet Cream Butter will cost you $15.99. At Aldi, 4 pounds of Countryside Creamery Salted Sweet Cream Butter will cost you just $9.96. Additionally, at Costco, three pounds of cream cheese costs $11.99, and at Aldi, it costs $8.94.
Make Your Money Work for You
Take Our Poll: Are You Concerned About the Safety of Your Money in Your Bank Accounts?
You Don't Have To Buy in Bulk
Sure, buying large quantities of groceries can save you cash, but is it really worth it if you're never going to use that much? Since Aldi is a grocery store, you aren't forced to buy a ton of a product just to get the savings. The butter referenced above is sold in one-pound packages, so you can purchase what you need and don't run the risk of wasting what you don't. 
Better Produce 
Because Costco specializes in bulk, produce isn't always the most appealing item to purchase. If you do purchase produce from Costco, you'll need a reason to use a large quantity quickly — or a big freezer to store the leftovers. Additionally, customers have run into issues with the quality of produce at Costco. On a Reddit thread entitled "Has anyone else had a poor experience recently with Costco produce items?" many customers lamented their Costco produce purchases, with one user, COMediSun, saying, "The bagged salad mix was already browning while still in the store. No thanks."
Make Your Money Work for You
Conversely, on a thread called "What are some pros and cons of shopping at Costco in comparison to stores like Food Lion, Aldi, Lidl, etc.?" multiple users shouted out Aldi for produce, with one user, boredonymous, saying, "I always find Aldi produce to be really good!"
No Membership Fee
Famously, Costco requires a membership to enter, and it's not the most cheap. For the lowest tier membership, known as the Gold Membership, it will cost you $60 a year. For a Business Membership, it will cost $60 a year, plus $60 per Affiliate Cardholder. Finally, for an Executive Membership, it will cost you $120 a year. Aldi doesn't require a membership at all, so customers can shop there without having to pay for anything ahead of time. 
Smaller Stores
There is no way around it: Costco stores are huge. And sometimes, you're just not in the mood to do a workout while you're shopping. On a Reddit thread called "Does anyone else pretty much only go to Aldi and Costco?" one Redditor named toodleroo wrote, "The driving force behind me going to Aldi more often is the size of the store. When faced with the choice of walking half a mile to the very back corner of a large grocery store where the dairy cooler is almost always placed, versus being able to see the dairy cooler from the front door of Aldi, I'll choose Aldi."
Make Your Money Work for You
More From GOBankingRates
Make Your Money Work for You