How to Save on Dorm Room Essentials at IKEA, Target and Walmart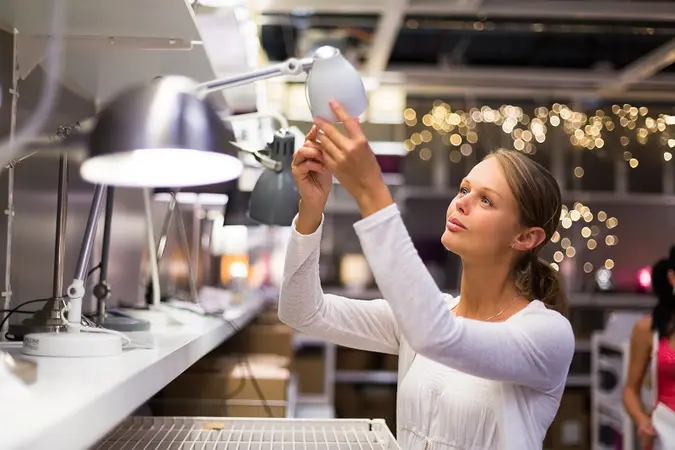 Although some parents might pay the full price of college tuition and some students might opt for high-cost, luxury student housing, the desire to save money on dorm room basics hasn't changed much over the years. Students still need all the basics for living away from home for the first time, including affordable, quality items that hold up since Mom and Dad won't be there to replace something that breaks.
Building a dorm essentials shopping list is a balancing act. You have to choose the right items, find the right mix of quality and value, and then blend in a touch of affordable style. GOBankingRates consulted two shopping insiders — Joanie Demer, co-author of "Pick Another Checkout Lane, Honey" and co-founder of "TheKrazyCouponLady.com," and Lindsay Sakraida at DealNews.com — for ideas on how to outfit a dorm room for less at retailers like IKEA, Target and Walmart.
Related: America's 10 Best and Worst Retailers for Summer Savings
Must-Have Dorm Room Essentials
Probably the smartest way to sort out the must-haves from the wish-list items is to talk with a recent resident of the dorm or student housing where you — or your child — will be moving into. Storage, furniture and lighting setups vary considerably among colleges and even dorms at the same college. You'll be frustrated if you arrive to find a room with nowhere to sit after you've blown your whole budget on cute storage bins.
Essentials include bedding — don't forget the mattress pad — towels, a laundry basket that's sturdy and light enough to haul to the laundry area and a shower tote if showers are down the hall. You won't be sorry to pack a few basic dishes, glasses and utensils as well. And of course, you'll need storage bins or crates for stashing miscellaneous items.
Make Your Money Work for You
Even if you're on a tight budget, don't neglect items with a little style. There might not be room for many extras, so choose things with a bit of personality. IKEA and Target are better sources in this regard because their merchandise offers a fresher design aesthetic that appeals to college students, said Demer. Walmart, on the other hand, tends to have more basic and plain items.
Dorm Room Essentials to Buy at Walmart: Appliances, Storage and Wastebaskets
Demer recommends heading to Walmart for dorm room appliances, wastebaskets and plastic storage. While Target offers more stylish storage choices, you'll find that there is usually more options to choose from at Walmart.
"Walmart, in general, has better deals on supplies, and you can't find college furniture for less anywhere else," Sakraida said. And, you can avoid shipping costs for online orders of less than $35 by taking advantage of in-store pickup for many items.
Items to avoid purchasing at Walmart include bedding, bookshelves and towels. Demer calls their quality "way below Target and IKEA."
Dorm Room Essentials to Buy at IKEA: Furniture, Rugs and Dishes
The best items to buy at IKEA, Demer said, are tables and chairs, bookshelves, rugs and dishes. Look for solid wood construction in furniture, and avoid particle board in items like the Malm bed at the store.
IKEA is also a great place to pick up all manner of storage solutions, said Sakraida, although the store's online shopping can be less convenient. And sometimes, IKEA will charge a hefty delivery fee.
Finally, Demer recommended avoiding bedding from IKEA. "The low thread count and cotton/poly blend is downright itchy," she said.
Make Your Money Work for You
Dorm Room Essentials to Buy at Target: Accessories, Bedding and Organizers
Turn to Target for accessories, organization, baskets, bedding, towels and caddies, Demer said. She recommended avoiding buying dishes at Target simply because they're often cheaper at IKEA.
Bedding is always a good buy at Target. "Target is great for unified sets that will be cheap but trendy and stylish," said Sakraida. "Look for 'bed in a bag' sets, as well as desk sets and room accessories. You'll likely find them in dynamic prints and colors."
Tap into this little-known secret about shopping at Target online from Sakraida: "Target has a very low minimum purchase for free shipping; you only need to spend $25 to get free shipping."
Read: 23 Savings Hacks for Target
Strategies for Saving on Dorm-Room Shopping
The best buys on dorm room essentials won't be available until later in August, Sakraida advised. "Both Walmart and Target push the back-to-school season pretty heavily, which means that all of their promotions are likely to get stronger in mid- to late August," she said.
You can save even more during Labor Day weekend sales when stores start putting school items on clearance. IKEA seems to have fewer back-to-school promotions, Sakraida noted, but you should still keep an eye out for potential Labor Day weekend specials at the retailer.
Other ways to save at IKEA, Target and Walmart include:
The Target coupon code COLLEGE gives you $10 off $50 online orders of college bed and bath items or $25 off $100 orders. This offer expires on Aug. 1.
Target shoppers should download the Cartwheel coupon and shopping app for Target purchases, Demer said.
Target and Walmart shoppers can save money by price matching against Amazon, advised Demer. "Download Amazon Mobile, and scan products before you buy them to see if they're cheaper on Amazon," she said. "If they are, show the Amazon price at customer service where Target and Walmart will match the price."
And don't forget to browse the dollar spot at Target for hampers, storage bins, hangers, bulletin boards, clipboards, notepads, files and wastebaskets, Demer said.
Make Your Money Work for You
More Places and Ways to Save on Dorm Essentials
Demer encourages shoppers to look beyond Target, IKEA and Walmart to snag the best deals on dorm essentials. "Bed Bath & Beyond might be a better competitor, in my opinion," she said. By signing up for its email list, you can get 20 percent off a single item in-store. Plus, Bed Bath & Beyond often has plenty of clearance items that can be used in dorm rooms.
Other ideas from Demer for saving money on dorm basics include:
Wait to do your shopping on tax-free shopping days.
Take advantage of student discounts. Pottery Barn Teen, for example, offers 10 percent off to students who have a valid .edu address or college ID.
Students can get a free six-month trial of Amazon Student with a valid .edu email address.
Make your purchases with discounted gift cards to save an additional 10 to 20 percent.
What Not to Buy for Your Dorm Room
Before buying all of the items that you might think a typical college student needs, wait and see what's already in the dorm and what's not allowed.
Don't commit to electronics, such as TVs, DVD players or stereos, until you see what the roommate might bring. The same goes for a desk lamp; you'll almost certainly need one, but you won't know if you'll have room for something stylish or if you'll need something that clips onto a desk or shelf. Also, a mini-fridge is a dorm classic, but check dorm regulations before buying a toaster oven, microwave or coffee maker.
Make Your Money Work for You
"In general, it's difficult to wait, but you might be better off saving purchases — like extra storage options, lighting, seating, etc. — for after you and your student arrive at school, to make sure you don't end up buying things that are unnecessary or won't fit," said Sakraida .
Demer's "Do Not Buy" list includes multiple sheet sets ("Come on, your bed doesn't mind being naked while you do your laundry"), a drying rack ("Who has space? Put it on a hanger!") and a futon ("Most dorms don't have room for a bed plus futon, and you can't put a futon on risers").
And what about the ubiquitous beanbag chair that's been a dorm room must-have for decades now? Sakraida takes a philosophical view: "Bean bag chairs are generally very cheap at Walmart," she said, "so they aren't a major expenditure if you decide to get them."
Keep reading: 10 Things No One Tells You About the Cost of College