10 Drugstore Items To Buy at Costco Instead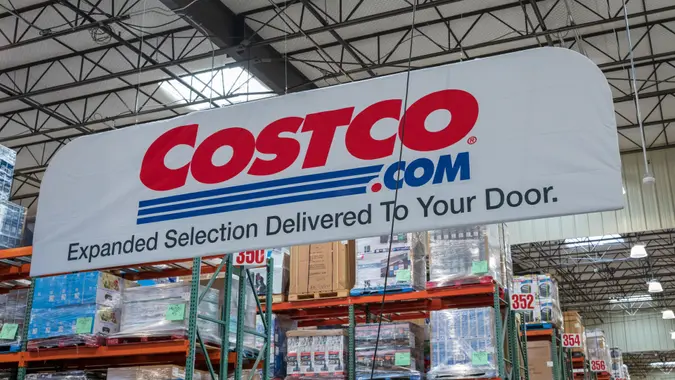 artran / Getty Images
You might be spending way too much at your local drugstore. From personal care items to over-the-counter medicines and even vitamins, there's always something you need — but what you might not realize is these products could be notably cheaper at Costco.
Costco's Best Deals? Employee Reveals 10 Standout Buys for Your Money
Check Out: 3 Signs You're Serious About Raising Your Credit Score
Whether you're already a member but never thought to look for these products at Costco or you don't currently have a membership, comparing prices on drugstore essentials can seriously add up. The warehouse club store frequently offers larger versions of these products at much cheaper prices per unit.
Here's a look at 10 products you can save money on by shopping at Costco.
Vitamin D
Most foods do not naturally contain vitamin D; so, if you're like many people, you take a supplement to get your daily intake. However, there's no need to pay more for your vitamins than necessary.
Walgreens sells a 90-count container of Nature Made Vitamin D3 2000 IU softgels for $12.99 — i.e., $0.14 per vitamin. Seriously more affordable, you can get a 600-count container of Kirkland Signature Extra Strength D3 2000 IU vitamins at Costco for $14.49, which equates to $0.02 per softgel.
Make Your Money Work for You
Take Our Poll: As a Retired Person, Are You Comfortable With Your Monthly Income?
Vital Proteins Collagen Peptides
Offering skin, hair and nail support, Costco sells a 24-ounce container of vital proteins — unflavored or chocolate varieties — for $36.99 ($1.54 per ounce). Notably more expensive, CVS offers a 10-ounce container of the brand's unflavored option for $2.95 per ounce, totaling $29.49 per container.
Culturelle Kids Daily Probiotic Supplement
Culturelle Kids Probiotic tablets is designed to help support kids' immune and digestive systems. Costco sells a container of 60 chewable tablets for $29.99 ($0.50 per tablet). CVS sells a 30-tablet version of this product for $28.49 — nearly double the price ($0.95 per tablet).
Vicks NyQuil and DayQuil Severe Cold & Flu Caplets Convenience Pack
When you're sick, you might be willing to pay anything for cold medicine that will help you feel better, but shopping at Costco means you don't actually have to pay a premium.
A 72-count package of Vicks Severe DayQuil and NyQuil Cough, Cold & Flu is $23.99 ($0.33 per capsule) at Costco. This might come as a surprise, but the 48-count version of this product is actually $24.99 at Walgreens, where you'll pay $0.52 per liquicap.
Make Your Money Work for You
Ricola Sugar Free Lemon Mint Cough Drops
If you have a sore throat, head to Costco for a 210-count bag of Ricola Sugar Free Lemon Mint Cough Drops, priced at $18.99 ($0.09). You'll definitely save money, as a 45-count bag of this same product is $6.29 at Rite Aid, which breaks down to $0.14 each.
Listerine Ultraclean Antiseptic Gingivitis Mouthwash
Designed to fight tarter and kill germs, Listerine mouthwash may be an important part of your oral care routine, but where you buy it matters.
Rite Aid sells a 1.5-liter bottle of Listerine Ultraclean Antiseptic Gingivitis Mouthwash in cool mint for $9.99. Double the mouthwash, Costco offers two of the exact same product for $15.99.
ReNu Advanced Formula Multi-Purpose Solution
A 12-ounce twin pack of ReNu Advanced Multi-Purpose Solution is $16.99 ($0.71 per ounce) at Walgreens, which might seem like a good deal. That is until you realize you can get three 16-ounce bottles of this product, plus one 2-ounce travel bottle, for $24.99 ($0.50 per ounce) at Costco.
Make Your Money Work for You
Old Spice High Endurance Men's Deodorant
If you shop at CVS, you'll pay $5.49 for one 3-ounce stick of Old Spice High Endurance Men's Deodorant, which equates to $1.83 per ounce. However, at Costco, you can score a 5-pack of 2.4-ounce sticks for $10.99, which breaks down to $0.92 per ounce.
L. Ultra-Thin Pads
Made with clean and simple ingredients, a 42-count package of L. Ultra-Thin Pads — regular absorbency — is $11.99 at Walgreens, which is $0.29 per pad. Notably cheaper, a 96-count package of this same product is $17.99 at Costco — $0.19 each.
Facial Cleansing Towelettes
Designed to gently remove makeup, a 30-pack of Beauty 360 Nighttime Cleansing Towelettes costs $4.99 ($0.17 each) at CVS. However, a similar product, a 180-count box of Kirkland Signature Daily Facial Towelettes is $19.99 at Costco, which breaks down to $0.11 each.
More From GOBankingRates
Prices are accurate as of Feb. 28, 2023, and are subject to change.
Make Your Money Work for You