Target's 7 Best up & up Products You Should Always Buy To Save Money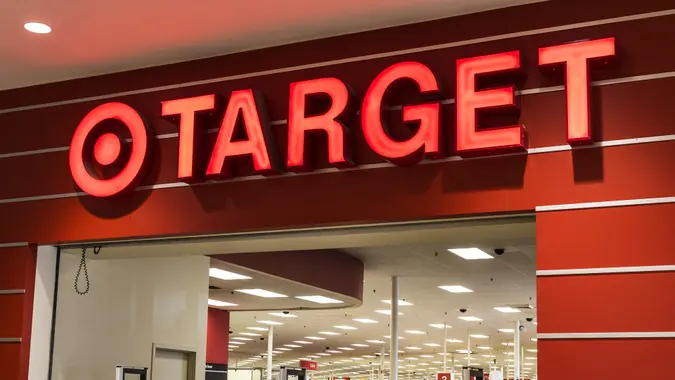 Jonathan Weiss / Shutterstock.com
Target is a one-stop shop for many people, making it easy to knock off items on your shopping list for groceries, decor, clothing, personal care, cleaning supplies and much more. And, while the store carries numerous name brands, it's also known for its own up & up brand of generic items, which typically come with lower prices that don't sacrifice quality.
Here are some of the best up & up products you should always buy at Target to save money.
Sticky Notes
Sticky notes are essential for reminders and quick communication — at work, school, or home. According to Julie Ramhold, consumer analyst with DealNews.com, the up & up brand has 400 sheets per cube and cost around $2.99.
"If you were to opt for the Post-it brand, you'd spend closer to $5.99 for a cube the same size. If you constantly use these, shopping for the up & up brand will save you a ton of cash over time and they're just as good as the name-brand alternative."
Make Your Money Work for You
Daily Moisturizing Lotion
With summer weather comes more time spent swimming and showering, which can dry out your skin. You might want to stock up on a good moisturizer.
According to Ramhold, the up & up brand of daily moisturizing lotion is comparable to CeraVe, but the same size is a few dollars cheaper than the CeraVe. "If you want a bigger size, it also comes in 12 oz bottles that are also a better deal than the same size of CeraVe, and it's a better value than the smaller up & up size as well," she said.
Either way, opting for Target's store brand is going to be a better offer than buying CeraVe.
Take Our Poll: Who Has Given You the Best Money Advice You Have Ever Received?
Zinc Cold Therapy
Cold and flu season may be mostly over, but COVID-19 isn't gone, and there are always viruses around. If you swear by products like Zicam to shorten your colds, then you may want to consider up & up's version of the same product.
Make Your Money Work for You
Ramhold said, "It's $8.99 for 25 tablets compared to $10.99 for a box of 25 Zicam tablets, so if you're interested in saving money and prone to seasonal colds, this homeopathic remedy may be good to keep as part of your regimen."
Toothpicks
Toothpicks are one of those items that you might not realize are super useful until you're baking a ton of cupcakes or preparing a plate of hors d'oeuvres for a party. Ramhold pointed out that you may not think about how much name-brands versus generics can differ in price, but the truth is a container of fancy 250 Diamond-brand L'Elegance toothpicks is around $3.39, while a 125 pack of assorted toothpicks from the same brand clocks in around $2.69.
If you forgo the fancy look and just opt for plain up & up toothpicks, you can get a whopping 800 for just $1.99. "Considering these are basically just mini-holders for appetizers or used as tools for dipping candies or testing cakes, there's no need to spring for pretty ones — they're mostly going straight in the trash," Ramhold said. "Save yourself some cash and opt for the up & up brand of plain ones every time-you won't regret it."
Anticavity Mouthwash
If you use Listerine Total Care on a regular basis, you should definitely give the up & up version a try, Ramhold said. A 33.8 fluid ounce bottle of Listerine Total Care goes for about $8.49, which works out to about 25 cents per ounce.
Make Your Money Work for You
"That's not a bad deal, but the up & up version is $3.99 for the same amount, or just 12 cents per ounce. That's an incredible deal and savings for the generic brand, so as long as it fits your needs, it's worth making the swap."
Original Strength Antibiotic Ointment
If you've got kids, or do a lot of physical work, you've probably got plenty of boo-boos that may require antibiotic ointment. If you opt for the up & up brand, you'll get two 1-oz tubes for around $4.59, but if you choose Neosporin, you're going to pay roughly $4.79 for a half-ounce tube.
"Considering they both have the same active ingredients, there's no reason not to choose the generic, especially if this is something you like to keep on hand or have multiple first aid kits to outfit," Ramhold said.
Cotton Swabs
Cotton Swabs (brand name Q-tips) are a useful item to have on hand for everything from personal hygiene to art projects. The Target up & up brand offers a 750-count pack for $3.19, which is cheaper than the same pack at Walmart, according to the Krazy Koupon Lady. With a Target RedCard, you can bring the price down even further to about $3.03.
Make Your Money Work for You
More From GOBankingRates